Westlife fans have been waiting many a season in the sun to see the boyband back together with Brian McFadden… and it sounds like they'll be waiting for the rest of their lives.
Nicky Byrne, Kian Egan, Mark Feehily and Shane Filan announced back in October that they'd be getting back together to release new single 'Hello My Love' and tour — but, as usual, Brian was missing.
Advertisement – Continue Reading Below
Despite the fact that he left the group after Westlife's fourth album, fans have long wanted to see the classic line-up back on stage together. But in a new interview with Metro, the band insisted that they've totally moved on from their time with Brian.
"He left the band 15 years ago, we were only five years in and kids at the time," Shane insisted. "We went on to become a band for another eight or nine years after that.
"It would be very weird to have another person in the band again, some of us haven't seen Brian in a very long time. We haven't fallen out with Brian either. It's like we all went to a different school and he went another way.
"Brian left a long time ago so we're moving forward not backwards."
Westlife won't rule out a potential "duet" with Brian on a song in the future, but they seem fairly set that the days of him actually being a proper member having come and gone.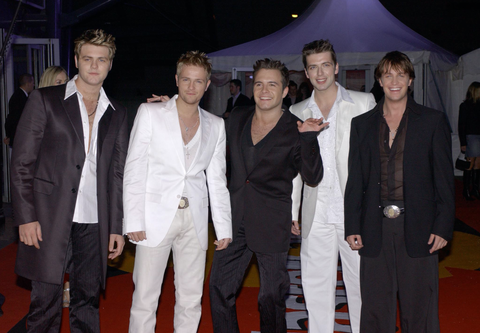 Jon Furniss/Getty Images
"The simple fact is Westlife is four people," Mark said. "That's the way it is and it's not changing. It's far too late in the day to change it.
Advertisement – Continue Reading Below
"We love our past and story being colourful and exciting but it hasn't been a walk in the park to get it where we are today. Brian left a long time ago so we're moving forward not backwards."
For his part, Brian — who previously complained about his bandmates rejecting a "big multi-million pound deal" to perform with him — has actually praised Westlife's new comeback single 'Hello My Love'.
"Love it! Great song great production," he tweeted. "The boys are back!"
Of course, Brian is fairly busy these days in round-the-clock training sessions for Dancing on Ice, which continues this Sunday (January 13) on ITV.
---
Want up-to-the-minute entertainment news and features? Just hit 'Like' on our Digital Spy Facebook page and 'Follow' on our @digitalspy Instagram and Twitter account.