Emmerdale has aired a surprise return for Lachlan White's father Donny Cairn.
Alan Convy has reprised his role as Donny for a brief storyline, which saw him target The Woolpack and stab Vanessa Woodfield in the first of Thursday night's episodes (January 10).
Show bosses announced Vanessa's stabbing storyline late last month, but kept fans guessing over who'd be responsible for the horrific crime.
Advertisement – Continue Reading Below
We now know that Donny is the mystery individual who's been targeting the Dingle family recently – acting on Lachlan's behalf by sending sinister messages to Belle and even killing the clan's pig Gloria.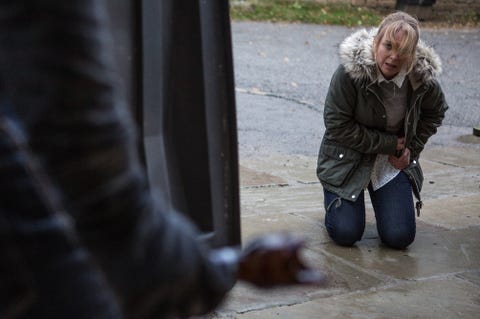 ITV
In Emmerdale's latest episode, Donny upped the ante by pouring petrol around The Woolpack while Belle and her loved ones were all inside.
When Vanessa spotted him and attempted to intervene, Donny stabbed her with a broken bottle, went ahead with starting the fire and drove off in her car – unaware that her young son Johnny was in the back.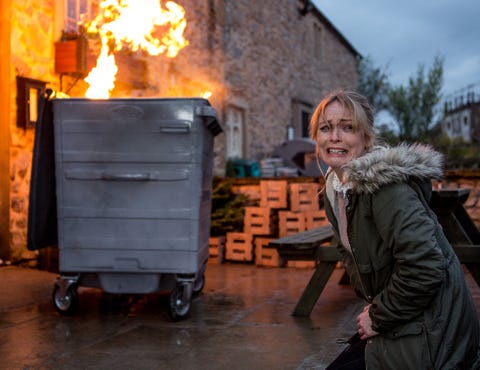 ITV
Donny previously appeared in Emmerdale for a short stint in April 2015.
Lachlan's mum Chrissie got in touch with Donny as she wanted him to be more involved in their son's life after he sexually assaulted Alicia Metcalfe.
Although Donny showed early signs of being a positive influence on Lachlan, it later transpired that he'd been advising the twisted teenager to simply tell his mum what she wanted to hear.
Advertisement – Continue Reading Below
Donny also tried to extort money from Chrissie as he owed a debt to dangerous criminals. Chrissie parted with the cash, but later hired Ross Barton to help her steal it back – leaving him empty-handed and vulnerable to reprisals from his dodgy associates.
Despite his long absence, it's now clear that Donny is back in touch with his son and carrying out sinister orders on his behalf. But could this troubling situation cost Vanessa her life?
Emmerdale airs weeknights at 7pm on ITV, with an extra episode at 8pm on Thursdays.
---
Read more news, spoilers and gossip on our Emmerdale homepage
Digital Spy Soap Scoop video – hit play below for all the latest Emmerdale spoilers, as Cain reveals Joe Tate's death, and Maya is close to being caught out.
Want up-to-the-minute soaps news, spoilers and gossip on your social feeds? Just hit 'Like' on our Digital Spy Soaps Facebook page and 'Follow' on our @soapscoop Twitter account.