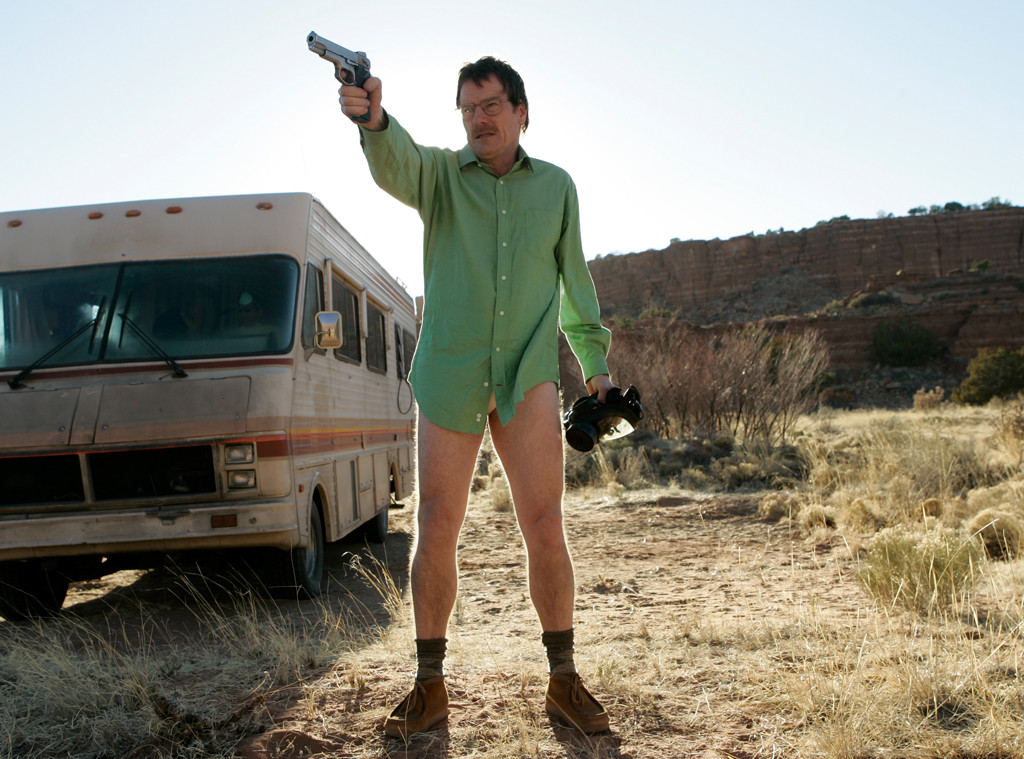 AMC
The Breaking Bad world is poised to get bigger. Vince Gilligan is reportedly working on a movie set in the same universe as his hit AMC series Breaking Bad you know, the show that starred Bryan Cranston and Aaron Paul, won numerous Emmys and spawned the critically acclaimed prequel series Better Call Saul. Yeah, that Breaking Bad.
According to The Hollywood Reporter, the flick is poised to begin production and follow a kidnapped man on his quest for freedom. Sounds like what happened to Paul's Jesse Pinkman in the final season of Breaking Bad. The movie is operating under the title Greenbrier. No word on whether Paul or Cranston would have any involvement or in what time period the show would be set. Spoiler alert from 2013: Breaking Bad ended with Cranston's Walter White dead and Paul's Jesse Pinkman finally free from his drug lord captors and on the run, seemingly free from everything.
Bob Odenkirk stars in Better Call Saul, a prequel series set in the Breaking Bad universe that follows his BB character Saul Goodman. The show wrapped its fourth season with Odenkirk's characters giving up his birth name Jimmy McGill name for Saul Goodman. Better Call Saul features many characters from Breaking Bad, including ones played by Jonathan Banks and Giancarlo Esposito.
For those foggy on what exactly Breaking Bad was about, the series followed Walter White as he went from dying science teacher to a drug kingpin known as Heisenberg.
UPDATE: Cranston was interviewed on The Dan Patrick Show and said it appears there will be a movie, but he has not gotten or read the script, however he has been spoken to about it. "There's question of whether or not we would even see Walter White in this movie," Cranston said.
Would he play Walter White again?
"I would, absolutely…If Vince Gilligan asked me to do it, sure, absolutely. He's a genius and it's a great story," Cranston said, noting the movie, from what he is told, would tie up some of the stories involving characters in the Breaking Bad universe.
"I'm excited about it because it is Breaking Bad…I can't wait to see all those people again, even if I just come by and visit
Breaking Bad wouldn't be the only show to continue on as a movie (even if it's just a TV movie). AMC recently announced Andrew Lincoln will star in three TV movies as Rick Grimes, the character he originated on The Walking Dead.
See what other shows continued the stories of their beloved characters as movies below.
Moviestore Collection/Shutterstock
Star Trek

Star Trek will never leave you. The original series starring William Shatner and Leonard Nimoy ran for just three seasons between 1966-1969, but became a motion picture in 1979 after the success of Star Wars. Six movies were made with the original cast, then they crossed over with Star Trek: The Next Generations in 1994's Star Trek: Generations. The Next Generation cast had three additional films.
Universal Pictures
Firefly

Joss Whedon's beloved series Firefly only lasted 14 episodes in 2002, but never underestimate a cult hit. Whedon got to continue the space adventures of Mal (Nathan Fillion), River Tam (Summer Glau) and the rest of the crew in a 2005 movie.
Twentieth Century Fox
The X-Files

The truth was still out there for Mulder (David Duchovny) and Scully (Gillian Anderson). The X-Files duo starred in their first movie while the Fox show was still airing. After it wrapped in 2002 and before it came back to TV in 2016, Mulder and Scully came back to the big screen in 2008's The X-Files: I Want to Believe.
New Line Cinema
Sex and the City

The adventures of Carrie (Sarah Jessica Parker), Samantha (Kim Cattrall), Charlotte (Kristin Davis) and Miranda (Cynthia Nixon) ran for six seasons on HBO from 1998-2004. The first movie came out in 2008 and a second followed in 2010.
Fox Searchlight/BBC Films
Absolutely Fabulous

Absolutely Fabulous, a British series starring Jennifer Saunders and Joanna Lumley was off and on TV starting in 1992. The show would come and go up until 2012, but party animals Patsy and Edina couldn't be kept down for long. The duo hit the big screen, after years of talk, with the 2016 release of Absolutely Fabulous: The Movie.
HBO
Entourage

HBO's Entourage, which starred Kevin Connolly, Adrian Grenier, Kevin Dillon, Jerry Ferrara and Jeremy Piven, aired for eight seasons. The series, which followed Grenier's movie star character Vincent Chase, became a movie in 2015, four years after it wrapped its run on TV.
Warner Bros. Entertainment
Veronica Mars

After three seasons on TV, Veronica Mars was canceled in 2007. Talk of continuing the series that starred Kristen Bell as the titular sassy sleuth continued for years before series creator Rob Thomas launched a Kickstarter, stating he'd get to make a movie if fans contributed enough money to meet the funding goal. The goal was met in less than 24 hours and Veronica Mars hit the big screen in 2014. The series will be revived on Hulu as a miniseries in 2019.
Originally published on Wednesday, Nov, 7, 2018, at 8:03 a.m. PT.
Don't miss E! News every weeknight at 7 p.m., only on E!