1.0 EXECUTIVE SUMMARY
Getting right to the point, I'm skeptical that the Red Hat (RHT) acquisition is going to be meaningful over the long-term for IBM's (IBM) business or share price. I fear that Red Hat may wind up being IBM's (more precisely Ginni Rometty's) "Compaq", as in Hewlett-Packard's (NYSE:HPE) questionable purchase of that company years ago.
The argument that the "sum" of IBM + RedHat is more than the individual parts is not especially strong in my view. I am struggling to understand the unique value proposition offered by the combined companies after reading the transcript of the analyst conference call that followed the announcement. Specifically, the general idea that the joint technology stacks somehow radically change the "calculus of the cloud" just doesn't make sense to me. Accordingly, whereas some analysts have expressed concern over the $34 billion price tag, my focus here is mainly on IBM's technology arguments and market opportunity arguments used to justify the purchase.
As a disclosure, I happened to eliminate my remaining position in IBM in October of this year, as I began shedding shares a short time after I wrote IBM – A Turning or Sinking Ship in 2017. I also worked for IBM years ago within the systems management division, long before the word "cloud" existed in the terminology of common information technology.
In the sections that follow, any referenced quotes are pulled from the Seeking Alpha transcript of IBM and Red Hat's analyst conference call which followed the acquisition announcement, unless otherwise noted. I'm also attaching the transcript to this report for convenience.
2.0 WHICH CLOUD IS IT
Ginni Rometty notes that "[IBM] will be the undisputed number [1] leader in hybrid-cloud….[with the acquisition of] Red Hat, the world's leading provider of open-cloud solution[s] and the emerging leader in the platform for hybrid-cloud and multi-cloud." Ms. Rometty, and other participants on the analyst call, use "hybrid-cloud" and "multi-cloud" terminology somewhat interchangeably; but, I think some definition is useful to add some precision to our analysis.
Wikipedia provides a nice, succinct definition of multi-cloud:
Multi-cloud is the use of multiple cloud computing and storage services in a single heterogeneous architecture.
We note that in a multi-cloud architecture, the clouds can be public, private, or some combination of both.
And here is IBM's definition of "hybrid-cloud":
A hybrid cloud uses a private cloud foundation combined with the strategic integration and use of public cloud services.
So, a hybrid-cloud uses at least one private cloud, along with at least one public cloud and thus is distinctly characterized by a private-public architecture. We can then think of a hybrid-cloud as a form of a multi-cloud.
Multi-Cloud and Hybrid-Cloud Diagram
Source: Yves Sukhu
This distinction is somewhat important given that IBM stresses its ability to particularly capture a large share of the growing hybrid-cloud architecture market via Red Hat's technologies.
3.0 QUESTIONABLE ASSUMPTIONS
With our definitions in hand, let's examine why IBM is doing this deal. In my opinion, the reasons expressed on the analyst call boil down to an acquisition predicated upon three main assumptions:
Together, there is a unique synergy between IBM and Red Hat's technology stacks such that the combination provides strong differentiation in the areas of hybrid-cloud and multi-cloud computing versus competing solutions from the likes of AWS (AMZN), Microsoft Azure (MSFT), Google Compute (GOOG), etc.
Hybrid-cloud and multi-cloud computing solutions will (likely) drive larger deal sizes and be more profitable for IBM, with many enterprise customers just starting to move the bulk of their applications to heterogeneous cloud architectures.
The hybrid-cloud market is going to be worth $1 trillion.
Obviously, any flaws in these assumptions would weaken the premise for the deal itself. Let's examine each.
3.1 FIRST ASSUMPTION: SOMETHING OPEN, SOMETHING UNIQUE?
Ginni Rometty offers investors the following customer requirement as a basis for the marriage with Red Hat:
"…The number one thing [customers are] saying to us is, hey, we – these other clouds, they're proprietary. We want an open solution [with] no lock-in. So move it across multiple cloud environments with no lock-in, [that's] what the two of us do together…And then they say, it has got to address data security in a multi-cloud environment and then give us a way to manage a multi-cloud environment."
There are a few things to unpack here. Ms. Rometty suggests that "other" clouds are proprietary and there is a customer requirement for "an open solution". I don't exactly understand what she's getting at here. She implies in the quote that customers get "locked in" with (certain) cloud environments; but, instead, these customers want to be able to move their applications easily from cloud to cloud. I am scratching my head because what Ms. Rometty's "customers" are calling lock-in seems to be related to their application architecture, and not the cloud environment they are running on. A poorly designed cloud application will be challenging to move no matter what cloud it is running on. The converse is also true: a well-designed cloud application will be easy(ier) to move from one cloud to another. I imagine many readers are familiar with the concept and technology of containers, such as Docker. For readers that may be unfamiliar with the term, I offer a simple if slightly imprecise explanation: containers provide a way to package all the "parts" that an application needs to run: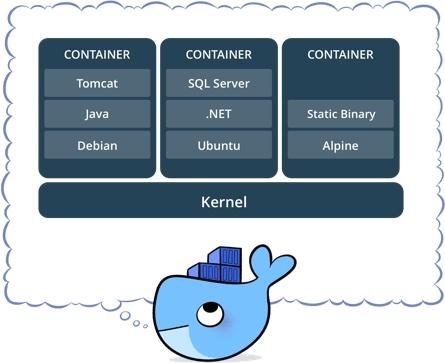 Illustration of Container Concept
Source: Docker/Datamation
As we see in the illustration above, a container can "contain" whatever an application needs to operate. In a bit of an over-simplification, if we want to move a containerized-application from one cloud to another, we just "lift" the container up from its existing cloud and drop the container on the new cloud. Readers who may not be familiar with Docker and its container technology might be interested to note that it began as, and is, an open-source software project; the company also raised capital in late 2017 at a $1+ billion valuation.
So, expanding on the utility of containers:
"Traditionally, applications or workloads generally had to be rebuilt before they could be migrated to another environment. The solution to this is container technology. Since containers are isolated from neighboring containers and include everything they need to run the application, you can easily move them to another [cloud] environment without compatibility problems."
Source: Kumina
As this Datamation article notes, "it was…the…users [of cloud services] who demanded that this technology exist within public clouds that drove the [container] innovations that now exist." In other words, users wanted an easier way to package and move their applications between clouds; and that in turn spurred the public cloud providers (AWS, Azure, Google, IBM, etc.) to provide container deployment features and services.
One final point to make about containers is that applications may consist of several containers, in which case container orchestration software is used to automate and simplify the management of all those containers. Kubernetes, another open-source project originally started at Google, is one of the popular orchestration systems (with Docker Swarm as an example of another).
Coming back to Ms. Rometty's point that customers don't want to be "locked in" and instead want to be able to move applications across multiple cloud environments, they (customers) can certainly do that today if they design and deploy their applications appropriately, with containers as an example of one technology that can be quite useful. She, in fact, makes this very point stating "…[We] have been building and we have been very focused on hybrid and multi-cloud…based on open technologies. So we've built on containers, Kubernetes…[and] multi-cloud manager was just announced last week…" But, let's be clear: the other major cloud service providers (e.g. Amazon, Microsoft, etc.) also offer container and container orchestration services. Thus, the IBM Cloud is not purely differentiated on this point; yet, with the Red Hat acquisition, IBM does obtain Red Hat OpenShift which offers value-added functionality built around Docker and Kubernetes. While there was no detailed discussion on the analyst call, perhaps IBM believes that its existing container management and cloud management services will be augmented in such a way by OpenShift as to leapfrog the competition when using the "married" technologies for multi-cloud environments. But, if that's true, why not specifically talk about the capabilities that the combined companies will have that will be superior to others?
Frankly, it seems to me that IBM's existing cloud capabilities added to OpenShift are not going to be a massive "game changer". First of all, any integration between IBM's cloud technology stack and Red Hat's will take some time; time which competitors will certainly use to their advantage to ensure they are not left behind. Second, I've already noted that OpenShift is based on Docker and Kubernetes which means Red Hat's value-add is built around the same core used by many others; but, the competition has and will continue to develop similar value-added offerings as well. Third, if there was some "killer" set of cloud functionalities that the combined stacks would generate, I'd like to think the companies would have made that clear; but they have not (at least not yet). Fourth, there is nothing that "ties" OpenShift to the IBM Cloud; consider that Red Hat's own OpenShift deployment "offerings" page – which I captured shortly after the deal announcement – actually highlights AWS as a deployment platform:
Red Hat OpenShift Deployment Tiers
Source: Red Hat
Now, Red Hat also offers OpenStack, based on another set of open-source technologies, which can be used by companies to build out their own private clouds and has synergy with Ansible, Red Hat's language for DevOps. OpenStack therefore supports IBM's initiatives around hybrid-cloud deployments. However, as with OpenShift, I'm not completely convinced that putting this solution under an IBM umbrella is going to lead to a highly differentiated offering, nor to a sudden acceleration of private cloud adoption among enterprise customers. First off, IBM already had its own solution stack in this area, IBM Cloud Private. Given that IBM expressed such bullish sentiment about the hybrid-cloud market on the analyst call, I'm actually a little surprised this specific solution offering was not mentioned during the call. Assuming the hybrid-cloud area is as "hot" as IBM suggests, one might expect that IBM Private Cloud has been selling well; why not call attention to the technology then? This is perhaps a subtle point and could be an improper extrapolation on my part, but it leads me to wonder if the hybrid-cloud market is as strong as IBM suggests it is, and will be. Also as the previously linked article notes, IBM is not alone with an offering here, nor were they "first" to market with one. Microsoft introduced Azure Stack over a year before IBM brought its competing solution to market. IBM might argue that Azure Stack, as an example, is proprietary whereas their open-source platform gives customers all the freedom and benefits that open-source solutions provide. It's a worthwhile argument, and it may more strongly support Ms. Rometty's comment that customers don't want to be locked-in. After all, with an open-source-based private cloud platform, a customer can modify and extend it as they desire, which obviously is not possible to the same extent with a closed solution. It would have been helpful if IBM offered some data points to understand if a trend toward open-source exists within the hybrid-cloud market, and specifically for private-cloud deployments. In the absence of details, I am left somewhat skeptical that Red Hat OpenStack is going to materially change the "strength" of IBM's hybrid (private/public) cloud offering.
If we tie all of this back to Ms. Rometty's quote at the beginning of the section, it seems to reinforce that customer comments around "an open [cloud] solution with no lock-in" seem somewhat invalid when considering the technologies (e.g. containers, orchestration) that have already evolved to provide cloud users with the application portability that they desire. The comment has greater validity when one considers the architectural possibilities of a private cloud within a hybrid-cloud environment; but, as I argue above, there seems to be a lack of data which would suggest clients lean toward non-proprietary (e.g. open-source-based) private cloud deployments.
To summarize, I don't (presently) see anything truly unique that emerges through a combination of the two companies' cloud stacks. To be fair, the companies need time to develop tightly integrated solutions, and IBM is yet to apply the power of its development organization against Red Hat's technologies. But, if I'm right that "there is not a lot to see here" in terms of the joint stacks, this insight would, of course, directly undermine Ms. Rometty's suggestion that the two organizations will be a clear leader, particularly in hybrid-cloud solutions.
3.2 SECOND ASSUMPTION: CUSTOMERS ARE JUST GETTING STARTED
Ms. Rometty mentions, more than once, that we are entering a second phase of cloud adoption ("chapter 2" as she calls it). In the first phase, customers moved their "easiest" workloads to the cloud with a cost-savings focus. These workloads represented the familiar Pareto-rule 20% of customer applications; and thus, 80% of applications remain to be transitioned to the cloud. Ms. Rometty states:
"[Customers have] got to move [these remaining 80% of applications]. They either have to rewrite, refactor, decide what goes where, secure the data. These are inhibitors that stop them from going [to the cloud]. So this is only going to be achieved this move to the 80%, if you can move data and applications across multiple cloud[s], make that portable…"
She continues…
"But this is an inflection point, and if [customers are] going to get past that and move the other 80% which is about all their processes and their data they need what we're going to offer together, this robust environment. And so this 80% is…about…unlocking business value…the average clients has a thousand application[s] and the average client already has 5…that we see some as many as many as 16 clouds."
The first comment, "[customers have] got to move…", is worth debating. Logic tells us that not all applications are necessarily a good fit for a cloud deployment for any number of reasons: required dependencies are not easily replicated in a cloud environment, security concerns, lack of cost-savings, etc. So, customers certainly do not have to move the bulk of their applications to a cloud architecture. Although, perhaps Ms. Rometty is playing a bit with her words, and is saying with a bit of "dressing" that the trend toward cloud adoption will continue…which it clearly will.
But, I think there is room to challenge what she says in the next few statements. She explains that "[customers] either have to rewrite, refactor, decide what goes where…" Indeed, IBM and other technology providers will, as they already have, be afforded with opportunities to help customers migrate certain applications to cloud environments. That's good news for IBM's very large service business, and there is reason to think the services group will benefit somewhat from the Red Hat purchase. These opportunities almost certainly grow in scope and revenue/profit potential to the extent that these applications are migrated to highly distributed models running on (possibly) heterogeneous cloud platforms (e.g. multi-cloud). So, I think Jim Kavanaugh, IBM's CFO, correctly stated that "[distributed cloud solutions] accelerates our mix shift to higher value…and is accretive to our gross profit margin…"
But, there is a counter-argument to consider here. Rather than rewriting/refactoring existing legacy applications, customers may instead opt for "off-the-shelf" solutions (SaaS or otherwise) which may prove to be more cost-effective, modern, and easier to maintain. For example, Salesforce.com (CRM) and Workday (WDAY) certainly didn't achieve their market penetration because customers opted to redesign any homegrown CRM and HR applications respectively. Unfortunately, IBM doesn't discuss the COTS approach and its potential impact on their projections for growing their cloud related revenues.
Moving to IBM's claim that multi-cloud environments will be more prevalent in the future, as per Ms. Rometty's statement that "the average client already has 5 [clouds]…", there is some data to backup what the company is saying here: a TechRepublic survey from 2017, for example, noted that the majority of companies surveyed had already adopted a hybrid-cloud architecture. But, we know that IT tends to move in cycles. Think about what happened with the client-server computing paradigm where "server sprawl" eventually gave way to server rationalization and a push for homogeneity among systems. Is it not possible that we may see something similar with cloud, where customers "wake up" one day and ask themselves why they have 5 clouds when they might be able to operate with 1? Consider one of the main specifications for the Pentagon's current $10 billion JEDI cloud project: they are (for the moment) insistent that the project award and associated computing workloads will go/run on a single cloud. As readers may know, IBM is one of the bidders on the project and formalized their objection to the Government Accountability Office (GAO) for the requirement of a homogenous cloud environment. Assuming the Pentagon gets its way and is successful with its deployment, if the Department of Defense (DOD) can operate on a single cloud, then why does a given company need upwards of 16 clouds (using the "extreme" example from IBM's quote)?
The overarching theme here is that Ms. Rometty's position that the "remaining" 80% of legacy customer applications are just waiting to be moved into a multi-cloud environment has weak points. Even if it were strong, I'm not sure IBM needed to spend $34 billion on Red Hat to capture these opportunities. I already argued in the previous section that IBM had existing capabilities in the same cloud technology areas where Red Hat operates. If we think about Ms. Rometty's comment about "rewriting/refactoring", what does Red Hat offer here that IBM does not already have? This is work that sits squarely in the domain of IBM's services group; a group that could "plug in" Red Hat's technology, or any other cloud technology, where it makes sense based on customer requirements.
But, the Red Hat acquisition aside, if it turns out that multi-cloud architectures eventually "reduce" to simpler, single cloud environments which provide sufficient robustness and reliability to meet most customer requirements, then this "cloud rationalization" could have a dramatic impact on IBM's top-line and bottom-line growth forecasts since the company is tying both metrics specifically to its opportunity with "high-value" multi-cloud solutions.
3.3 THIRD ASSUMPTION: IS $1 TRILLION FOR HYBRID-CLOUD REALISTIC?
Ms. Rometty asserts that the market for hybrid-clouds will grow to over $1 trillion. She states:
"And to lead in the second chapter, this is going to be about hybrid-cloud. In hybrid-cloud is an emerging $1 trillion market…I mean what we did was look and we see a scale of a $1 trillion market…We said to ourselves and constantly kept saying: What can we do better to address the needs of our clients? How do we accelerate our ability to go after that? And knowing and there's really an important point, knowing that Linux is the fastest growing platform out there. And this just this year, it became the number one platform both on-prem and in the cloud."
During the analyst call, there was no mention of exactly when the market for hybrid cloud is expected to reach $1 trillion in value, nor the CAGR for this specific segment of the overall cloud market. I struggled to find good data in support of IBM's projection here, although Market Research Media offers a forecast of $1 trillion for the entire cloud market by 2024. Interestingly, the Market Research Media report synopsis highlights the fast growing/high priority technology segments within the cloud market, but multi-cloud and hybrid-cloud are not mentioned in that context. This article, which was referenced in Section 3.1, quotes IBM in 2017 as saying "they expect companies to spend more than $50 billion a year worldwide starting [in 2017] to develop private clouds, with the growth rate hitting 15 to 20 percent a year through 2020." Using those figures as a proxy for the overall hybrid-cloud market, it would obviously take quite some time to reach $1 trillion in total value even at the high end of the growth range.
One thing technology leaders seem to be particularly good at is coming up with very large numbers when describing their total addressable market (TAM). Admittedly, I'm not sure if IBM's estimate is realistic here or not since…who really knows right now how big the hybrid-cloud market could become? In support of IBM's forecast, the previously mentioned article notes that "earlier [in 2017], IDC analysts released a survey that indicated that almost 80 percent of large organizations with 1,000 or more employees already have a hybrid cloud strategy in place. In addition, 51.4 percent are using both public and private cloud infrastructures, and 29.2 percent expect to do the same within the next year." These metrics are useful to support IBM's argument, but they could also be interpreted to suggest that most large customers already have a hybrid-cloud in place, and thus new hybrid-cloud deployments could actually decrease moving forward. Further, if we recall the discussion in Section 3.2 around customers opting for COTS/SaaS applications, as well as the possibility that single cloud architectures could ultimately establish themselves as the dominant model, then it's conceivable that a $1 trillion hybrid-cloud market may not materialize.
4.0 CONCLUSION
"Whoa" was supposedly Steve Ballmer's (former Microsoft CEO) reaction upon hearing about the IBM-Red Hat deal. Perhaps that single word best describes the current sentiment of many others.
The main thrust of what I've presented in this article is that I am still struggling to understand what key technologies IBM gets with Red Hat that they didn't already have, and why they felt they needed to spend 1/3 of their market cap on a company that is only generating a few hundred million in cloud solution revenue (although their growth rate is high). Still, the "math" doesn't add up for me, although perhaps it will in time as IBM and Red Hat better explain their unique value proposition.
Readers may rightfully point out that I've ignored the prospects for Red Hat Linux and their middleware stack under IBM in my analysis. In regard to the latter, I think IBM's ownership of Red Hat's middleware stack is likely to create some confusion, at least in the short term. IBM and Red Hat will obviously have to figure out how to position WebSphere versus JBoss. And as other authors have suggested, Red Hat Enterprise Linux (RHEL) might eventually supplant AIX as IBM's de facto UNIX distribution. The related migration work would presumably drive a fair amount of technology and support services. Ms. Rometty noted in one of the previously mentioned quotes that Linux is the fastest growing operating system in the cloud and on-premise. But, note that she did not say that RHEL is the fastest growing Linux distribution. To that end, there is some data suggesting that Ubuntu is growing faster in the enterprise Linux segment. Without more data from IBM and Red Hat, it's really quite challenging to quantify the impact of Red Hat's Linux and JBoss product sets to IBM over the long-term.
As mentioned, I expect that IBM and Red Hat will provide greater clarity on the strategic value-add of the 2 companies as we move into 2019, and how they intend to combine their stacks to better compete against the likes of AWS, Microsoft, and Google. I hope they do; because clearly investors will send the stock lower (than it already is) if most become convinced the sum of the companies lacks incremental value. Yet, even as IBM/Red Hat provide additional details to the market, as I've outlined herein there are several counter-arguments which undermine the assumptions that this deal is predicated upon. In my view, the calculus of the cloud stays the same for the time being.
Supporting Documents
ibm_redhat_acquisition_transcript.pdf
Disclosure: I/we have no positions in any stocks mentioned, and no plans to initiate any positions within the next 72 hours.
I wrote this article myself, and it expresses my own opinions. I am not receiving compensation for it (other than from Seeking Alpha). I have no business relationship with any company whose stock is mentioned in this article.