A pregnant woman in the United Kingdom said she was stunned to find that a chicken piece she purchased from KFC had an unusual color. KFC, however, issued a statement and said the photo appears worse than it really is.
The woman, Chanelle Jackson, purchased the food at a KFC in Lakeside, England, The Sun reported.
Jackson said she ordered two Mighty Buckets for her and her family.
Woman left horrified after splitting open her KFC chicken drumstick and finding it green inside 🤢 https://t.co/PUs6JX5jE2

— The Sun (@TheSun) June 30, 2019
She went to give a piece to her daughter, but she noticed it looked unusual.
"As soon as I looked inside, I knew it wasn't right," she told The Sun. "Luckily I'd not taken a bite of it yet though."
"I'm not sure why it was that color, but I knew I didn't want to eat it, especially as I am 30 weeks pregnant," she added. "I was going to share it with my 15-month-old daughter as they had run out of popcorn chicken, and I don't know what would have happened if she had eaten it. We checked the rest of the chicken, but it was the only piece that had that color."
Jackson went back to the KFC to return her food, and the employees were disgusted.
They gave her some replacement food, but Jackson said she wasn't interested.
"I think I'll probably be avoiding KFC for a while after this," he added.
KFC told the Daily Mirror that the chicken in the photo looks worse than it really is.
"We've looked into this and while it's clearly not nice to see, it's completely harmless and occasionally comes as a result of dealing with fresh chicken. That said, we're sorry for Chanelle's experience and immediately offered her a refund when our team members found out," the firm said.
Bacteria Found in Fast-Food Ice Machines
A BBC Watchdog report found that ice that is served up by some fast food chains was contaminated with fecal bacteria.
More than half of the samples from the major chains—including Burger King, KFC, and McDonald's—were contaminated with the bacteria, according to the BBC documentary. The investigation was made after it was revealed that ice from coffee chains like Starbucks also contained fecal bacteria.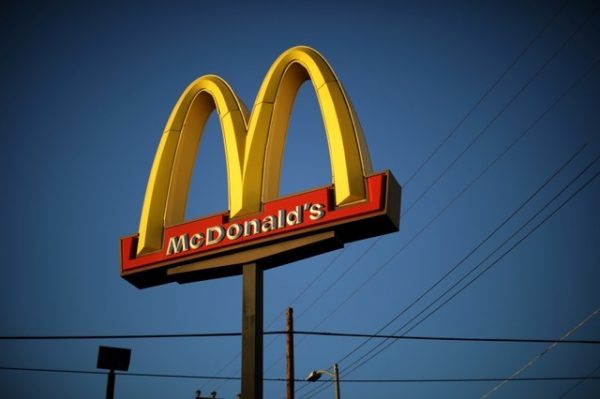 Bacteria samples were also found in the drinking water at the chains.
Out of 10 samples that were obtained from each of the three chains, seven were found to be contaminated from KFC, six were contaminated from Burger King, and three from McDonald's, the Watchdog report stated. Five of the seven tested at KFC were noted as "severe" in the report.
"When we're finding the sorts of numbers we're finding here, you have to look at the people making the ice, handling the ice, which they then transfer into customers' drinks," said Tony Lewis, who is Head of Policy and Education at the Chartered Institute of Environmental Health, according to The Independent.
"And then you also have to look at hygiene failure with potentially the machines themselves: are they being kept clean?"