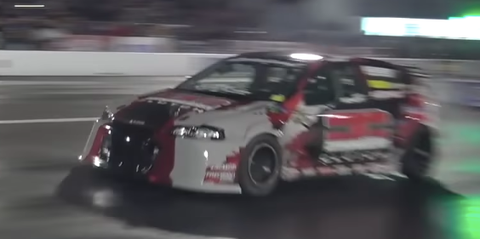 YouTubeThat Racing Channel
We've written about plenty of wild drag cars here at Road & Track, but this is probably one of the craziest. It's a Honda Civic equipped with a 2000-horsepower billet block engine sending power to the front wheels. You're going to want to see this thing in action.
This car came out to set some times a the 2018 Import vs. Domestic World Cup Finals recently, and it left a serious impression. Built by SpeedFactory Racing of Tacoma, Washington, it has pretty much every part you can throw at it to make it as fast as possible. But instead of converting it to rear-wheel drive or all-wheel drive, the builders decided to keep all the power going through the front, and retain the H-pattern manual transmission.
Those limitations didn't stop the car from setting a best quarter-mile run of 7.47 seconds at 215.48 mph, which is pretty much unheard of for a front-wheel drive car. According to this video's uploader, the run set the record for fastest front-wheel drive speed in the quarter mile. We're fans.