Note: This article contains potential spoilers for The Walking Dead season 9's finale, and comic book spoilers too.
The Walking Dead is just an episode away from the end of season 9 – and some fans have a theory that Rick Grimes might even feature in the finale.

In a new preview picture, Eugene (Josh McDermitt) can be seen continuing to repair the radio parts with the hope of creating some sort of communications system that could allow him to get in touch with other communities.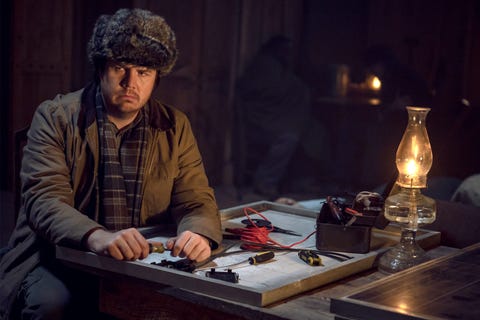 Gene Page/AMC
Unsurprisingly, viewers have been getting increasingly suspicious about the radio project Eugene is working on, and they now reckon he might be able to use the radio to make contact with a certain Rick Grimes.
(And there's some strong language amid all the excitement too.)
One fan wrote: "Just a crazy wild theory I just had. What if Eugene gets that ham radio working and they hear Rick talking at the new place? Eugene cant get it to transmit but the can listen. They know Rick is alive and set off on a search. I know, but still I liked it."
Another added: "You all need to stop with the whole "Rick's voice on Eugene's radio" theory cuz that will absolutely break me I have chills just thinking about it. But also: something similar to that DOES happen in the comics!"
Fans might be on the right track too, because there's a similar storyline in Robert Kirkman's original comic books, where Eugene makes an attempt to reach out to someone on the radio.
A voice on the radio responds back and Eugene tries to make further contact, saying: "Read you loud and clear, Eugene Porter. Come in. Do you read us? Over."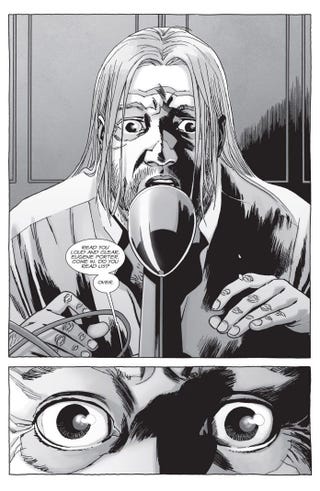 Image Comics/Skybound Entertainment
We earn a commission for products purchased through some links in this article.
Eugene ultimately reaches out to Stephanie, who's part of the Commonwealth – a group of around 50,000 survivors linked across different settlements.
There was a brief introduction to the Commonwealth in season 9's trailer and showrunner Angela Kang teased last October: "Obviously the Commonwealth does mean things to people – we're starting to seed in some future stories.
"The timing of those stories may not be in the immediate future, but there will be things this season [9] that are groundwork being laid for finding out more about the world."
We'll just have to wait and see if those theories are proved right…
The Walking Dead airs on AMC in the US and on FOX in the UK. You can also catch up on the show via NOW TV.
---
Want up-to-the-minute entertainment news and features? Just hit 'Like' on our Digital Spy Facebook page and 'Follow' on our @digitalspy Instagram and Twitter account.