BBC One's latest nature documentary Serengeti has all the ingredients for a good show – a solid narrator in Star Wars' John Boyega, quality camerawork and a great score.
The show takes a dramatised look at the lives of the animals who live in the Serengeti region of Africa, telling their stories in a semi-fictionalised way.
The first episode, 'Destiny', aired tonight (July 4) and followed the story of a young hyena losing her mother and taking on the mantle of head of her family.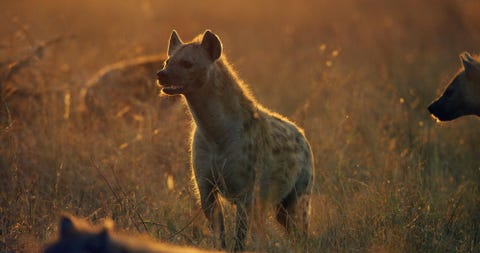 BBC
But viewers weren't at all convinced by the format, and they had one major gripe with the documentary.
Although John Boyega's voice is super smooth, many felt he just didn't quite match up to national treasure and reigning monarch of narrating documentaries David Attenborough.
After comparing the two narrators, people just missed the dulcet tones of Attenborough telling the real-life stories of the animals on their screens.
Another major issue with the narration for viewers at home was the script, as some called it "cheesy" and "childish", with many disliking the anthropomorphising of the animals.
"Great camera work but the humanising of the animals and their relationships is spoiling it," wrote one viewer.
"Always happy to see African wildlife footage (and this is good footage) but utterly ridiculous made up stupid stories are completely and utterly unnecessary," added another. "This is like Playschool does wildlife." Ouch.
Some were even comparing Serengeti to EastEnders – which is not the kind of reviews we'd imagine the BBC would hope to receive after a big-budget new documentary like this one.
Oh dear – maybe the show can salvage some positive reviews next week.
Serengeti airs on BBC One at 8pm on Thursday evenings.
---
Want up-to-the-minute entertainment news and features? Just hit 'Like' on our Digital Spy Facebook page and 'Follow' on our @digitalspy Instagram and Twitter account.