Sebastian Vettel insists the high cockpit side of his Ferrari Formula 1 car meant that he could not see other drivers approaching after he spun in the Italian Grand Prix.
Vettel was running fourth when he spun at the Ascari chicane early in the race while trying to chase Valtteri Bottas, having lost ground on lap one when temporarily passed by Nico Hulkenberg.
As Vettel tried to get off the grass and rejoin he drove into the path of Lance Stroll, sending the Racing Point into a spin.
Vettel subsequently received a 10 second stop and go penalty and three penalty points for rejoining the track unsafely. He eventually finished a lapped 13th.
Explaining his attempt to rejoin the track, Vettel said it took longer than he had expected to get off the grass and had originally thought there was a gap in the traffic into which he could safely rejoin.
He also said his vision was compromised by the cockpit in the angle at which he was parked.
"When I spun I was looking the other way, I saw there was quite a bit of a gap," Vettel said.
"Obviously then you don't start counting. I knew there would be cars coming, but originally I thought I would be much quicker rejoining. That took obviously a lot longer.
"Coming back I knew that there will be a gap, but I struggled a little bit to get out, I think I was stuck on the grass. I lost a bit of momentum there, it took a bit longer.
"So certainly not ideal, but I couldn't see anything to the left.
"It is compromised because we have the high cockpit, but I don't think it's an option to drop that."
Vettel felt he would have had the pace to join team-mate Charles Leclerc and the Mercedes in the lead battle given how quickly he had caught up after the early delay behind Hulkenberg.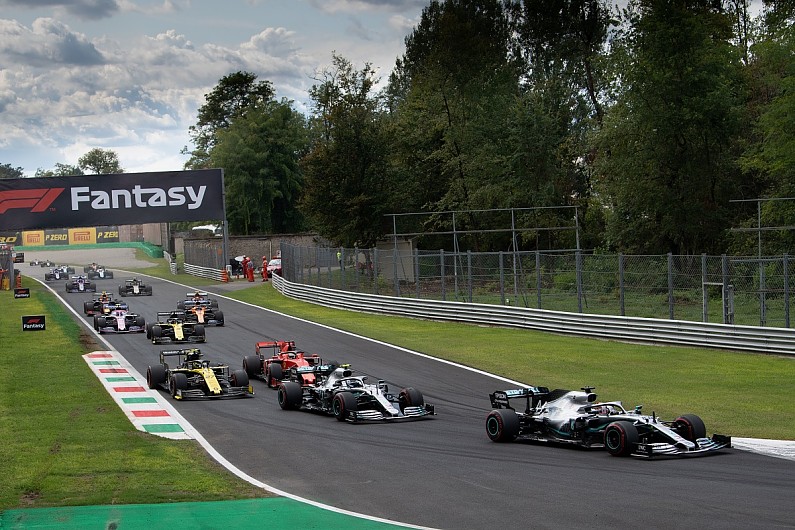 "I didn't get a great momentum into the first couple of corners so I lost a position," he said.
"But it was no problem, I wasn't really in a rush, it was quite straightforward to close the gap to the three cars in front.
"I was just trying to stay with them, but obviously I had a mistake and lost the car.
"After that the race was a bit different."
He insisted he was pleased to see Leclerc win Ferrari's home race.
It was the second year in a row at Monza that an early Vettel error had left his team-mate representing Ferrari solo up front.
In 2018 Kimi Raikkonen was leading for Ferrari while Vettel spun to the back in a dice with Lewis Hamilton, but Hamilton ultimately passed Raikkonen and won.
This time Leclerc fended off pressure from both Hamilton and Bottas to give Ferrari its first home win in F1 since Fernando Alonso's 2010 triumph.
"It's good for the team. On my side I'm not happy, certainly not with how it went, with that spin," said Vettel.
"After that obviously our race was pretty much lost from there, but at least the team was still going.
"Last year it was close with Kimi, this time time it was certainly good that Charles sealed the victory at the end for the team."