Hays Travel, the Just Go Travel operator, acquires 555 stores promising to secure retail sites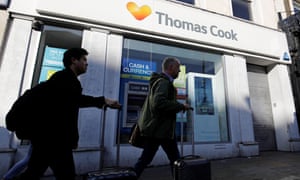 Up to 2,500 jobs could be saved following the sale of Thomas Cook's chain of 555 UK travel agencies to Hays Travel, following the collapse of the holiday firm last month.
Hays Travel, which claims it is the UK's largest independent travel agent, has acquired all the Thomas Cook stores and said it will re-employ a "significant number" of former employees.
"Thomas Cook was a much-loved brand employing talented people," said John and Irene Hays, managing director and group chair of Hays Travel. "We look forward to working with many of them."
The travel company, which will almost quadruple in size following the deal, said it has already hired 421 former Thomas Cook employees following the appointment of the official receiver last month.
"This is an extremely positive outcome, and we are delighted to have secured this agreement," said Jim Tucker, a partner at KPMG and joint special manager of Thomas Cook's retail division.
"It provides re-employment opportunities for a significant number of former Thomas Cook employees and secures the future of retail sites up and down the UK high street. Over the weeks ahead, we will work closely with Hays Travel and landlords to ensure a smooth transition of the store estate."
Hays Travel said it was proposing to reopen the Thomas Cook stores with "immediate effect where possible and to take on up to 2,500 people". More than 100 new jobs will be based at the company's Sunderland headquarters with the rest in shops across the UK.
The company said that in the immediate aftermath of the collapse of Thomas Cook, Britain's oldest travel firm, it offered to help all Thomas Cook apprentices to complete their training at the Ofsted-accredited Hays Travel Academy.
"We will build on the good things Thomas Cook had – not least its people – and that will put us in even better stead for the future," said Irene Hays. "We want to continue to build the company's reputation for first-class service and being a great place to work and develop a career."
John Hays opened the first branch of the eponymous travel company at the back of his mother's childrenswear shop in Seaham, County Durham, in 1980. Sales in the first year amounted to £812. Since then the business has grown to more than 190 travel shops across the UK, employing about 1,900 staff with a turnover of more than £1bn last year.
To mark the £1bn milestone the company shared a £1m pot with its employees, who each received £100 for every year they had worked at the company.
"I'm very proud of the fantastic team who have helped me build Hays Travel over almost 40 years and they have worked tirelessly over the last couple of weeks to bring this about." he said. "It is a game-changer for us."
Before its collapse last month, Thomas Cook received seven non-binding offers for parts of its business – its airline operation, tour operator and Nordic business – which were all rejected by its board and lenders.