Things never tend to go smoothly when Keith Lemon appears on This Morning, and events took a brilliantly disastrous turn on today's (March 13) episode.
The Celebrity Juice host appeared alongside his new team captain Paddy McGuinness on the daytime TV show, though 15 minutes before their actual interview, they attempted a joke segment where they slept together in a bed.
During the link, Holly Willoughby and Phillip Schofield tried to wake them up to no avail, which led to Kelly Brook – who was about to present a separate segment on houseplants – trying her luck.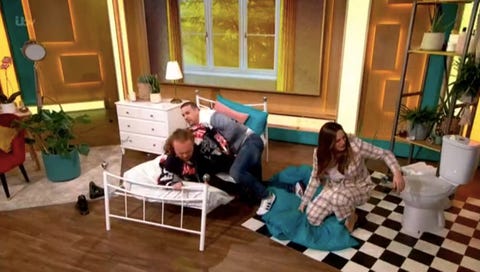 ITV
Keith then 'woke up' and enthusiastically declared: "Kelly Brook – my dream has come true!"
He then pulled her onto the bed, leading them all to roll around before breaking the bed and falling off. Oh dear.
Holly and Phil could barely contain themselves, and didn't help matters in Kelly's next segment as they were still laughing.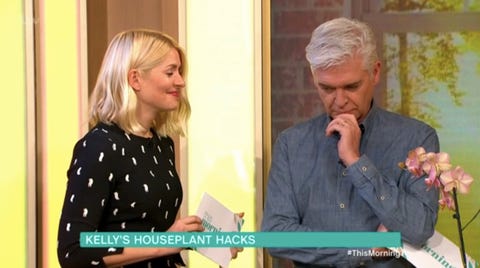 ITV
As Kelly tried to talk about plants, she admitted: "I was trying to be serious but it went out of the window."
During Keith and Paddy's eventual interview, the latter joked that he was already "regretting" joining Celebrity Juice, especially after doing a gross jelly segment in the first episode.
Phil then spoke of Fearne Cotton's departure, mentioning that she, Holly and Keith all had a pact that if "one went, all went". But Holly explained: "We just really enjoy making the show still, and I don't think [Keith and I] were ready to stop yet."
This Morning airs weekdays on ITV.
---
Want up-to-the-minute entertainment news and features? Just hit 'Like' on our Digital Spy Facebook page and 'Follow' on our @digitalspy Instagram and Twitter account.

Advertisement – Continue Reading Below