Ashley Roberts' Paso Doble during the Strictly Come Dancing semi-final went slightly wrong last week, but it definitely was not her fault!
Even though the popstar and her pro partner Pasha Kovalev still scored a very impressive 36 for their routine set to 'Spectrum', they were marked off a point by all four judges for awkward footing at one point.
Advertisement – Continue Reading Below
The couple finally got a chance to clear up questions about the dance on spin-off show It Takes Two on Tuesday (December 11), with Pasha surprisingly revealing that he was actually the one off his game.
"It actually was my fault, what happened there," he admitted to Zoe. "At the end of the Paso Doble, I was supposed to turn around, flip in the air, land on my knees. Ashley would come to me, give me a last push to finish me off.
"Then, what happened? I was like, where am I? What am I doing? I was completely lost. Then, Ashley was like right there, so I was like, 'Okay, I better hold on to her. We're dancing. We're dancing. We're dancing!'"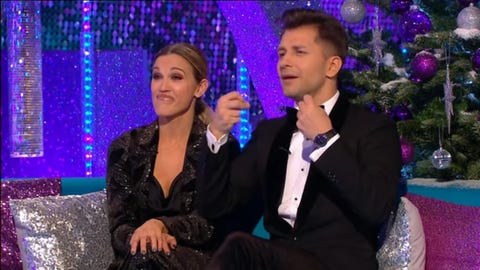 BBC
He added: "The great thing is that Ashley was just following me, and she was like, 'Okay, I cannot do anything with that. I'm just going to give in!'"
"I turned around and saw his face, and was like, 'Pash, what are you doing? You're supposed to be over there'," Ashley remembered.
Zoe pointed out that the couple still got the highest score for a Paso Doble in Week 12, which seemed to make up for any embarrassment over the botched routine.
Advertisement – Continue Reading Below
"I had so much fun on Saturday," Ashley assured her. "I really wanted to come back fighting, and show them how passionate we were to be there, and be on that stage. I'm glad we did that."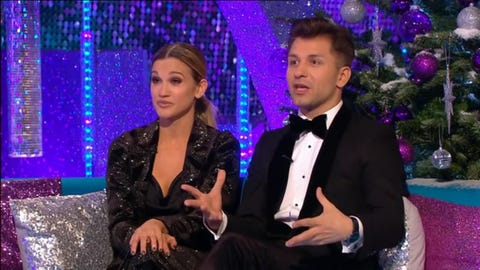 BBC
Ashley will get another shot to prove the haters wrong in Saturday's finale when she dances three more times against Stacey Dooley, Faye Tozer and Joe Sugg in order to win the Glitterball trophy.
The Strictly Come Dancing finale airs on Saturday (December 15) at 6.30pm on BBC One as one couple win the Glitterball Trophy. The special will also feature music from crooner Michael Bublé.
---
Want up-to-the-minute entertainment news and features? Just hit 'Like' on our Digital Spy Facebook page and 'Follow' on our @digitalspy Instagram and Twitter account.