So it's looking like Star Wars: Episode IX will be getting a time jump following the events of The Last Jedi.
How do we know this? Well, according to a recent Empire Magazine article, John Boyega has now confirmed it himself.
This months Empire magazine… did i miss something?
"John Boyega confirmed the film takes place roughly one year after the events of The Last Jedi" ???? pic.twitter.com/erormUbT5q

— Riri (@Riri19911) December 21, 2018
Advertisement – Continue Reading Below
There's no direct quote from the Finn actor, but back in May he dropped a huge hint about a progression in time when he revealed his character will have longer hair – because hair grows, you see.
Speaking to PA, he said: "I can't wait to start shooting the next and final leg of the franchise. The first step is growing out my hair, so you can wait for the trailer to see why."
So if Finn is sporting longer hair in Episode XI, it stands to reason that there might be a considerable time jump from the end of The Last Jedi to the start of the new movie, something previous Star Wars movies have been happy to do.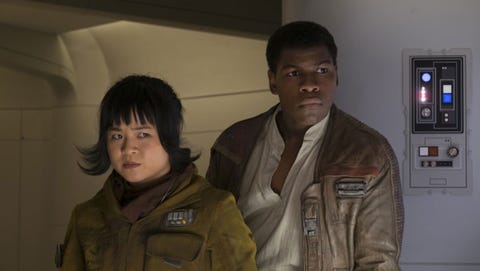 Lucasfilm
Not only that, director JJ Abrams may also need to utilise a time jump to fix a whole host of narrative problems with The Last Jedi.
For example, hardly any Resistance fighters remain after Episode VIII, so they'll need time to regroup. And presumably Rey needs more time to hone her skills, having learnt little in the last film.
Unless you're able to time jump, you'll have to wait until December 2019 to find out the truth, as that's when Episode IX is released.
---
Want up-to-the-minute entertainment news and features? Just hit 'Like' on our Digital Spy Facebook page and 'Follow' on our @digitalspy Instagram and Twitter account.