Blog |
Scorecard
* Rashid Khan (15 * off 8 balls) completed the formalities in the end by hitting a four and a six off consecutive balls
(201/5) chased down the big target (199) with an over to spare. The foundation for the chase was laid by the home side's openers, David Warner (69) and Jonny Bairstow (45), as the duo put on a 110-run partnership in just 9.4 overs. Sanju Samson's unbeaten 102, first century of the season, went in vain.
Overs 19: SRH 201/5, win by five wickets

SIX! Rashid Khan finished the run in style, hitting a maximum of Jofra Archer.
Overs 18: SRH 187/5, need 12 off 12 balls

Good over from Jaydev Unadkat, given eight runs in it.
Overs 17: SRH 179/5, need 20 off 18 balls
10 RUNS!
Yusuf Pathan (10 *) smacked Jofra Archer for a six in the over SRH
Overs 16: SRH 169/5, need 30 off 24 balls

Shreyas Gopal gave away just four singles in return figures of 3 for 27 in four overs.
Overs 15.4: OUT! Two in two for Gopal, Pandey went for 1. SRH 167/5

Shreyas Gopal took two wickets in two balls to give Royals a ray of hope The hosts need 31 off 25 balls
Overs 15.3: OUT! Gopal gets rid of Shankar SRH 167/4

Second wicket for Shreyas Gopal, dismissed Vijay Shankar for 35. Big wicket for Royals as Shankar was going all guns blazing, hitting three sixes and a four in his 15-ball cameo.
Overs 15: SRH 165/3, need 34 off 30 balls
12 RUNS!
Jaydev Unadkat conceded a six and a four in the over, but took the important wicket of Kane Williamson.
Overs 14.4: OUT! Unadkat strikes to dismiss Williamson SRH 164/3

Big Wicket Jaydev Unadkat gave Royals a big breakthrough, dismissed SRH skipper Kane Williamson. Williamson scored 14 off 10 balls, which included two fours.
Overs 14: SRH 153/2, need 46 off 36 balls
17 RUNS!
Vijay Shankar (27 *) smacked Dhawal Kulkarni for two sixes in the over SRH move closer to the target
* Vijay Shankar (24 *) brings up 150 for SRH, in 13.4 overs, with a big six over mid-wicket.
Overs 13: SRH 136/2

Good start by Jaydev Unadkat, given away just six runs in it.
Overs 12: SRH 130/2, need 69 off 48 balls
13 RUNS!
Kane Williamson (7 *) and Vijay Shankar (7 *) hit a four each off Ben Stokes. SRH on the right course
Overs 11: OUT! Gopal scalps Bairstow SRH 117/2

WHAT AN OVER! Shreyas Gopal sent Jonny Bairstow back to the pavilion and gave away just two singles in it. The credit for the wicket also went on to Dhal Kulkarni Bairstow scored 45 off 28 balls, which included a six and six fours.
Overs 10: SRH 115/1, need 84 to win

Dramatic over from Ben Stokes A wicket, two boundaries and a drop catch all in the over Jonny Bairstow (44 *) got a life after Dhawal Kulkarni frop a tough chance at third man.
Overs 9.4: OUT! Stokes gets rid of Warner SRH 110/1

Massive Wicket. Ben Stokes gave
The first breakthrough in the 10th over David Warner went for 69 off 37 balls, which included two sixes and nine fours. Openers added 110 runs to a solid foundation for SRH, in their chase of 199.
Overs 9: SRH 104/0
12 RUNS!
Jonny Bairstow (34 *) helped SRH score 12 runs in the over, as they move closer to the target
* Jonny Bairstow brings up 100 for the home team with a big six off Shreyas Gopal.
SRH 102/0 in 9.5 overs
Overs 8: SRH 92/0
14 RUNS!
David Warner keeping his attacking mode on, hit a six and a four off K Gowtham from the first two deliveries. The hosts are moving in the right track in the run chase.
Overs 7: SRH 78/0

Shreyas Gopal was unlucky to concede a boundary through sloppy fielding by Dhawal Kulkarni Nine runs ccame off it
Overs 6: SRH 69/0
Time for time-out
15 RUNS!
End of Powerplay overs. Jonny Bairstow (16 *) joined the party, ended Jofra Archer's over with back-to-back fours as Sunrisers scored 15 in it.
Overs 5.3: FIFTY
For David Warner in 26 balls, which included a six and eight fours.
SRH 60/0
FIFTY! @ davidwarner31 has been on the charge since the word go. Brings up a superb half-century off 26 deliveries … https://t.co/0DHN0lvoUg

– IndianPremierLeague (@IPL) 1553878333000
Overs 5: SRH 54/0
17 RUNS! 4, 4, 0, 4, 1, 4 –
David Warner (45 *) welcomed Ben Stokes with back-to-back fours as the pacer conceded four boundaries in the over
* 50 comes up for Sunrisers Hyderabad in 4.5 overs Warner 45 *
Overs 4: SRH 37/0

Good start by Jofra Archer, gave away just three runs in the over
Overs 3: SRH 34/0

David Warner (31 *) looked in the mood for big score, hit a four in the over off Dhawal Kulkarni to score nine off it.
Overs 2: SRH 25/0
11 runes!
David Warner (23 *) hit two fours off K Gouttham to give Sunrisers a good start.
Over 1: SRH 14/0
David Warner started the run chase with a four and a six off Dhawal Kulkarni
David Warner and Jonny Bairstow start the Hyderabad run chase. Dhawal Kulkarni with the ball for Royals
Sanju Samson:
"Feels good to score an IPL, but this is just the start of the tournament and I got to stay grounded and do what the team wanted. The pitch was a bit slow to start with, but with time it got easy. We have set a good target with our bowling line-up. But cricket is a funny game, anything can happen. "
A fine century from Samson and a knock of 70 by the skipper, propel @rajasthanroyals to a total of 198/2. Will the … https://t.co/a9pJNNVmC2

– IndianPremierLeague (@IPL) 1553876141000
Overs 20: RR 198/2

Ben Stokes (16 *) and Sanju Samson (102 *) finished the Rajasthan Royals' over with style, scoring 21 off Bhuvneshwar Kumar. Bhuvi had an off day today, leaking 55 runs in four overs
*
Hundrade for Sanju Samson off 54 balls, first of the season. RR 186/2 in 19.3 overs

Overs 19: RR 177/2
13 RUNS!
Sanju Samson (96 *) hit a six off Sandeep Sharma in the over, as he comes to a well-deserved hundred Sandeep's figures: 0-38 in four overs.
Overs 18: RR 164/2
WHAT AN OVER! 6, 4, 4, 2, 4, 4 –
Sanju Samson (85 * off 49 balls) destroyed Bhuvneshwar Kumar with some elegant shots as the right-hander scored over 24 runs.
* 150 goes up for Rajasthan Royals in 17.1 overs
Overs 17: RR 140/2

Tidy over from Siddarth Kaul, gave away just five runs in it. But Kaul was unlucky not to get the wicket of Sanju Samson (61 *), as the keeper Jonny Bairstow spilled a tough chance. Kaul's figures: 0-32 in four overs
Overs 16: RR 135/2
13 RUNS
came off Nadeem's over, but the spinner will be happy to get rid of in-form Rahane in it.
Overs 15.5: OUT! Nadeem strikes to dismiss Rahane RR 134/2

Skipper Ajinkya Rahane's brilliant knock came to an end, after scoring 70 off 49 balls with the help of three sixes and four fours. Trying for another big shot, gave away a simple catch to Manish Pandey at long-off off Shahbaz Nadeem. Rahane added 119 runs for the second wicket with Sanju Samson.
Overs 15.1: SIX!
Rahane Smashes Nadeem for another maximum Pure Class!
RR 128/1
Overs 15: RR 122/1
. Time for another 'strategic time-out'
Overs 14: RR 116/1
FIFTY
For Sanju Samson off 34 balls with the help of two sixes and four boundaries. 11 runs came off Sandeep Sharma over
*
100 runs partnership
Rahane and Samson in just 65 balls
RR 115/1 in 13.5 overs
Overs 13: RR 105/1

Rashid Khan put a break on Royals' boundary spree with a tidy over. Gave just four singles in it.
*
FIFTY
Ajinkya Rahane off 38 balls, which included two sixes and two fours.
RR 102/1
in 12.1 overs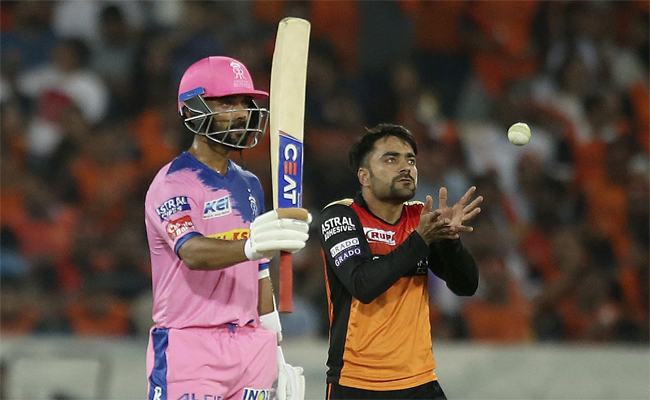 Rahane raises his bat to celebrate scoring fifty runs (AP Photo)

Overs 12: RR 101/1. Rahane 49 * & Samson 44 *

13 RUNS! After Rahane welcomed Vjay Shankar with a six over backward square, Samson hit a four to score 13 in the over.
* Sanju Samson (44 *) brings up 100 for Royals with an inside-out shot for a boundary off Vijay Shankar.
RR 101/1 in 11.5 overs
Overs 11: RR 88/1
13 RUNS!
Another 13-run over for the Royals This time Samsaon (39 *) and Rahane (41 *) hit a four each off Kaul
Overs 10: RR 75/1
13 RUNS!
Another big over for the Royals Rahane (35 *) hit a six off Nadeem in it Royals' biggest over so far
Overs 9: RR 62/1
Time for first strategic time-out
Rashid Khan conceded just seven runs in the over, which included a four by Sanju Samson (31 *)
Overs 8: RR 55/1
10 RUNS!
Another big over for Royals The visitors are on the move.
Overs 7.2: SIX!
Sanju Samson (23 *) hits another maximum, this time off Siddarth Kaul
RR 52/1
Overs 7: RR 45/1
10 RUNS!
Shahbaz Nadeem's first over is the night so far.
Overs 6.5: SIX!
Sanju Samson (16 *) smacks Shahbaz Nadeem for first maximum of the innings
RR 44/1
Overs 6: RR 35/1

End of Powerplay overs, Rajasthan Royals managed 35 for the loss of one wicket. Tidy start for Siddarth Kaul, just four singles came from it.
Overs 5: RR 31/1

Ajinkya Rahane (18 *) hit a four off Sandeep Sharma as Royals scored 9 runs in the over
Overs 4: RR 22/1

Good start by Rashid Khan Asked about some tough questions to the Royals batsmen Sanju Samson was lucky to get a boundary after edging the ball tantalizingly close to the slip fielder, soon after the fall of Jos Buttler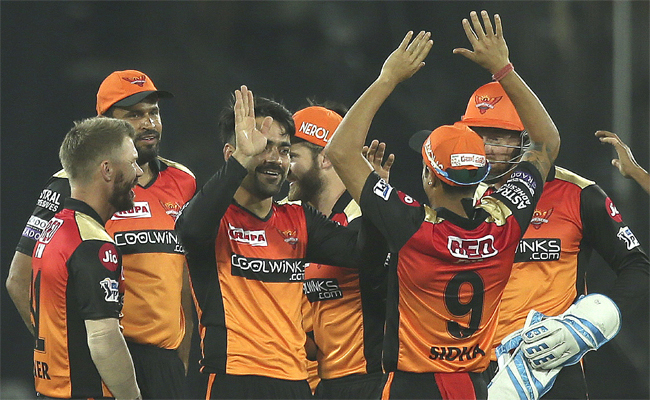 Rashid Khan, center, celebrates with teammates, dismissals of Royals' Jos Buttler (AP Photo)
Overs 3.2: OUT! Rashid cleans up Buttler for 5. RR 15/1

Jos Buttler missed the ball while trying to sweep and was castled by Rashid Khan. This happened after The Englishman should have a look-in before going after Rashid, a proven wicket-taker in this format of the game.
Overs 3: RR 15/0; Rahane 9 * & Buttler 5 *

Bhuvneshwar Kumar's second over
Overs 2.4: FOUR!
Jos Buttler opens his account with a boundary off Bhuvneshwar Kumar, first of the Royals' innings
RR 14/0
Overs 2: RR 8/0

Sandeep Sharma started with three dot balls in Ajinkya Rahane (8 *), before the Royals captain scored two balls in consecutive balls.
Over 1: RR 3/0

Tidy start by Bhuvneshwar Kumar, conceded just three runs in it.
Over 0.3: TWO!
Ajinkya Rahane flicks it towards deep square leg to open the Royals' account.
RR 2/0
Here we go … Ajinkya Rahane and Jos Buttler to start the Rajasthan Royals innings Bhuvneshwar Kumar with the ball for Sunrisers Hyderabad
Kane Williamson:
"We would'vs liked to bat first as well. It's important that we do it well with the ball soon." Shakib and Hooda miss out from the last match. Myself and Shabaz come in. It looks like a good surface and it It is important that we adapt the ball first up and it's all about executing our skills and our plans. The injury recovery is coming along well. Every side has a wonderful crowd before their homegrown at play.
Ajinkya Rahane:
"We're looking to bat first. I do not know how this wicket will behave but I am sure that the wicket does not change much in the 40 overs, so looking to put runs and then defending. with the same combination; I do not believe in a lot of changes. I think stay in the present is all what this format is all about. We need to stick to our strengths and back ourselves.
TOSS | Rajasthan Royals skipper Ajinkya Rahane wins the toss, opts to bat against Sunrisers Hyderabad

Team News
RR:
Unchanged
SRH:
Two changes for the hosts: Kane Williamson and Shahbaz Nadeem replaced Shakib Al Hasan and Deepak Hooda
Playing XIs

Rajasthan Royals:
Ajinkya Rahane (c), Jos Buttler (w), Sanju Samson, Steven Smith, Ben Stokes, Rahul Tripathi, Krishnappa Gowtham, Jofra Archer, Jaydev Unadkat, Shreyas Gopal, Dhawal Kulkarni
Sunrisers Hyderabad:
David Warner, Jonny Bairstow (w), Kane Williamson (c), Vijay Shankar, Yusuf Pathan, Manish Pandey, Rashid Khan, Bhuvneshwar Kumar, Shahbaz Nadeem, Sandeep Sharma, Siddarth Kaul
* Kane Williamson back as skipper of home team, SRH
Pitch Report
"Not a lot of fun as a fast bowler. There is a bit of grass, which means there will be some skid, and then some turn later on in the day" –
Brett Lee
"He [Bhuvneshwar Kumar] was already the leader of the bowling group and now it is fun to play under him. It always helps when a bowler is leading the team as that means you are also better understood when it comes to strategising. fun playing under him and I am hoping he too, liked the experience of leading us "-
SRH pacer Siddarth Kaul
Head to Head: SRH vs RR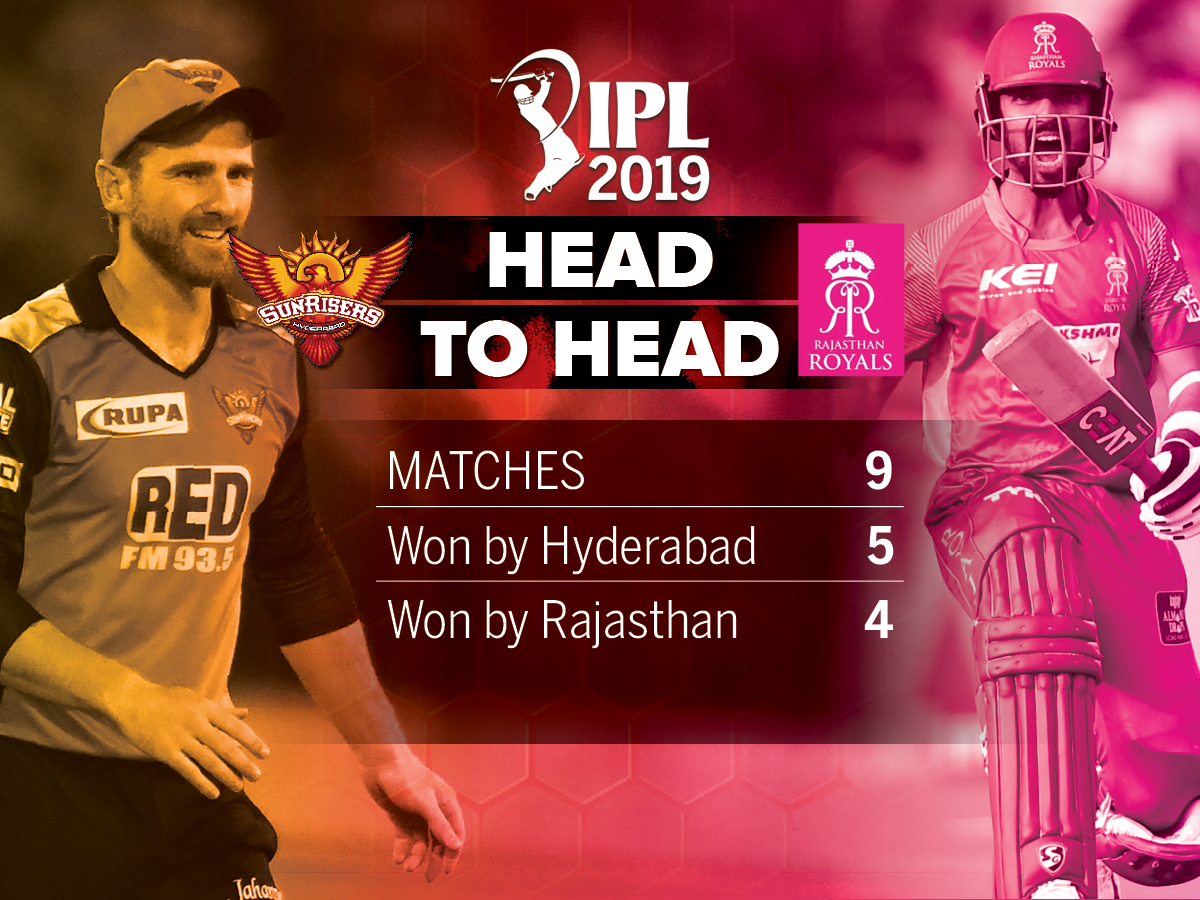 Hello and welcome to the live coverage of the IPL match between Sunrisers Hyderabad and Rajasthan Royals.