After a seven-year absence, the popular reality series Shipwrecked made its return to screens on E4 tonight (January 28) – but viewers could barely recognise it.
The show used to see two groups of contestants placed on two opposing islands (Shark and Tiger), where they were tasked with building their own shelter, fire and seating area.
Advertisement – Continue Reading Below
But it seems Shipwrecked has been heavily reinvented, now resembling something that has far more in common with ITV2's Love Island.
Related: Shipwrecked's Vick Hope reveals why Love Island fans will love the show
Viewers were surprised/disappointed/disgusted to see this new generation of islanders arrive at pre-built camps, which meant we didn't get to watch them struggle with tree logs and massive leaves – arguably the best part of the show for many people.
(Note: tweets contain strong language.)
Advertisement – Continue Reading Below
One person tweeted: "How is it they've already got shelter and major tools? I swear in the original Shipwrecked they had to make everything themselves."
While another wrote: "They already have a shelter built for them? I'm gonna sound old saying this but back in my day they didn't have f**k all."
And another added: "What happened to them building shelter, fire, seating area like the old Shipwrecked, why make it like a holiday????????"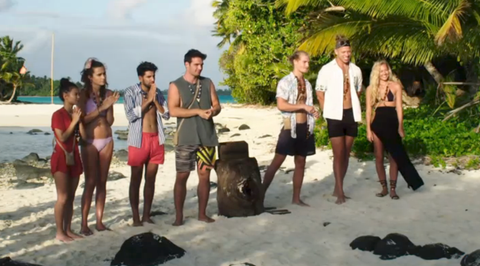 E4
Related: Shipwrecked's Vick Hope explains how the new E4 series compares to Love Island
As for the islanders themselves, there was plenty of drama in the first episode as feisty waitress Liv almost started a fight with part-time wig-maker Big T after she called her dumb for believing in mermaids. (Yeah.)
The end of the episode saw the contestants split into the Sharks and the Tigers, with the promise of two new arrivals tomorrow.
Shipwrecked airs weeknights at 9pm on E4.
---
Want up-to-the-minute entertainment news and features? Just hit 'Like' on our Digital Spy Facebook page and 'Follow' on our @digitalspy Instagram and Twitter account.