Note: This article contains spoilers for After Life season one on Netflix

In his stand-up comedy and on Twitter, Ricky Gervais is a provocateur. He's a man who believes that "people are too scared to offend". His material is often knowingly outrageous – partly, it seems, for comic effect and partly out of a childish enthusiasm to see how far he can push his audience.
So you'd be forgiven for thinking, or even fearing, that his new Netflix offering After Life would be a very particular sort of show – even the trailer for the series creates the false impression that it'll follow Gervais's character Tony on the warpath as a kind of verbal vigilante, cussing out nosy strangers and shouting down ignorant schoolboys.
After Life is not that show. Not really. Gervais doesn't just use Tony's newfound status as a widower as an excuse to let rip. It's not some flimsy plot device to excuse politically incorrect jokes. Tony might insist that he can "do and say what the f**k I want" now he feels he has nothing left to lose but his depressed state of mind, and his assertion that "When it all gets too much, I can always kill myself", certainly isn't played for laughs.
Only occasionally is there the slight feeling that Gervais is having his cake and eating it too, that he's revelling a little too much in his alter-ego's contemptuous attitude – in particular, a sequence towards the end of the first episode that sees Tony brazenly take on a pair of would-be muggers, no longer fearing the repercussions, smacks a little of wish fulfilment.
For the most part, though, Gervais resists such urges. Principally, this six-part series is a rather touching reflection on grief and an exploration of why we should be kind to other people, even if there's no obvious upside.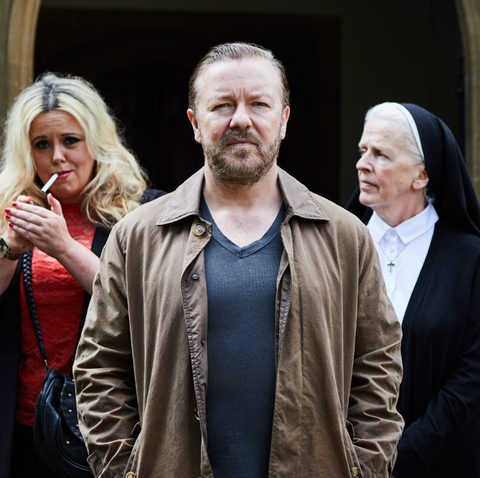 Netflix
Tony's rampage of rudeness is relatively short-lived, as most of his encounters with the residents of the small, quiet village of Tambury teach him that the world and everyone in it isn't really out to get him, and that everyone is dealing with a pain all their own.
Far from being bawdy and outrageous, After Life isn't even really a comedy, more a drama with some funny bits. Tony might not be as remarkable a character as David Brent but there's certainly a case to be made for this being Gervais's best-ever performance, his unflinching approach to the subject matter as a writer driving him to plough new dramatic depths as an actor.
He's surrounded himself with a roster of familiar comic faces, but After Life asks them to play it mostly straight too, with sometimes spectacular results. Tony's late wife is represented both by filmed 'flashbacks' and by a series of video messages left behind for her hapless husband, with Kerry Godliman's warm, sympathetic performance – and her established chemistry with Derek co-star Gervais – ensuring that you instantly buy into his and Lisa's relationship from just the few snippets we see of it.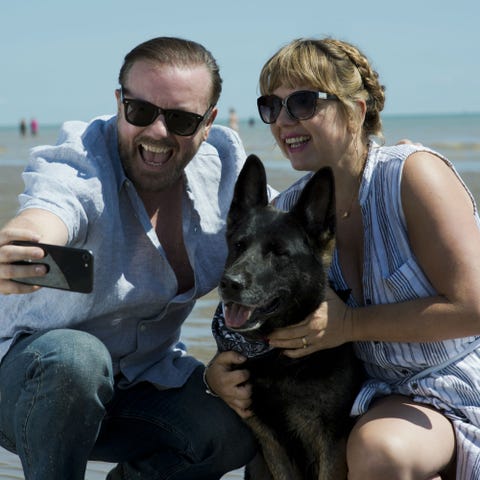 Rich HardcastleNetflix
Of the impressive ensemble cast, Plebs' Tom Basden is another notable standout, perfectly awkward and hugely charming as Tony's boss and brother-in-law Matt, while Tony's graveside exchanges with Penelope Wilton's sweet-but-sharp Ann are the scenes across the series most likely to have you blinking back tears.
For all its strengths, though, After Life doesn't quite stick the landing. With Tony having finally learnt that virtue is its own reward, and having found some solace in the company of the nurse (Ashley Jensen) who's been caring for his ailing father (David Bradley), the series appears to have come to a natural and satisfying end.
But one last conversation with Ann, in which Tony vows to keep on being blunt and unforgiving but only towards those "who deserve it", feels like a misstep, threatening a second season that could very easily fall into the trap of becoming exactly the show After Life might have been, and is so surprising and enjoyable for not being.
Then again, with Gervais having surprised us once, it's entirely possible he might do so again. Maybe, like Tony, we should learn to let go of our cynicism, at least a little bit.
After Life is streaming now on Netflix.
---
Want up-to-the-minute entertainment news and features? Just hit 'Like' on our Digital Spy Facebook page and 'Follow' on our @digitalspy Instagram and Twitter account.