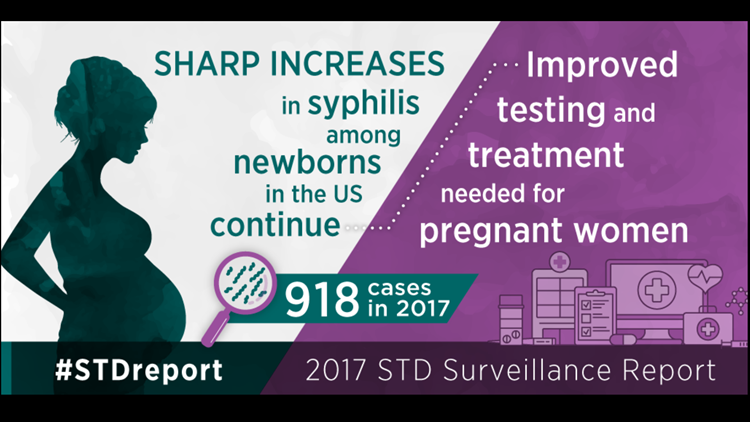 According to the Colorado Health Department, 18 cases of congenital syphilis were reported from 2013 through October 2018 with an "accelerating trend in recent years."
DENVER — Syphilis cases in newborns are on the rise, the Colorado Department of Public Health and Environment announced Thursday morning.
Though case numbers remain relatively small – 18 in the past five years – the Colorado Health Department said the trend has been accelerating in recent years.
There is an 80 percent chance that an untreated mother with syphilis will pass on the disease to her newborn, according to the Centers for Disease Control and Prevention. The Colorado Health Department suggests all mothers-to-be get tested at their first prenatal appointment for syphilis. Those will a high-risk chance of infection should also be tested early in their third trimester and at delivery.
Dr. Daniel Shodell, deputy director of the Disease Control and Environmental Epidemiology Division at the department, said case numbers are relatively small but one case is too many.
"At worst, the disease can cause miscarriage, stillbirth or death shortly after birth," Shodell said in a news release. "It also can cause severe, lifelong health problems."
To stymie the number of new cases, the Colorado Health Department outlined a multifaceted battle plan to combat the disease. The department will prioritize disease investigation and partner services for women of childbearing age, follow up with all women who test positive for syphilis while pregnant until shortly after birth, and increase education and outreach regarding the sexually transmitted disease.
Cases of congenital syphilis are rising nationally; the state Health Department said this trend is not local to Colorado. While there was only one case reported in 2013, there were five in 2018.
The state is also experiencing a "steep, sustained" increase in sexually transmitted diseases, according to the state Health Department.
Cases of chlamydia have increased 5.6 percent from 2016 to 2017, cases of gonorrhea have increased 41.9 percent in the same time frame, cases of all stages of syphilis have increased 10.5 percent statewide in the same time frame, according to the state Health Department.
To learn more about the increase in STIs in Colorado, head to this link, this link or this link.