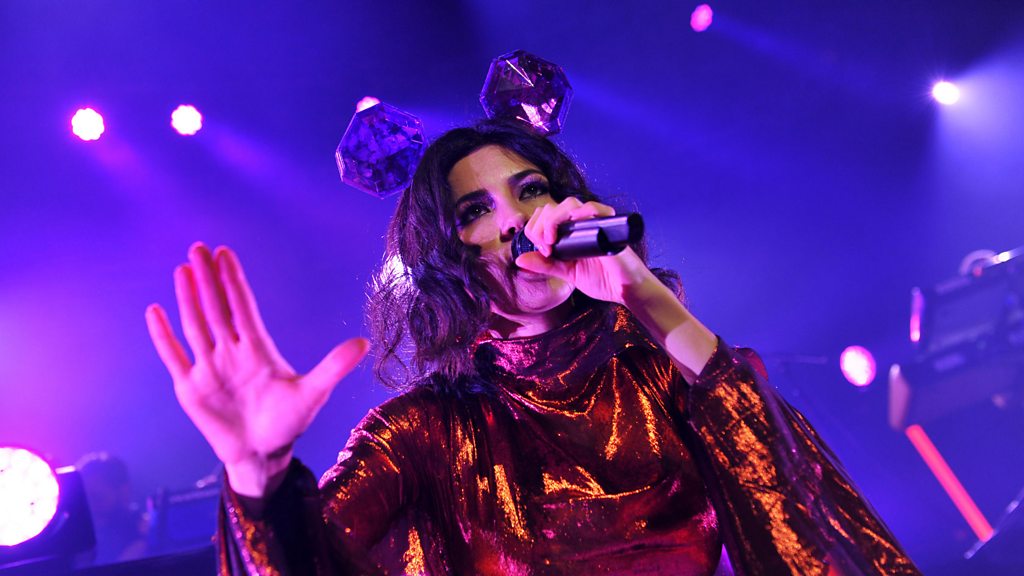 Got a TV Licence?
You need one to watch live TV on any channel or device, and BBC programmes on iPlayer. It's the law.
Summary
News updates for 27 February 2019
UK pop singer Marina calls out unnamed designer for altering picture of her
Drummer Andy Anderson, who played on The Cure's Love Cats has died
Radio 1 announces lineup and location for this year's Big Weekend
Warning: Third party content, may contain ads
Live Updates
By Kev Geoghegan & Paul Glynn
All times stated are UK
Ryan Adams: Fans demand money back ahead of UK tour

BBC Radio 4

Getty ImagesCopyright: Getty Images

Fans of US singer-songwriter Ryan Adams are demanding their money back ahead of his upcoming UK tour.

Following accusations of sexual misconduct, some fans say they don't want to go to his concerts until the allegations are proven or discounted.

In a recent New York Times report several women also accused him of psychological abuse.

The FBI is looking at whether he sent explicit text messages to an underage teenager, something Adams "unequivocally" denies.

Adams' forthcoming album has been put on hold but tickets for his UK dates are still on sale.

This has left some fans taking to social media to demand a refund from music venues and ticket companies.

Answering to tweets for ticketholders, the Royal Albert Hall – where Adams is scheduled to play said "no refunds will be offered" as the gig is still going ahead as planned.

Little Simz will see you now

1Xtra

If you enjoy sick lyrical flow then get your radio tuned into BBC Radio 1Xtra now as Little Simz is ready to drop some fire in the Live Lounge.

We'll have some festival news, featuring the north London rapper, coming up shortly.

Liam G asks fans to select new Oasis live covers

Getty ImagesCopyright: Getty Images

The rock 'n' roll star, who has been in the studio working on the follow-up to his #1 debut solo album, appears to be revving up for his next tour.

He's asked fans to select a fresh batch of Oasis songs that they want to hear him perform live.

"Rite brothers n sisters," wrote LG, "need your help, well not really just thought I'd get you involved as your [sic] always banging on about how much I never interact with youse putting 5 new oasis songs in setlist you lucky [people] can choose them of [sic] you go."

He later replied that 1995 hit Roll With It was not being considered for selection.

Every time Liam performs an Oasis song written by his estranged brother Noel, the latter gets a PRS payment, so no doubt Gallagher Jr will be hoping his track Songbird will be requested by the fans, if only for the royalties.

The only UK date in the LG diary at the moment is a gig in Cork on 23 June, but we'd expect that more will be announced soon.

Katy Perry reveals helicopter engagement

Getty ImagesCopyright: Getty Images

A hungover post-Oscars Katy has been telling US TV chat show host Jimmy Kimmel about her fiance Orlando Bloom's romantic – if not rather elaborate – air-born proposal on Valentine's Day.

"We went to dinner and I thought we were gonna see some art after dinner," said an excited Katy, "but we pulled up to a helicopter."

Some noise and confusion then ensued which involved champagne and a nervous-sounding Orlando ripping his coat pocket as he attempted to pull out the ring, as Katy read over his notes (you'd think an actor would have been able to remember his lines, wouldn't you?)

Thankfully the story had a happy ending.

"We did land and it was like James Bond. Everybody had an earpiece and we landed on a rooftop and my whole all my family was there and all my friends.

"He did so well… it was really sweet."

Listen above.

It may well be sweet Orlando but stories like that don't do the rest of us any favours.

What's wrong with doing it in a pub beer garden?

Marina bemoans airbrushing, calling it 'super irresponsible'

Getty ImagesCopyright: Getty Images

The singer-songwriter has taken to social media to call out a female fashion designer for photoshopping a picture of her to make her look skinnier.

Writing on Twitter, Marina accused the unnamed designer of adjusting a picture of her on Instagram, having "photoshopped my legs and thighs to look like literal sticks."

"This is internalised misogyny in full action," she argued.

She later added: "It feels super irresponsible & unkind to distort a woman's figure for what is essentially someone else's vanity."

When her fans speculated on the identity of the designer, Marina – formerly known as Marina and the Diamonds – told them: "It doesn't matter who it is anyway. I'm not saying it to expose a certain person – it's part of a bigger problem."

The Welsh star is not the first celebrity to attack the use of airbrushing, singers including Lady Gaga and Zendaya have also criticised the use of photoshop to take inches off their figures.

Marina releases her two part album Love + Fear in April and is playing a UK tour, including a sold out show at Royal Albert Hall, in May.

Solange revives social media platform BlackPlanet

Getty ImagesCopyright: Getty Images

The younger Knowles sister sparked speculation some new music could be on the way after using the social media platform from the early noughties to release new images and videos.

Her critically-lauded last album, A Seat at the Table, was released in 2016, so fans are understandably excited.

If only they could remember their BlackPlanet passwords.

She is headlining at the Lovebox festival in London this summer.

Drummer Andy Anderson, who played on The Cure's Love Cats has died

Getty ImagesCopyright: Getty Images

The Cure's former drummer Andy Anderson has passed away at the age of 68 from cancer.

He played on the band's albums Japanese Whispers, The Top, and Concert.

Anderson (pictured above, second from right) also performed with artists including Iggy Pop, Peter Gabriel and The Last Poets.

He revealed his illness earlier this month on Facebook telling fans: "I'm totally fine and aware of my situation," adding, "No boo hooing, just be positive."

The news of his death was confirmed by The Cure's founding member, Lol Tolhurst, who called him "a true gentleman and a great musician with a wicked sense of humour which he kept until the end, a testament to his beautiful spirit on the last journey.

"We are blessed to have known him."

BBC Two to screen Michael Jackson doc

BBCCopyright: BBC

Whether it will be quite as controversial as the forthcoming Leaving Neverland, screening in two-parts on Channel 4 next week, will remain to be seen.

The Jackson Estate is currently trying to sue its makers HBO for $100m.

Featuring testimony from those who knew him, Michael Jackson: The Rise And Fall will explore his life and career and will be shown on the BBC later this year.

The film has been written and presented by Jacques Peretti – who has already made three other separate docs on the King of Pop.

According to a press released the new film "will take us from his early years with The Jackson 5 in Gary, Indiana, to his time in New York – and the notorious nightclub Studio 54 – to his relationship with the media, retreat into fantasy and creation of Neverland".

It will also cover the run up to his This Is It concerts, which saw 50 gigs at London's O2 cancelled in the wake of his death in 2009.

Radio 1 announces lineup and location for this year's Big Weekend

BBC Radio 1

Getty ImagesCopyright: Getty Images

First up today, Radio 1 have just announced Little Mix, The 1975 and Miley Cyrus will play this year's Big Weekend in…

Wait for it (drum roll please)…

… Middlesbrough!

Miley is so excited to get up to Teeside that she's tweeted an exclamation that we simply can't repeat on here.

The music festival will take place at Stewart Park and will also feature performances from Zara Larsson, Mabel and Khalid with loads more still to be announced.

Radio 1 Breakfast Show host Greg James said: "I can't wait to take some of the best acts on the planet to Middlesbrough."

The Big Weekend is held over 25 and 26 May and more information on how to get tickets will be released in the coming weeks.

Last year saw the BBC help fill the Glastonbury void with the Biggest Weekend across four UK sites.

Hello again everyone.

It's time once again to open up the MNL box and see what's inside.

Coming up today:

Radio 1's Big Weekend is back and we'll tell you where, who, when and maybe even why…

Sad news from The Cure camp with the death of a former drummer
Solange revives the social media platform BlackPlanet
Katy Perry on how her engagement to Orlando Bloom included a chopper

Before all that though, here's the full video of Sam Fender covering Ariana Grande's Break Up With Your Girlfriend (above).

It's absolutely banging.

We wonder if Ari' will adopt a Geordie accent next time she performs this one live, as a result.