Miley Cyrus and Liam Hemsworth are married – and they've got lots of wedding photographs for you to have a look at.
Following reports that the couple had tied the knot in a small, private ceremony in the run-up to Christmas, Miley shared a number of pictures on Instagram on Wednesday (December 26) to congratulations from her many, many followers.
Advertisement – Continue Reading Below
On one photo of the couple, which she captioned: "This is probably our one millionth kiss," a follower replied: "Congratulations, you married the hottest man on Hollywood!"
"I knooooowwwww right," Miley replied.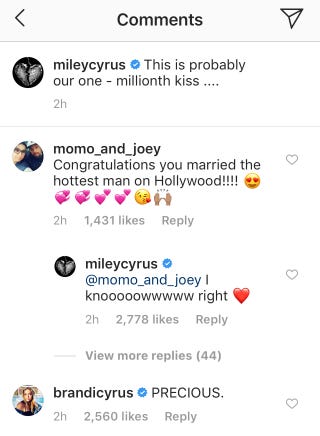 Instagram@mileycyrus
She also sent three heart emoji in response to a congratulatory tweet from author Nicholas Sparks, who said: "This makes me so happy. Congratulations Miley Cyrus and Liam Hemsworth."
Miley and Liam, of course, first met on the set of The Last Song, an adaptation of Sparks' book of the same name, back in 2009, and after a few break-ups and make-ups along the way, she confirmed they were engaged in October 2016.
Congratulations have been pouring in for the couple from their famous friends, with Rebel Wilson, Juliette Lewis and Miley's sister Brandi Cyrus leaving celebratory messages in Miley's Instagram comments.

Advertisement – Continue Reading Below
Mark Ronson, who recently teamed up with Miley for the track 'Nothing Breaks Like a Heart', even sent the couple a song.
In another set of photos showing the newlyweds hugging, Miley appears to confirm reports that the wedding took place on Sunday (December 23). Digital Spy has reached out to reps for both Miley and Liam, and we'll update as we learn more.
In the meantime, here's one more lovely photo, posted by Liam, to enjoy.
---
Want up-to-the-minute entertainment news and features? Just hit 'Like' on our Digital Spy Facebook page and 'Follow' on our @digitalspy Instagram and Twitter account.