Translating…
TIMES OF INDIA
THE TIMES OF INDIA | Nov 27, 2019, 16:59:40 IST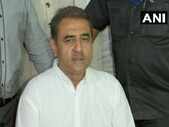 As the newly-elected MLAs of Maharashtra take oath, the Maha Vikas Aghadi of NCP, Congress and Shiv Sena are holding hectic deliberations to give shape to the new government to be formed under Uddhav Thackeray. Stay with us for live updates
16:59 (IST), Nov 27
Maharashtra CM-designate Uddhav Thackeray meets NCP chief Sharad Pawar
16:33 (IST), Nov 27
Ajit Pawar at the meeting of Nationalist Congress Party (NCP) MLAs held at Y B Chavan Centre earlier today (ANI)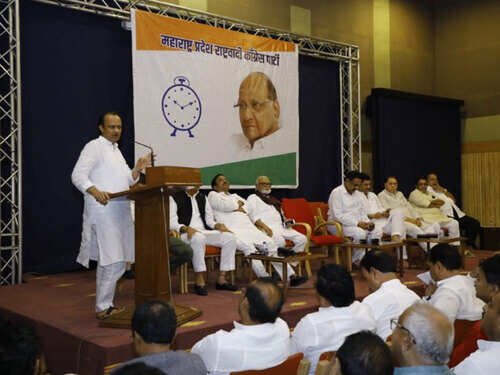 15:47 (IST), Nov 27
Shivsainiks are emotionally connected to Shivaji Park, the venue of Thursday's swearing-in ceremony. Party founder late Bal Thackeray used to address Dussehra rallies at the park, a tradition that is still kept alive by his son, Uddhav
In a related development, the Bombay High Court on Wednesday raised security concerns over the swearing-in ceremony at Shivaji Park and said holding such functions at a public ground should not become a regular feature. Read more
15:36 (IST), Nov 27
Tight security for Uddhav Thackeray's swearing-in as CM on November 28
Elaborate security arrangements are being made at and around Shivaji Park in Dadar in central Mumbai where Maharashtra Vikas Aghadi (MVA) nominee Uddhav Thackeray will take oath as Chief Minister on Thursday evening, a police official said on Wednesday. (PTI)
15:27 (IST), Nov 27
Preparations underway at Shivaji Park, ahead of the swearing-in ceremony of Uddhav Thackeray as the chief minister of Maharashtra, tomorrow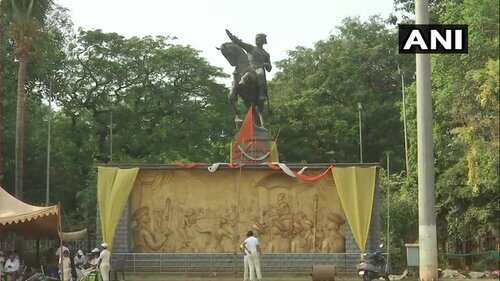 15:24 (IST), Nov 27
Holding such ceremonies on public ground should not become regular feature: Bombay HC on oath ceremony of Uddhav at Shivaji Park
15:23 (IST), Nov 27
HC raises security concern over Uddhav's oath ceremony at Shivaji Park
15:23 (IST), Nov 27
Uddhav Thackeray, Shiv Sena chief and the leader of 'Maha Vikas Aghadi' will take oath as the Chief Minister of Maharashtra tomorrow, the swearing-in ceremony will be held at Shivaji Park in Mumbai
14:03 (IST), Nov 27
MoS Sanjay Dhotre expresses best wishes for Uddhav Thackeray
Sanjay Dhotre, Minister of State (MoS) for Human Resources Development (HRD) on Wednesday expressed best wishes for Shiv Sena chief Uddhav Thackeray who is going to take oath as Maharashtra CM tomorrow. (ANI)
13:33 (IST), Nov 27
Shiv Sena leaders celebrate in Parliament premises, ahead of oath-taking ceremony of Uddhav Thackeray as Maharashtra CM on November 28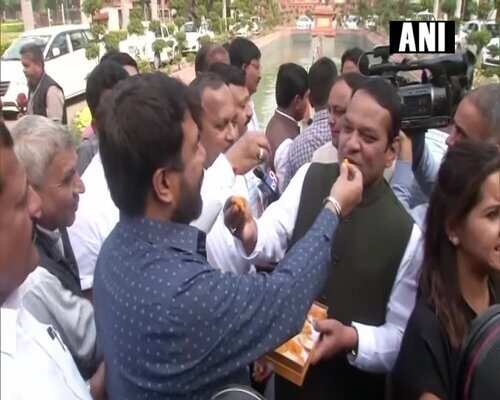 13:28 (IST), Nov 27
NCP leader Ajit Pawar attends meeting of party MLAs in Mumbai
13:28 (IST), Nov 27
BJP couldn't impose its CM despite 'aghori' attempts: Sanjay Raut
The BJP made "aghori" (barbaric) attempts to retain power in Maharashtra, but the state's people foiled it, marking the beginning of a change in the country's politics, Shiv Sena leader Sanjay Raut said on Wednesday. (PTI)
13:22 (IST), Nov 27
Sena worker quits over Uddhav joining hands with Cong, NCP
Ramesh Solanki took to twitter to announce his resignation. "My conscious and ideology does not permit me to work with Congress. I cannot work half-heartedly (sic)," he tweeted.
12:51 (IST), Nov 27
Senior Congress leaders Ahmed Patel arrives at NCP Chief Sharad Pawar's residence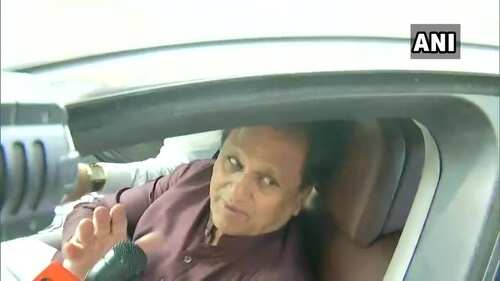 12:19 (IST), Nov 27
What has happened in Maharashtra is a slap on the face of BJP: Siddaramaiah of Congress
"How could Fadnavis take oath knowing he did not have majority? It was a violation of the constitution. Narendra Modi was equally involved in this insult to democracy, he was also hand in glove," he added.
12:16 (IST), Nov 27
Quote
My personal opinion is that BJP should not have taken support of Ajit Dada Pawar. He is an accused in the massive irrigation scam and faces many allegations, so we should not have allied with him
Senior BJP leader Eknath Khadse 
11:55 (IST), Nov 27
Quote
We are committed to making a new Maharashtra. There are several first time MLAs and we all felt proud while taking oath. Want to serve the people of the state
Aaditya Thackeray, first-time MLA 
11:52 (IST), Nov 27
Excited to work with young leaders: Aaditya Thackeray
11:50 (IST), Nov 27
Will have to work with everyone to take Maharashtra forward: Aaditya Thackeray
Shiv Sena's Aaditya Thackeray, who took oath as a legislator for the first time on Wednesday, said that he would enjoy working with youth in the Maharashtra Legislative assembly and urged all parties to work together for the welfare of the state. Read more