ITV's lunchtime panel show Loose Women got heated today (March 8) as regulars Kaye Adams and Jane Moore engaged in a passionate debate about an important topic.
The discussion regarded the worrying recent figures about child obesity, and whether parents should be held accountable for their kids' weight.
Jane questioned parents who supposedly allow their children to become obese, while Kaye took the opposite stance and said that it was a much more complicated situation than that.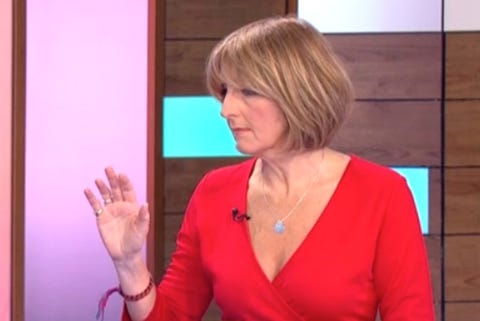 ITV
Related: Loose Women viewers "uncomfortable" with Mitch Winehouse interview
The exchange between the two women became a little awkward at points, with both of them interrupting the other as they argued their side.
Presenter Andrea McLean even had to jump into the conversation, as Jane and Kaye were so wrapped up in putting forward their point of view.
"Jane, let me come in here now, we did a poll," she said, before both of them continued their argument.
"Both of you, let me come in here now!" repeated Andrea. "We did it a poll. We asked, 'Are parents to blame for obese kids?' Now the reason that I'm trying to get this in is because the two of you are arguing over what people actually think – 91% of people at home say yes, parents are to blame for obese children."
Kaye didn't seem won over by the results though, and mentioned that the findings were just from those viewers who entered the poll.
"For the love of god, would you let all of us get to the end of a sentence?" Andrea added. "We are mature people who know how to get to the end of a sentence – please let me do so!"
Loose Women fans on Twitter gave some amused feedback on the moment, with many viewers also finding the whole thing kind of awkward.
And it seems fans enjoyed seeing the fiery debate, as one wrote: "I only watch #LooseWomen in the hope the presenters argue with each other, I struck gold today."

Loose Women airs weekdays on ITV at 12.30pm.

---
Want up-to-the-minute entertainment news and features? Just hit 'Like' on our Digital Spy Facebook page and 'Follow' on our @digitalspy Instagram and Twitter account.