Translating…
BENGALURU: Last May, BS Yediyurappa had to step down as chief minister within 56 hours of being sworn-in after Supreme Court gave him a day to prove his majority in the assembly. This July, he became chief minister after a dramatic vote count in which the JD(S)-Congress government collapsed after 17 MLAs of the ruling combine defected to BJP.
Yediyurappa needed this big bypoll victory to legitimise his rule as in the last year and half it often looked as if he had lost his touch. The new spelling of his name (it was earlier Yeddyurappa) has obviously brought him good luck as BJP on Monday swept the polls winning 12 of the 15 seats. It must be particularly satisfying to him that it has resulted not only in the humbling of his rivals but also in the resignations of Siddharamaiah and Dinesh Gundurao from leadership roles in Congress. That the H D Deve Gowda family has drawn a blank in its heartland of Mandya must be particularly gratifying.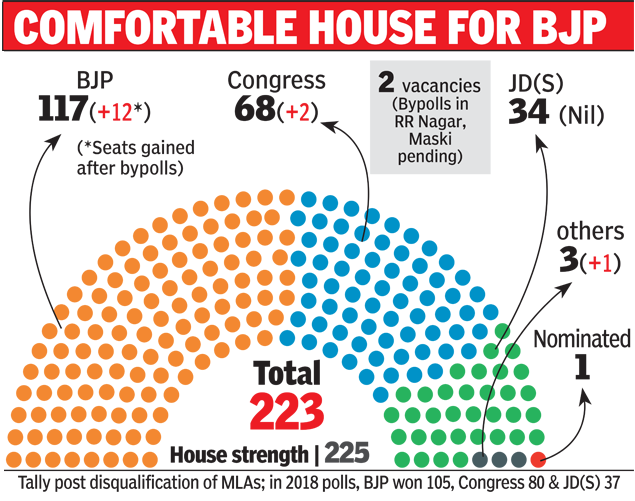 Read also: While Congress and JD(S) bite the dust, turncoats reap rich dividend
The 76-year-old Lingayat strongman's 'Man of the Match' performance has once for all quelled all rumours of the BJP leadership planning to 'retire' him. This strong performance strengthens him and he will now have a fairly free hand in running the state as the earlier appointment of three deputy CMs was seen as an attempt by the BJP high command to rein him in.
Read also: BJP expands its footprint to southern Karnataka
It is widely believed that it was Yediyurappa's promise to make the disqualified MLAs ministers after their victory that turned the tide for BJP. They worked extra zealously to return to the assembly as their entire political careers were at stake.
Said political analyst M N Patil: "What remains to be seen is two things: One, how he handles them in the cabinet and how he handles the growing frustration among loyal party leaders and ministerial aspirants. The second aspect would be the most critical from now on."