The Grand Tour is set is bidding farewell to its studio segment this week, and Jeremy Clarkson has admitted he's got quite emotional about the whole thing.
The Amazon Prime show announced last year that it was ditching the tent part of the show, instead focusing on trips around the world.
It's obviously a big step, especially as the studio portion has been a part of Clarkson, Richard Hammond and James May's lives since their Top Gear days.
Amazon Prime
"Yeah, I'm an emotional old sausage," Clarkson told The Sun. "I like having a studio audience, but I'm getting old now. So life will be a bit easier just doing the specials.
"But on the upside, it does mean I get to spend less of my life with James May. There is always a silver lining."
He also admitted that he wasn't the only one to shed a tear or two, adding: "James is made of wood.
"But behind the scenes were quite a few quivery lips. People who I've worked with for 20 years or so."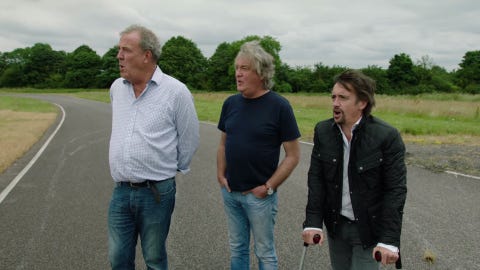 Amazon Prime
Last week, Clarkson revealed that the series finale of the show would be "profoundly sad".
"I'm glad so many people liked our Mongolia show," he tweeted. "But I'm more proud of next week's Grand Tour. I put my heart and soul into writing that one."
"Mongolia wasn't written. Next week's is very very different and profoundly sad."
The Grand Tour series 3 finale is available on Amazon Prime now.

---
Want up-to-the-minute entertainment news and features? Just hit 'Like' on our Digital Spy Facebook page and 'Follow' on our @digitalspy Instagram and Twitter account.