If I'm a Celebrity star Nick Knowles's ego was getting a bit too inflated because of his sudden pop superstardom, it has most definitely been put in check now.
Those who've been watching the ITV show have probably heard Nick bragging about that one time he jammed with Biffy Clyro (or maybe he didn't?), but surely nobody could have guessed that his cover of 'Make You Feel My Love' would rocket to the top of UK iTunes thanks to a Chris Moyles-led radio campaign.
Advertisement – Continue Reading Below
Nick actually found out that he's a huge popstar in his letter from home earlier this week, and suddenly he's started singing 'Make You Feel My Love' constantly around camp.
"No. 1 on the iTunes chart, I can't get over that, it's ridiculous," he humble-bragged to camp.

Of course, Harry Redknapp had no clue who Chris Moyles was when Nick mentioned his part in getting him to No. 1 — which shouldn't be much of a surprise, since Harry has never even heard of Toy Story!
Meanwhile, the camp's actual musician, James McVey of The Vamps, tried to be as gracious as possible about Nick treating the camp as his own personal concert stage.
"We found out last night that Nick is No. 1 on the iTunes chart with one of his singles," he explained in the Bush Telegraph. "Amazing, I'm over the moon for him, but some may say he's singing more now after hearing the news."
Advertisement – Continue Reading Below
Respect to James for not laughing in Nick's face during his singing.. I couldn't have managed it myself. 😂 #ImACeleb

— Sophie Eilish (@Sophie_Eillish) December 5, 2018
The only camper keeping it real about all of this was the now-evicted Anne Hegerty, who revealed that she has surprisingly progressive musical tastes (which don't include Nick Knowles).
"It's not a song I'm particularly crazy about," she said of Nick's single. "The most recent thing I bought was Portugal. The Man's 'Feel It Still', which I thought was an excellent song."
Advertisement – Continue Reading Below
Advertisement – Continue Reading Below
HAHAHA ANNE WHAT A BABE 😂😂 she might like kill him politely 😂😂#imaceleb

— ❄️Snowy Davidson ❄️ (@ChloeFDavidson) December 5, 2018
Anne also shot down Nick when the conversation took a weird turn and Nick shared his non-musical conspiracy theories that the US moon landing never actually happened.
"Around the outside of the earth is the Van Allen belt, which is massively radioactive and the argument is you would have to build a spacecraft out of lead in order to protect the astronauts," he argued.
Not so, according to quizmaster Anne, who corrected him: "Except you are going through it quite fast, it need not have that massive effect."
Nick pressed on with another theory: "Then what about the other questions, on their chests they wore the cameras on which they took the photographs of the moon. It was a chest-mounted camera, in which was Kodak film. As you know, there is no atmosphere on the moon in direct sunlight.

Advertisement – Continue Reading Below
"It is something like 200 degrees, yet Kodak film has an operating field of like 130 degrees and amazingly it all worked.
"Also in the moon landing photographs it appears to be lit from two sides. Can you explain that?"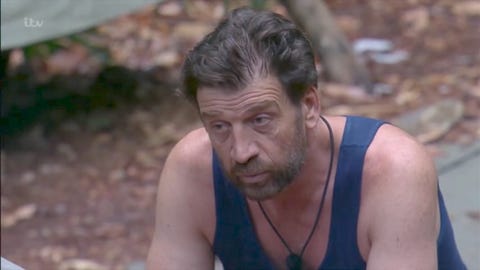 ITV
It turns out, yes. Anne explained: "You are getting sunlight and then you are getting sunlight bouncing back from the earth. If the whole thing is fake what do you think happened to Apollo 1, the one that caught fire on the launch pad, I mean if there were never going to actually go…?"
John Barrowman also pointed out: "[Astronaut] John Glenn and all those guys kept it a secret their entire lives?"
Nick hadn't quite thought that one through. Maybe he can explore it in his next hit single…
I'm a Celebrity…Get Me Out of Here! continues at 9pm on ITV, and is followed directly after by Extra Camp over on ITV2.
---
Want up-to-the-minute entertainment news and features? Just hit 'Like' on our Digital Spy Facebook page and 'Follow' on our @digitalspy Instagram and Twitter account.