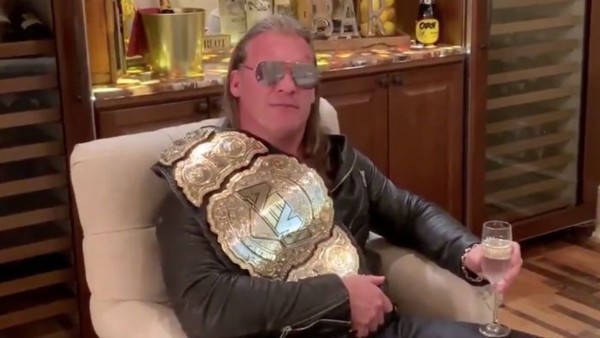 The past few days have brought one of the year's funniest wrestling stories, as Chris Jericho lost his newly-won AEW World Championship while dining in a Florida steakhouse, before Tallahassee police seemingly recovered the strap in a photo that was quickly deleted from Facebook, then, finally, the gold made its way back to the bubblay enthusiast's hands.
New details have now emerged on how the Tallahassee PD recovered the gold, as provided by USA Network/Tallahassee Democrat's Jeffrey Burlew:-
So it sounds like whoever snatched the title got cold feet, dumped it, and fled.
The investigation is still underway, too:-
Jericho has since cut another promo on the situation, claiming his original jacuzzi rant put the fear of God into the culprit (while enjoying a little bit of the bubbly, of course):-
A ridiculous, ridiculous situation all-round. Here's hoping that it keeps yielding entertaining content even now that the strap has been found. The story has united wrestling fandom in its pi*ss-taking, and everyone seems to be having a good time with it… including AEW themselves, who have just released a bubbly new t-shirt.
Who stole Chris Jericho's AEW World Championship? Let us know your thoughts in the comments section below!