Hollyoaks viewers are bidding a tearful farewell to Lily Drinkwell after a moving final episode that killed off her character on Wednesday (April 10).
The groundbreaking episode was centrally focused on the events leading up to Lily's (Lauren McQueen) passing, told both in present day scenes and through flashbacks to her childhood.
As Lily and Romeo Quinn (Owen Warner) waited for their train to run away together, she flashed back to her younger self while reflecting on her heartbreaking history of self-harm.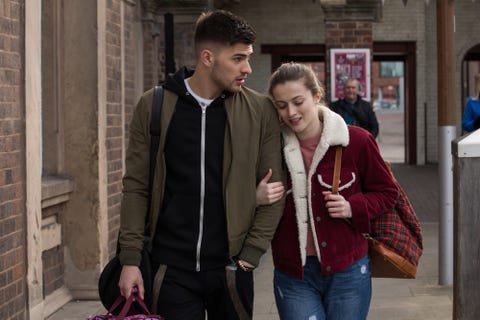 Lime Pictures
Related: 7 Hollyoaks spoilers reveal the aftermath of Lily McQueen's tragic death
Viewers saw a young Lily nearly burning her hand while baking, before her mother told her it broke her heart to ever see Lily hurting. The flashbacks also showed her caring for her ill mum prior to her death.

Back in real time, Romeo was equally as alarmed to find out that Lily had been self-harming once again but had to act fast to catch her when she had a dizzy spell and almost fainted.
As the two had a heart-to-heart about their future, Romeo had a confession of his own: he stole money from The Dog before they left. A conflicted Lily then admitted to him that when she imagines her perfect life, she sees herself with Prince (Malique Thompson-Dwyer), not him!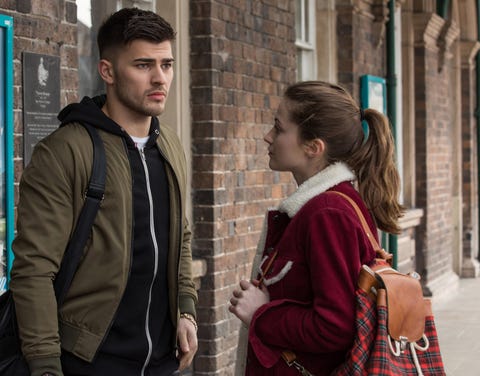 Lime Pictures
"Things aren't turning out like I thought they would," she admitted, later telling him: "My head's a mess. I don't think I can give them up, my dreams. Everything I've been working towards since I was a little girl."
A dejected Romeo left Lily once and for all by encouraging her to "get help" so she could live her dreams, before she stumbled into the nearby bathroom.
Meanwhile, Diane O'Connor (Alex Fletcher) was shocked to learn that Lily had sepsis and her organs were failing at an alarming rate.
Diane went to Peri (Ruby O'Donnell) and Yazz (Haiesha Mistry) in hopes of finding Lily before it's too late. Although they kept Lily's secret at first, the girls eventually confessed her plan to run away when hearing how ill she was.
Back at the station, Romeo was soon bombarded by Prince, Diane and Tony Hutchinson (Nick Pickard) as he boarded his train, and they revealed Lily could be near death.
They all rushed to the bathroom where they found Lily crumpled on the floor. A frantic Prince tried in vain to save his wife but she was already gone.
It was a tragic goodbye for such a beloved character. So many Hollyoaks fans felt the loss, while also thanking the show for spotlighting the issues of self-harm and sepsis:
Lily actress Lauren McQueen also earned a round of applause on social media for her stirring send-off:
Prior to Lily's death airing on Wednesday, Hollyoaks writer Roanne Bardsley spoke exclusively to Digital Spy about why the soap chose a tragic ending for the character.
"It gave us the chance to be really brave with this storyline and take it to a really important place," Bardsley explained. "We talked about it in story conference and we thought it would be the most fitting ending.
"Although people do recover from self-harm, it's also important to show how serious it can be, because that's hopefully the best deterrent for people watching. We're showing how badly it can go if you don't get the right help."
The implications of Lily's death will continue in the soap with Prince McQueen turning to "the dark side" as he struggles with his grief.
Hollyoaks airs weekdays at 6.30pm on Channel 4, with first look episodes at 7pm on E4.
---
We would encourage anyone who identifies with the topics raised in this article to reach out. Organisations who can offer support include Samaritans on 116 123 (www.samaritans.org) or Mind on 0300 123 3393 (www.mind.org.uk). Readers in the US are encouraged to visit mentalhealth.gov or the American Foundation for Suicide Prevention.
---
Read more news, spoilers and gossip on our Hollyoaks homepage
Digital Spy Soap Scoop video – hit play below for all the latest Hollyoaks spoilers, as Laurie continues to target Sienna, and Mandy and Darren receive the DNA test results.
Want up-to-the-minute soaps news, spoilers and gossip on your social feeds? Just hit 'Like' on our Digital Spy Soaps Facebook page and 'Follow' on our @soapscoop Twitter account.