Day seven
The tables have been turned on the comedic duo of Emperor Noel and advisor Harry Redknapp, who had to take part in the bushtucker trial on Saturday night's episode…
Harry's jungle XI
Harry Redknapp is a long way away from the football pitches of blighty, but that didn't stop him putting himself and his campmates in formation for a jungle XI charity match on Saturday night's episode.
You can take the football manager away from the pitch… #ImACeleb pic.twitter.com/41JY8IOPJs

— I'm A Celebrity… (@imacelebrity) November 24, 2018
It also gave 'Arry another opportunity to roll out another of his dynamite stories – this time about a hilarious miscommunication between himself and Russian striker Roman Pavlyuchenko when the pair were at Tottenham Hotspur.
"I said to him, 'if you don't play any better in the first half, I'm going to pull you off at half-time'" Harry said, "and he said, 'ah, this is fantastic – in Russia, we only got an orange!'" – the gag went down a treat with his fellow campmates.
Emperor Noel and advisor Harry go out with a bang
The empire may have fallen, but at least they went out in style.
Noel and Harry – whose bromance has been a highlight of the series so far – smashed a particularly gruelling and gruesome 11-part bushtucker trial, in which they were forced to keep witchetty grubs and cockroaches in their mouths for a minute apiece, and gave us some priceless (and GIF-able) reactions in the process.
Noel kicked things off by chomping down on a stick insect, looking rather terrified.
Noel's got a genuine look of fear, think we're gonna enjoy this trial 😱🤣 #ImACeleb @imacelebrity pic.twitter.com/NlmQh0toHf

— ITV (@ITV) November 24, 2018
And Harry did his best impression of Futurama's Dr Zoidberg with a mouthful of witchetty grubs. But the former Tottenham manager nearly ruined the whole thing when he tried to make Noel laugh with a live Yabby (it looks like a giant prawn) in his gob.
Harry was definitely that kid in class who made you laugh at inappropriate times. #ImACeleb pic.twitter.com/kow7ovM2ef

— I'm A Celebrity… (@imacelebrity) November 24, 2018
But the pair managed to get through all 11 stages successfully, including the grim final challenge of squeezing fish eye juice into a glass with their mouths and drinking it, which had host Holly Willoughby looking away…
Anne Hegerty has a savage "fact" about the USA
The Chase's Governess has thus far been ruled out of all the Bushtucker challenges on medical grounds, but she's proven her worth in many other ways in the camp – most notably during down time, when John Barrowman tests her remarkable general knowledge.
On Saturday's episode, he decided to rattle off country names to see what facts she could share about each one. First there was Uzbekistan, which she revealed was one of two double-landlocked countries (it is bordered entirely by landlocked countries), then there was Mexico, whose biggest provence, she said, is named after its smallest dog, the chihuahua.
But she saved her best "fact" for last – and Barrowman's home nation of The USA. taking a jab at President Donald Trump.
"The United States of America appears to have got itself ruled by a complete f***wit," she said, to fits of laughter throughout the camp.
#ImACeleb all hail Anne Hegerty, with her perfect analysis of Trump.

— Jo of the Grove 💚 (@joannesinton1) November 24, 2018
Day six
Emperor Noel had a good run, but he's about to go from Nero to Zero, just like that.
And in his last day on the throne, His Excellency had quite an action-packed few hours…
The Taming of the Shrew
#ImACeleb. Room with a 'Shrew'. pic.twitter.com/Yj7v0bT64c

— Rik Walker (@TrickyRickW) November 23, 2018
Continuing their sweet holiday bromance, Harry and Noel were all tucked up and ready to snooze in their luxury (read: not actively outdoors, and with beds) palace – until they realised someone new had joined the inner circle.
"What the f*** is that Noel?!" Harry asked, aghast, as a small critter hung onto one of the curtains. "I don't like the look of that."
Once Nick Knowles was called in to help, the trio identified the beastie as a jungle shrew, and the DIY SOS host took it upon himself to send it on its merry way.
Nick Knowles rescued a shrew and when he let it go he said it waved goodbye to him #imaceleb

— Toby Earle (@TobyonTV) November 23, 2018
"I was disturbed as I was going to bed and I was called in by the Emperor and his co Emperor for pest control," he noted – and it could just be us, but did we note a touch of emotion when he told the story of how the removed shrew took a look back at him to say goodbye?
Noel Edmonds massaging Harry Redknapp's cramp is something you can never unsee. #ImACeleb pic.twitter.com/uGB4zmTotJ

— I'm A Celebrity… (@imacelebrity) November 23, 2018
The night wasn't over for Harry and Noel, though, with the Deal or No Deal host eventually agreeing to rub the cramp out of Harry's leg. Heavy is the head that wears the crown (or wreath), after all…
When they go low, we go high
Two very different reactions to today's critters! 🐊 #ImACeleb pic.twitter.com/eTStHsotoG

— I'm A Celebrity… (@imacelebrity) November 23, 2018
Believe it or not, though, a FEW campmates had to go through even more stress than removing a small mouse and massaging a former football manager (hard though that is to believe), with John and Emily chosen to take part in tonight's Bushtucker trial after Rita and Malique were already selected by Bushtucker trial.
Called Drown and Out, the trial was a sort of Houdini-esque water-y head to head, with both duos fighting to find keys and turn on pipes in their opposing team's tanks to flood them out before the same thing could be done to them. Oh, and because this is I'm a Celeb, the tanks were also full of snakes, lobsters, and other creepy-crawlies. Just 'cause.
Rita's sarcasm is on another level. 😆 #ImACeleb pic.twitter.com/4WplnBEMjx

— I'm A Celebrity… (@imacelebrity) November 23, 2018
And despite some pre-match nerves Malique and Rita absolutely smashed it, with their strategy of getting keys and trying them one at a time proving more fruitful than John and Emily's idea of collecting all the keys first before trying any of them.
"Stick to the plan," John told Emily at one point, possibly just after he'd accidentally handed her a yabbie lobster.
"It might be a sh*t one but keep to it"
In the end, both teams managed to turn three out of five levers – but because Rita and Malique (aided by Malique's impressive diving ability) did theirs first, John and Emily were forced out of their tank, leaving the public-voted duo as the new members of Noel's inner circle.
"We didn't give up.  We kept on to the end.  We're still winners," said John. Though in a very REAL sense, they really really weren't.
How much does a Grecian urn earn?
When you finish your last bit of work on a Friday. #ImACeleb pic.twitter.com/Vh38o5gdfb

— I'm A Celebrity… (@imacelebrity) November 23, 2018
Finally, The Chase's Anne Hegarty got her groove back after a crossbow challenge where she, Nick Knowles and The Vamps' Nick McVey had to destroy pots using crossbows.
Sure, they were a little distracted by the endless dumpings of fish guts, soy sauce, earth and other items being continually dumped on their heads – but they still managed to secure eight care packages (out of a possible 11), with eagle-eyed Anne landing the first shot.
When Anne got the first shot #imaceleb pic.twitter.com/UVPupqc14u

— Sabrina (@ateenagewitch) November 23, 2018
Harry, Nick and James were then denied care packages, which may have been a little harsh considering the latter two lads actually won them – but if they're unhappy with Emperor Noel's decision, they may soon be able to get their revenge, as the campmates were informed his reign of terror would soon be over.
The King is dead! So let's make him eat sheep eyeballs in a Bushtucker trial.
Day five
What could be better than Emperor Noel Edmonds entering the jungle? A Noel Edmonds and Harry Redknapp jungle bromance, that's what.
Noel Edmonds + Harry Redknapp = bromance
When Emperor Noel picked Harry as his official Advisor (or Harry's preferred term, 'Assistant Emperor'), the pair quickly became inseparable, chatting about jigsaws and sleeping together in the Emperor's Tent — where, according to Noel, Harry apparently woke up in the middle of the night and asked for a cheeky leg massage.
Forget Mr Blobby. Noel's got a new sidekick. #ImACeleb pic.twitter.com/ZibXexLEQg

— I'm A Celebrity… (@imacelebrity) November 22, 2018
The pair also definitely deserve Oscar nods, after conspiring to trick the whole camp into thinking they'd answered Kiosk Kev's question wrong , missing out on Outback Shack treats AGAIN… before Harry re-emerged with the cheese and grapes.  
Oscar worthy performance from Harry Redknapp 🎭 #ImACeleb pic.twitter.com/L0IWu1ioWz

— I'm A Celebrity… (@imacelebrity) November 22, 2018
GRAPES FOR EVERYONE!
John Barrowman "didn't f***ing scratch his groin", OK guys?

Sometimes you just need a hug and a sandwich. Instead, you get Emperor Noel Edmonds.
Poor Mr Barrowman was not pleased when, standing up to ask Noel a question, he gave his waistband a well-earned itch — and Noel accused him of scratching his groin.
"I know he was trying to make a joke and be funny but it didn't land well with me," a hangry John complained in the Bush Telegraph. "I'm probably being overly sensitive and it's at this exact time that my husband would say I need a sandwich."
Emperor or no Emperor, sometimes we all just need a sandwich. @JohnBarrowman #ImACeleb

— I'm A Celebrity… (@imacelebrity) November 22, 2018
Nick Knowles aced Crittercus Maximus
Nick proved himself once again the undisputed King of Critters, after successfully retrieving a star during the Bushtucker Trial — while ignoring a giant spider on his head.
What do you call a man with a spider on his head?

Nick Knowles. 🕷 #ImACeleb pic.twitter.com/LR2xNpjinb

— I'm A Celebrity… (@imacelebrity) November 22, 2018
All four of the campmates who took part in Noel's gladiator games — Fleur East, Nick Knowles, Sair Khan, and James McVey — managed to win a star each.
Fleur and Sair took on biting green ants, as both campmates manoeuvred their stars down a bolt while only using their tongues — and Fleur displayed an "impressive technique," according to a naughty Dec.
Meanwhile Nick and James untied knots  to reach their stars — all the while locked in a box with a stomach-churning number of creepy crawlies…
5kg of mealworms
5000 crickets
5000 cockroaches
20 scorpions
20 large spiders
1 popstar
1 TV presenter
A whole load of NOPE. 🤢 #ImACeleb pic.twitter.com/m62j9OSi23

— I'm A Celebrity… (@imacelebrity) November 22, 2018
Social media went crazy for Dec's nips
Oh hello #DecsNips pic.twitter.com/x7MkLAA17y

— chlo☁️ (@_chloelake_) November 22, 2018
Viewers just couldn't unsee Dec's 'button nipples' during the show — and pretty soon a hashtag dedicated to the oh-so-wrong-it's-right placement of his shirt buttons was trending on Twitter.
"They're trending," Holly informed Dec during the live show. "#DecsNips." Ooh la la…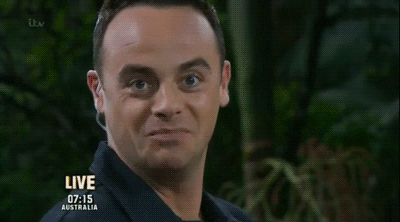 Day four
He's finally here: Noel Edmonds has, at last, arrived in the jungle, dressed as a Roman emperor and looking just as silly as we dared to dream.
But that wasn't the only talking point from the show's fourth instalment. From John Barrowman crossing paths with a crocodile, to the revelation Emily Atack used to bite people, here's all that went down in the jungle…
John Barrowman took a plunge into the Scary Rose
An army of Cybermen? No sweat. A Dalek on the warpath? Easy peasy. But crossing paths with an ickle baby crocodile in a Bushtucker Trial? That's what will get John Barrowman swearing at the top of his lungs.
It looks like he said it… but he really didn't! 😂 #ImACeleb @imacelebrity pic.twitter.com/yVHsSceFaL

— ITV (@ITV) November 21, 2018
However John performed fantastically in the challenge once the screams were out of his system, finding all 10 stars in a submerged shipwreck – one filled with five water pythons, 10 water dragons, 40 large eels, 10 mud crabs and 90 "yabbies", which are apparently a thing now.
We learnt some horrible secrets about the celebs
Turns out Harry Redknapp isn't the only one with some brilliant stories waiting to come out. In the Dingo Dollar Challenge, Emily Atack and Nick Knowles were asked to match 10 secrets to the jungle's 10 celebrities, revealing some surprising truths.
Turns out Anne Hegerty was once an extra in a Robin Hood movie, Rita Simons once taped her brother to a tree, Emily used to bite people as a youngster, Sair Khan wanted to be a WWE wrestler and John Barrowman once had a perm. Although, the more we think about it, the less surprising that last secret should be.
Noel Edmonds enters the jungle – and becomes the camp's new emperor
What would have happened if Noel Edmonds had played Emperor Commodus in Gladiator? A question nobody's asked before, but one we're getting the answer to anyway.
Making his much-awaited first screen appearance on this year's show, the Deal or No Deal host was finally unveiled as a campmate – and "Emperor" of the next episode. He even turned up in ancient Roman attire, sitting on a throne in his robe before bellowing: "ARE YOU NOT ENTERTAINED?!"
Tomorrow night, you SHALL be entertained! All hail Emperor Noel. #ImACeleb pic.twitter.com/A7oTd3crYO

— I'm A Celebrity… (@imacelebrity) November 21, 2018
In short:
OMG HERE HE COMES AND HE'S AS RIDICULOUS AS WE WANTED. #NoelEdmonds #imaceleb

— Jamie East (@jamieeast) November 21, 2018
Day three
When an episode kicks off with Dec wiggling his hips to the Spice Girls and turning in an impressive Simon Cowell impression, you know you're in for quite the ride. And I'm a Celeb's third instalment didn't disappoint – with another gruelling trial (poor Anne!), a camp reunion, and the moment the nation fell in love with Nick Knowles.
Anne faced the Monstrous Monolith
Oh, we are a cruel voting public, aren't we?
After finding out she'd been nominated to tackle the latest Bushtucker Trial, Anne "The Governess" Hegerty shed a brief tear before James and Rita escorted her to face her fate.
And brave Anne did her best. But the slime and the fish guts and the critters got the better of her, and two stars into the challenge she was bellowing those infamous words: "I'M A CELEBRITY… GET ME OUT OF HERE!" It meant two meals for Croc Creek – and nothing but rice and beans for the inhabitants of Snake Rock. But it took a hell of a lot of guts, as Dec pointed out.
Two camps became One
After three impoverished days, the Snake Rock campmates finally walked into the relative luxury of Croc Creek. And boy were they happy about it.
"It was like checking into a five star hotel," gushed James. Sitting on my sofa with a cup of TV and a smidge of perspective, I begged to differ. But it was lovely to see them all look so happy.
And the two camps uniting meant we got to see Dec do his best Spice Girls impression, complete with snake hips and body-rolling. The man can really move.
Dec moving his hips! @antanddec @hollywills 😂 #ImACeleb pic.twitter.com/OaAEEcJtD2

— Ant and Dec OBE (@Team_AntandDec) November 20, 2018
Nick Knowles won our hearts
If Nick Knowles isn't already your man crush, he will be now. Before they left Snake Rock, Rita, James, Fleur and Anne faced down some frogs in order to win Croc Creek campmates' luxury items. They managed four of the six and reunited Nick with his remarkable savvy treat – a pillow.
Hugging his item, Nick explained he had made the choice "so I could give it to anybody who was struggling sleeping" before throwing it to Anne, who had already confided in him how hard she was finding the jungle conditions. What a hero.
SO glad that didn't land in the fire! #ImACeleb pic.twitter.com/cMrE66Cnck

— I'm A Celebrity… (@imacelebrity) November 20, 2018
And as if that wasn't enough, Nick also shared the story of his fleeting music career – the high point of which saw him sing with Biffy Clyro. Not that a super cool band like Biffy Clyro should be embarrassed by collaborating with the DIY:SOS presenter – but if they had wanted to sweep that duet under the carpet, Dec made sure it was virtually impossible by asking viewers to get it trending.
And it wasn't long before this happened…
Who did this to Biffy Clyro's Wikipedia 😂😩 #ImaCeleb pic.twitter.com/Uk6YVvnUev

— Georgia Toffolo (@ToffTalks) November 20, 2018
Day two
From encounters with "snake juice" to Harry's new job as a "s*** shoveler" – day two of I'm a Celeb was pretty classy. There was a horrifying viper challenge, a whole series of revelations about Harry Redknapp and a bonding moment between Anne Hegerty and Rita Simons. Find out what went down in the jungle, below…
We learned a fair few things about Harry Redknapp
Not only did we discover that Harry Redknapp absolutely bloody loves a cold shower, but he also shares a physio with Prince Harry and has no sense of smell – "I can't smell anything". His inability to smell means he is the perfect campmate to clean out the loo, and he is now the self-proclaimed "Harry the s*** shoveler". A bit of a skid mark on his shiny CV, to say the least.
Interesting career move for Harry Redknapp. #ImACeleb pic.twitter.com/8Ok7TqDDUv

— I'm A Celebrity… (@imacelebrity) November 19, 2018
Emily Atack smashed the Bushtucker Trial
"What's a viper?" Atack asked before the first trial of the series – but it's fair to say that after being in a pit writhing with them, she was very familiar with the snake indeed.
Atack whimpered and squealed her way through the challenge and came out covered in "snake juice" – but it was all worth it in the end as she got to feed the camp at Snake Rock and was upgraded to Croc Creek.
NOPE! 🙅 @EmAtack #ImACeleb pic.twitter.com/kvaeEjxXwV

— I'm A Celebrity… (@imacelebrity) November 19, 2018
Anne opened up about living with Asperger's
In a heartwarming moment, Anne discussed her Asperger's syndrome with the campmates, which in turn encouraged Rita to talk about her experiences with OCD.
Anne said: "I really appreciate how nice and sympathetic they've been to me and how supportive they are and it was nice that they said I actually pick up on social cues because I'm never quite sure that I actually do, so that was nice to know."
Speaking about her OCD, Rita revealed: "I'm not too bad with cleanliness and all of that. I don't do any of the rituals any more. I used to be a real light switcher, tap checker, I'd spend hours doing it. It's almost the complete opposite of you because yours is all logical and mine is all illogical."
If anything can get Anne through Jungle life, it's a team of supportive of Campmates! #ImACeleb pic.twitter.com/1Iymw9Hk5E

— I'm A Celebrity… (@imacelebrity) November 19, 2018
Day one
Day one of I'm a Celebrity… Get Me Out of Here! 2018 and two vertiginous challenges helped sort the first batch of celebs into teams, before a watery trial decided who would get to experience the 'luxury' of Croc Creek and who'd be roughing it in Snake Rock. There were a few lows along with the terrifying highs but John Barrowman was on hand to make sure things were generally fabulous…
Four celebs get high – and two come down – in the first challenges
As is now traditional on I'm a Celebrity, the opening challenges were all about heights. The first four celebs to be introduced were split into two teams – John Barrowman and Sair Khan's Reds and Rita Simons and James McVey's Yellows – and asked to scale a metal frame overhanging a cliff edge to capture a series of flags in the fastest time possible.
Dec revealed that at 100 feet above ground it was the highest challenge in the show's history, although it didn't quite match the fear factor of previous years' wobbly-plank-walking-off-the-top-of-a-tall-building and all four celebs managed to complete it. The Yellows just edged it on time though, meaning they got their pick of the next four incoming contestants, choosing The Chase's Governess Anne Hegerty and former X Factor star Fleur East, and leaving football manager Harry Redknapp and DIY SOS presenter Nick Knowles to the Reds.
Brand new for 2018 – The Edge!

At 100m above the Jungle floor, it's our highest EVER Challenge. No pressure. #ImACeleb pic.twitter.com/mNkg9F56Nk

— I'm A Celebrity… (@imacelebrity) November 18, 2018
A relatively tame trial followed in which Harry and Anne had to retrieve plastic discs from a box harbouring assorted critters, including green ants and crabs, with a narrow win for the Reds meaning they got their choice of the next two celebs: Hollyoaks' Malique Thompson-Dwyer went to Team Red, with Inbetweeners star Emily Atack heading to the Yellows – by skydiving 12,000 feet from a helicopter…
And so the squirming begins! It's good to be back. 🦀 #ImACeleb pic.twitter.com/kcsRWoWozx

— I'm A Celebrity… (@imacelebrity) November 18, 2018
It's safe to say neither were really looking forward to the jump but while Emily seemed to hate the entire experience, Malique's talk of expelling various bodily substances eventually gave way to exhilaration (and thankfully not evacuation).
The final challenge gives the yellow team a sinking feeling
The teams each had to get in a canoe, paddle across to a pontoon, grab their kit bags and paddle back. But wait, can you actually get a whole team in one canoe? No, no you cannot, as the Yellows quickly found out when they sank. Meanwhile, John stayed in the water and used those well practiced kicks to provide jet propulsion for the Reds, who won themselves a stay in the 'luxury' Croc Camp.
It's an easy victory for the Red Team, but at least the Yellows had a nice time. 🤷‍♀️ #ImACeleb pic.twitter.com/6ErXBUgi98

— I'm A Celebrity… (@imacelebrity) November 18, 2018
Things get extra camp as the teams discover where they'll be living
So yes, those two camps. Some members of the Red team weren't too impressed by the luxury of Croc Camp, with Harry Redknapp – who has never watched an episode of I'm a Celebrity in his life – apparently genuinely shocked that there wasn't a burger van behind some trees ready to feed them during the ad break.
But at least Harry got some meat (emu, as it happens) rather than a small ration of rice and beans and wasn't sleeping on the ground with all the critters like the Yellows. That realisation, at the end of a tough day, proved a little too much for Anne "The Governess" Hegerty who had a little cry, admitting "I'm really close to saying I can't do this". But her teammates rallied round and soon had her back on track.
That's what campmates are for.
The Yellow Team's bond is already solid. Stay strong, @anne_hegerty. 💛 #ImACeleb pic.twitter.com/DjItnFtFeQ

— I'm A Celebrity… (@imacelebrity) November 18, 2018
Speaking of extra camp…
John Barrowman is FABULOUS!

So far, John Barrowman looks like being everything you'd imagine and more from a man who describes himself as "entertainer/sci-fi gay icon of the world". Some viewers may find his screams of "Fabulous!" and tendency to break into song and dance at any opportunity – "the hills are alive…"– grating but it's all pretty self-aware and the other side of John seems to be that he is a great team player and very thoughtful when it comes to his fellow campmates.
He was brilliantly supportive of Sair during the cliff task, took one for the team in the canoe challenge and after Harry Redknapp shared his reservations about the supposedly luxury Croc Camp, John was the first to remind everyone that whatever hardships they were facing they were probably in a better position than the Yellow team.
Plus, he can do this…
John Barrowman should be the dictionary definition of 'Extra'. #ImACeleb pic.twitter.com/KzmPaWSG7l

— I'm A Celebrity… (@imacelebrity) November 18, 2018
Can you?
I'm a Celebrity… Get Me Out of Here! is on ITV at 9pm nightly