Several members of a Georgia high school marching band are in hot water after the large letters attached to their sousaphones spelled out a racial slur during a halftime show Friday night.
Some members of the Brookwood High School marching band use instrument covers that, when correctly lined up, spell out the school's nickname, "Broncos." On Friday, however, some of the letters appeared rearranged and spelled out an anti-black slur.
Principal Bo Ford apologized to parents and the community in a letter, saying the halftime show was "hurtful and disrespectful to audience members."
"It was also disappointing, as it does not reflect the standards and beliefs of our school and community," he went on to say, according to the Gwinnett Daily Post.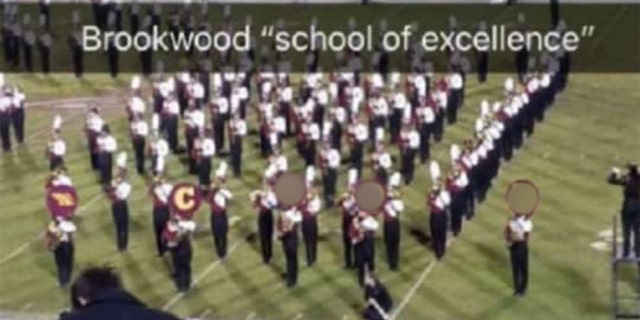 Members of a Georgia high school band used letters on their instruments to spell out a racial slur.
(Courtesy of Shawn Myers)
The sousaphone is a large horn instrument that wraps around the player. The band uses covers over the horn's mouth when sitting in the stands, but the covers should have been removed during the halftime performance, Ford said.
He said the activity on the field was "very busy" and that "several personnel challenges" during the senior night activities resulted in the band's director not being on the field during the performance.
"With that in mind, when the sousaphone players took the field, they did not follow band rules and normal practice, and instead, they left the covers on their instruments," Ford said.
He said the racial term spelled out was "completely unacceptable" and that the students involved are facing disciplinary action.
Some parents told FOX5 they want to see the students who are responsible expelled.
"You're bold enough on senior night, that means your parents your grandparents are there…you're bold enough to spell those words and stay there long enough to have everyone take pictures?" Shawn Myers, whose son is a freshman in the marching band, told FOX5. "That's not right."
She added: "It isn't a raccoon. The mascot is a horse, it's a bronco, and the 'B' and the 'R' were nowhere near."