Game of Thrones' final season will "break boundaries", according to star Kit Harington.
The last episodes will begin airing in April, and Harington – who plays Jon Snow – shared that he can't wait for fans to see what they have filmed.
"I'm so excited for people to see it," he said on The Zoe Ball Breakfast Show on BBC Radio 2. "I think it's going to be extraordinary. Hopefully it will change TV again like it did originally and break boundaries. I think it might."
Advertisement – Continue Reading Below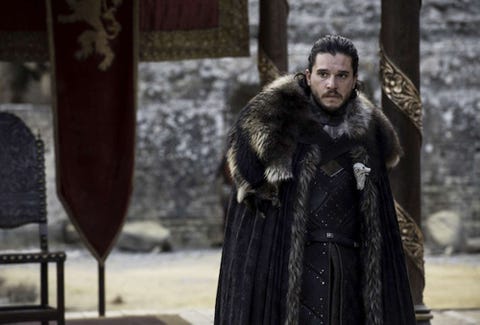 HBO
Harington was also asked about whether or not he's "happy" with how the hit TV show ends.
"It's like when you finish a book – you're not happy it's over, are you? You don't finish a good book and go, 'I'm happy I finished that'," the actor responded.

"You have this grief that it's over, and that's exactly the same with this nine years of doing this show. No matter how it ended or how it does end, there's always going to be a bit of you that [feels] loss around it.
"Maybe not happy, but very satisfied."
Related: Why is Bran missing from the Game of Thrones trailer? Our 8 top theories
Harington previously shared that the cast was "broken" and "crying" by the end of filming.
"I remember everyone walking around towards the end going, 'I've had enough now. I love this, it's been the best thing in my life, I'll miss it one day – but I'm done'," he said.

Advertisement – Continue Reading Below
Game of Thrones season 8 will premiere on Sunday, April 14. The show airs on HBO in the US and Sky Atlantic and NOW TV in the UK. Season 7 is now available to buy on DVD, Blu-ray or digital download.

---
Want up-to-the-minute entertainment news and features? Just hit 'Like' on our Digital Spy Facebook page and 'Follow' on our @digitalspy Instagram and Twitter account.