Emmerdale's Belle Dingle will have a tense reunion with her killer ex-boyfriend Lachlan White next month.
Lachlan (Thomas Atkinson) is currently enduring a lengthy prison sentence for multiple murders, after finally being caught out for his sins back in September.
However, it seems that Lachlan's reign of terror still isn't over as we've already revealed that Thomas Atkinson has reprised his role for another stint.
Advertisement – Continue Reading Below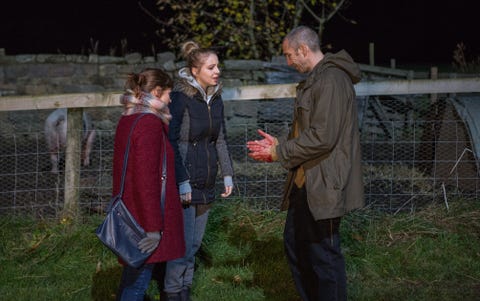 ITV
Although Belle is desperately trying to move on with her life after everything that happened with Lachlan, she will be spooked when she receives a delivery of dead flowers.
Despite everyone's attempts to reassure her otherwise, Belle is adamant they are from Lachlan and is also convinced that he's behind some other strange occurrences that have been happening.
When Lydia later receives a frantic phone call from Sam, the Dingles are horrified when they arrive to find him covered in blood.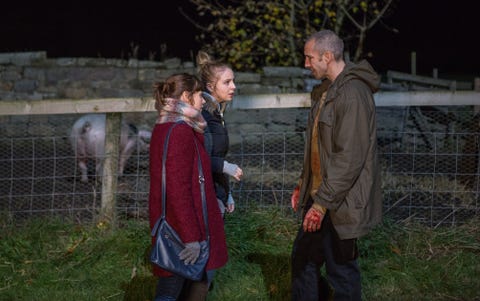 ITV
As it becomes apparent that Gloria the pig has been killed, a worked-up Belle is hellbent on seeing Lachlan – more convinced than ever that he is responsible.
Accompanied by Sam, Belle comes face-to-face with Lachlan and refuses to be fooled by his apparent display of remorse.
It seems that Belle's instincts were right as Lachlan's true colours become apparent when he later takes out a hidden mobile phone and makes a call – instructing someone to up the ante in their scheming. What is Lachlan planning? And what will it mean for Belle?
Advertisement – Continue Reading Below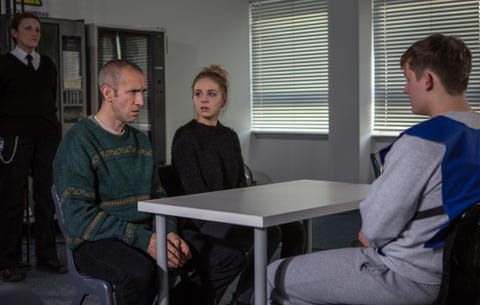 ITV
Emmerdale airs weeknights at 7pm on ITV, with an extra episode at 8pm on Thursdays.
---
Read more news, spoilers and gossip on our Emmerdale homepage
Want up-to-the-minute soaps news, spoilers and gossip on your social feeds? Just hit 'Like' on our Digital Spy Soaps Facebook page and 'Follow' on our @soapscoop Twitter account.