Coronation Street's Amy finally came clean with her parents Steve McDonald and Tracy Barlow about her pregnancy in moving scenes on Wednesday (February 27).
Amy (Elle Mulvaney) has spent the last week trying to hide the fact that she decided to have an abortion, having only Bethany Platt (Lucy Fallon) to confide in about her deeply-conflicted feelings up until now.
In Wednesday's double bill, Amy's lies to her parents continued to spiral out of control. With Amy's next baby scan coming up, Tracy (Kate Ford) took the day off work to spend some quality time with her daughter.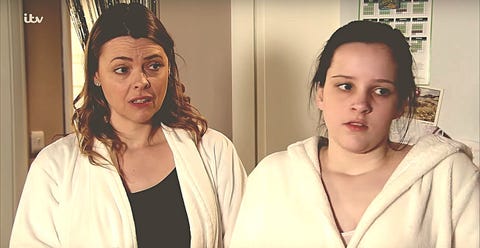 ITV
A panicked Amy couldn't figure out how she'd get out of going to the scan, and desperately begged Bethany for help when Tracy dropped her off at the salon prior to the appointment.
Bethany advised her friend that now was the time to be honest with her parents, but Amy instead locked herself in the bathroom back at home and refused to go to the scan.
A confused Tracy desperately begged her daughter to tell her what was wrong — and after some tears, Amy finally admitted that there was no baby. But she still wasn't entirely honestly because she actually led Tracy to believe she'd had a miscarriage.
After Steve and Tracy comforted their daughter, the trio bumped into Bethany on the cobbles. Bethany was understandably alarmed that Amy still hadn't told her parents the real truth about her abortion — and urged her once again to truly open up to them.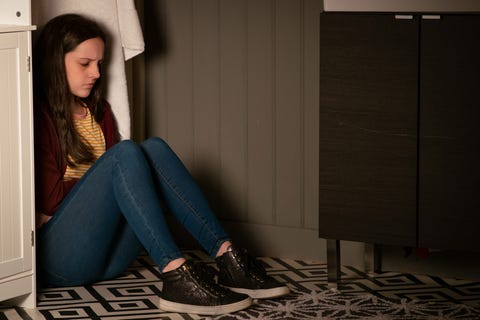 ITV
With Bethany's encouragement, Amy finally admitted to her parents that she'd actually had an abortion and hid it from them because she saw how excited they were about the baby's arrival.
Wednesday's double bill closed with Steve and Tracy breaking down over realising that they'd never even noticed how much their daughter had been struggling with her pregnancy.
Coronation Street airs on Mondays, Wednesdays and Fridays at 7.30pm and 8.30pm on ITV.

---
Read more news, spoilers and gossip on our Coronation Street homepage
Digital Spy Soap Scoop video – hit play below for all the latest Coronation Street spoilers, as Shona's hostage ordeal comes to a head and Seb goes on the attack against Gary.
Want up-to-the-minute soaps news, spoilers and gossip on your social feeds? Just hit 'Like' on our Digital Spy Soaps Facebook page and 'Follow' on our @soapscoop Twitter account.