Next week's Coronation Street episodes will see Sinead's tragic departure, while David is caught in a prison riot and Daniel crosses a line with Bethany.
Here are 13 storylines hitting your TV screens next week.
1. Sinead celebrates an early Christmas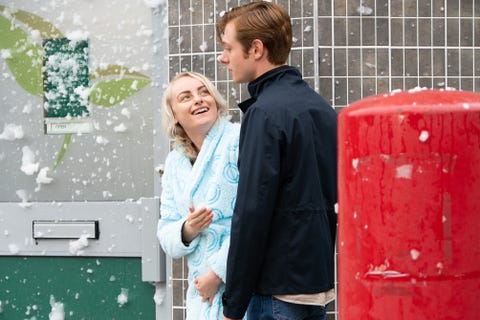 ITV
With her family aware that the end is near, and that Sinead may not live until December, they decide to start the festive season early and give Sinead a final Christmas.
Daniel is horrified when he sees Kirk, Beth and Craig in Christmas jumpers, and insists Sinead is far too sick for all the fuss. However, when Sinead realises what they've got planned, she's thrilled.
As the extended family gathers round, Daniel's over-protectiveness boils over when he insists that Sinead needs to rest. As the couple begin to argue, Daniel storms out.
2. Daniel and Bethany cross the line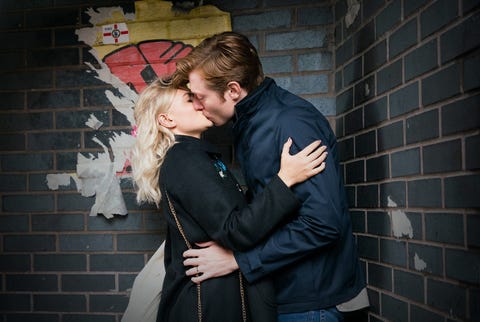 ITV
Bethany is shocked to find Daniel sobbing in the ginnel after storming out of the Christmas party. As Bethany comforts him, an upset Daniel leans in and the tension bubbles over as the pair share a shock kiss.
Before they have time to react, Ken discovers them together. He's understandably furious and demands Daniel go home to Sinead, while tearful Bethany runs off.
3. Sinead makes a devastating discovery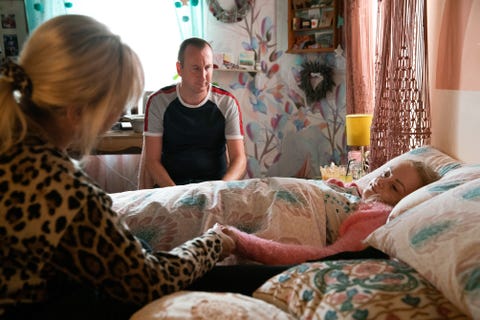 ITV
At the flat, Sinead finds Bethany's notebook that she has accidentally left behind. As she begins to read Bethany's short story, it's not long before Sinead puts two and two together – and realises that Bethany is in love with Daniel.
When guilty Daniel returns home, he's taken aback when Sinead reveals her discovery. Daniel tries to deny the truth, but when Sinead pressures him to be honest, Daniel cracks.
4. Daniel's admission sends shockwaves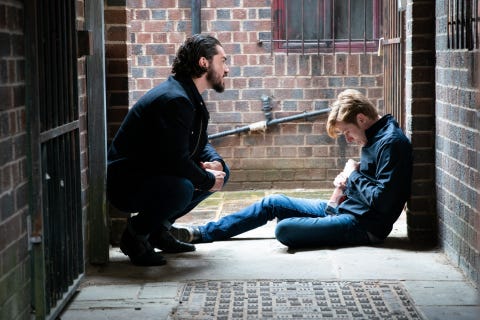 ITV
Daniel insists that his moment with Bethany meant nothing, but Sinead wants nothing to do with him. As Craig throws Daniel out, Beth rallies around Sinead and reminds her that, regardless of Daniel, Bertie needs her.
Meanwhile, Daniel hits the drink and is found by Adam, who realises he's in self-destruct mode. Adam turns to Ken, Peter and Carla, worried about Daniel's state of mind.
5. Bethany faces a backlash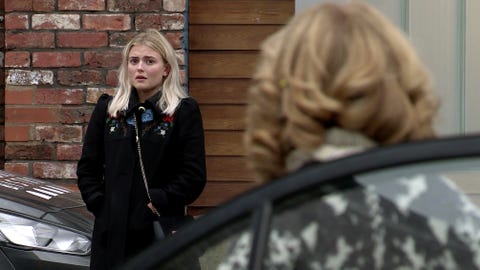 ITV
Already awash with guilt, Bethany is left further upset when Craig confronts her and blasts her for her inappropriate behaviour with Daniel.
Later in the week, Bethany bears the brunt when news of the kiss spreads. Gail returns home from Thailand to find Tracy and Sally laying into Bethany and comforts her granddaughter. She suggests Bethany find herself again and has just the solution: yoga. We're not sure that's really going to help right now, Gail.
6. Tracy offers some surprisingly heartfelt advice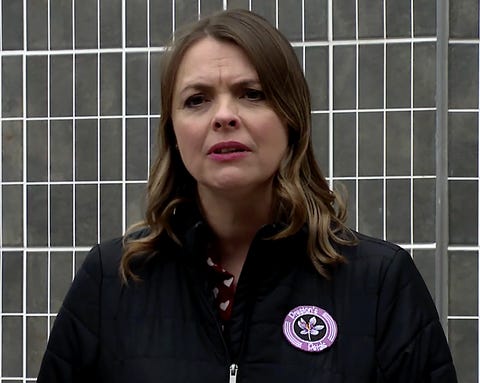 ITV
The day after her argument with Daniel, Sinead struggles in his absence. With Beth's help, she records some messages for Bertie so that he'll know just how much she loved him.
Meanwhile, it's Tracy who tries to bring the fractured couple back together. She reminds Sinead that despite Daniel's mistake, he loves her and Bertie more than anything. Tracy's words touch Sinead, who realises that she's right. Well done, Tracy, there's a first time for everything.
7. The couple reunite as the end draws near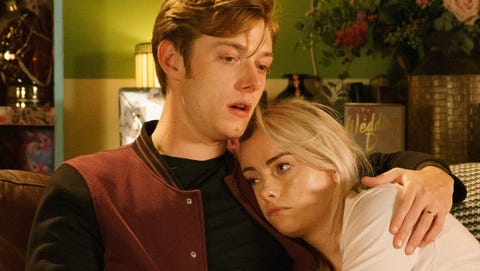 ITV
When an emotional Daniel returns home, Sinead has a frank discussion about her death – and their future. When Daniel assures her that he will be there for Bertie when she has gone, Sinead forgives him and the pair share a touching reunion.
Later, as Sinead makes plans for her funeral, she's informed by Dr. Gaddas that her conditioned has worsened – and she's too weak to be moved to the hospice. As the couple reel from the news, Sinead realises it's time to say her goodbyes.
8. Sinead passes away in Daniel's arms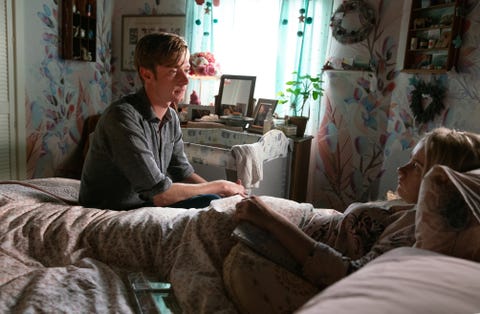 ITV
As the family gather to say their goodbyes to Sinead, she's comforted as they chat and bicker as normal. As Sinead is held by Daniel, she becomes aware her time is running out.
As the couple are left alone with Bertie, Daniel comforts her until the end. In heartbreaking scenes, Sinead passes away in his arms.
In the Rovers, Sinead's family and friends reminisce and share fond memories – and are left devastated when Daniel calls to share the tragic news.
9. David is caught in the middle of a riot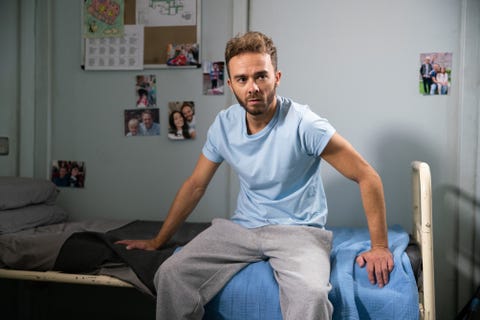 ITV
As a prison riot breaks out, David retreats to his cell – but his dodgy new mate Abe has other plans. David is shocked when Abe drags Josh in and hands David a pair of scissors to finally put an end to his rapist.
David insists he wants to deal with Josh alone, but will he be able to stop himself from taking the ultimate revenge?
10. Max realises the error of his ways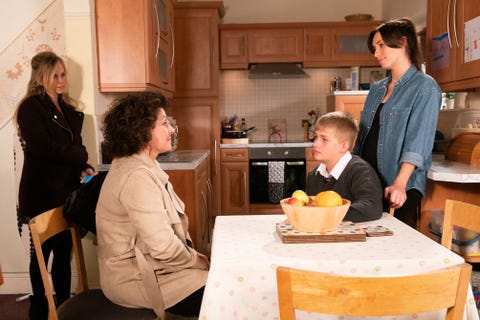 ITV
Max visits Shona and admits he's concerned about Marion's plan to sue for custody. Shona is delighted with Max's turnaround, and Adam calls a meeting to try to resolve the issue.
Later, Max finally apologises for his behaviour and admits that he wants to be part of the family. Realising that this is what Max truly wants, Marion agrees to let him return home.
11. Shona is left shocked by news from the prison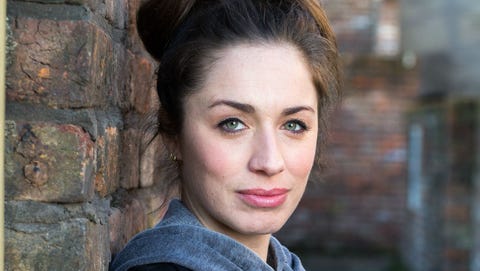 ITV
As news of the riot breaks, the Platts are horrified and worried about David's safety. When Shona receives a phone call from David, it's with more bad news: Josh has been stabbed and David needs a lawyer.
David insists he had nothing to do with the attack and swears his innocence to a confused Shona. Will she believe him?
12. An incriminating video implicates David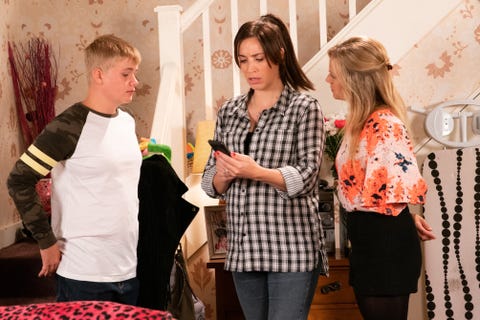 ITV
With Shona already reeling, things go from bad to worse when Max shows her a video of the prison riot. The video shows Josh collapsing from a stab wound, with David standing nearby.
Recognising Josh in the video, Max wonders if David attacked him – and although they hate to admit it, Shona and Sarah share his concerns.
13. David faces an uncertain future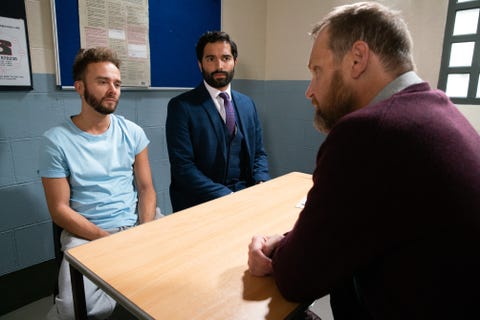 ITV
David learns from Imran that the incriminating video is doing the rounds and although he insists that he has nothing to do with it, it looks like he'll have an uphill battle convincing everyone else.
David phones Shona and he's horrified to learn that Max has seen the video. Once again, he swears to Shona that he's innocent but faced with such damning evidence, she's unsure what to believe.
Coronation Street airs on Mondays, Wednesdays and Fridays on ITV.
---
Digital Spy is launching a newsletter – sign up to get it sent straight to your inbox.

Read more news, spoilers and gossip on our Coronation Street homepage
Digital Spy Soap Scoop video – hit play below for all the latest Coronation Street spoilers, as Daniel betrays Sinead in her final week, and David is accused of stabbing Josh.
Want up-to-the-minute soaps news, spoilers and gossip on your social feeds? Just hit 'Like' on our Digital Spy Soaps Facebook page and 'Follow' on our @soapscoop Twitter account.