Coronation Street star Beverley Callard has predicted that Jim McDonald will make another return to the show.
Jim (Charlie Lawson) hasn't been seen on the Street since October, when he left Weatherfield in disgrace after conning his ex-wife Liz out of her savings.
Viewers watched in horror as Jim fooled Liz into thinking that their tragic daughter Katie, who passed away after being born prematurely in 1992, was still alive and needed expensive medical treatment.
Advertisement – Continue Reading Below
Speaking about the future for Liz and Jim, Beverley explained: "I don't think they are finished forever. I honestly don't think they are, because with the way Charlie and I played it towards the very end, they were coming together again before it was all discovered.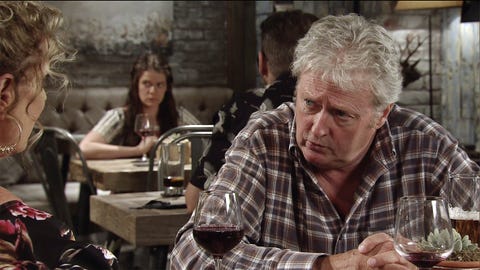 ITV
"Charlie played it with a sense of remorse and that he really did love Liz. So I think, and I really hope, that they will try to bring him back. I think maybe he'll somehow get the money to give back to Liz and then it will begin again.
"I don't know if it's true, but there was a rumour upstairs that he comes back in a wheelchair and Liz treats him like Bette Davis [in Whatever Happened to Baby Jane?]. She's like: 'Time for din dins Jim!' I thought: 'Right, I love this!
"I would love that, serving him a budgie for his dinner. That would be great, though, wouldn't it?"
When Digital Spy caught up with Corrie's new producer Iain MacLeod this week, he confirmed that a potential return for Jim had been discussed among the writers but nothing had been finalised.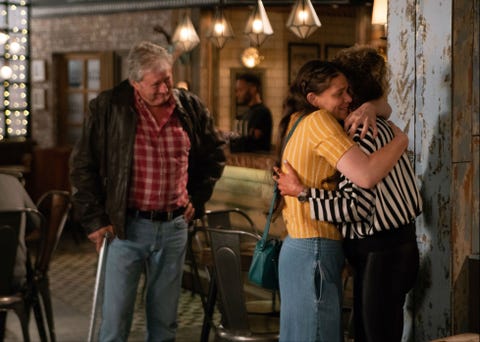 ITV
Advertisement – Continue Reading Below
Discussing the possibility further, Beverley added: "I don't know how Liz could forgive what Jim did, but I think there is a chemistry there.
"But also, I am hoping that they'll keep Louis Emerick, who plays Mike. We've been mates for 30 years in real life and we've actually played together as a couple years ago.
"Do you remember the character of Tony? Tez Maynard played him and he was a brilliant actor and I loved him, but I really wanted Louis to get that. I was ringing Louis saying: 'Get your agent to get you an audition for this'. So it's great that he's come in. I'm hoping I can have both."
Coronation Street continues on Christmas Eve at 7.30pm on ITV.
---
Read more news, spoilers and gossip on our Coronation Street homepage
Digital Spy Soap Scoop video – hit play below for all the latest Coronation Street spoilers, as Tim makes a huge confession to Sally on Christmas Day and Lewis's secret plotting comes to a head.
Want up-to-the-minute soaps news, spoilers and gossip on your social feeds? Just hit 'Like' on our Digital Spy Soaps Facebook page and 'Follow' on our @soapscoop Twitter account.