Next week's Coronation Street will see Eileen Grimshaw in danger in the modern slavery plot aftermath, while Robert Preston is blackmailed over his double life, and Geoff Metcalfe's behaviour hits a new low.
Here's the lowdown of 12 storylines you can look forward to.
1. Eileen gets the whole truth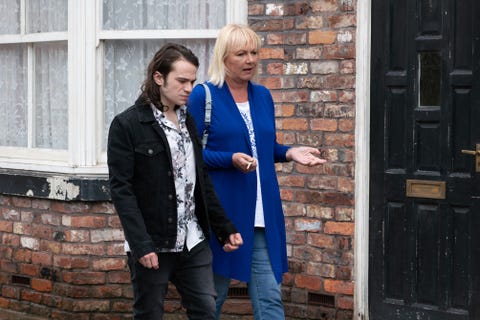 ITV
Still hurting from her break-up with Jan, Eileen is shocked when she hears an intruder letting themselves into the house. Fearing that the trafficking gang have come for revenge, terrified Eileen hurls tins of peas – only to discover the intruder is Jan.
With the pair reunited, Jan reveals the truth that he was working as a police informant on the case. After she has his story confirmed, Eileen realises that Jan truly loves her after all, but is floored when he asks her to move away with him and start a new life.
2. Seb is reunited with Alina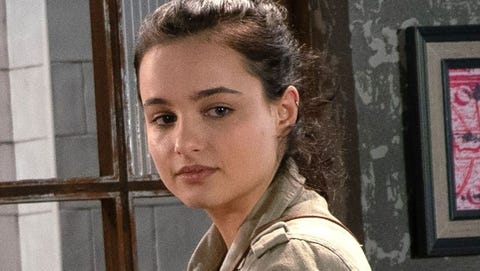 ITV
Eileen isn't the only one who has an emotional reunion, as Alina comes to visit Seb for the first time since she was rescued and taken to a safe house. Seb is excited, hoping that the visit may mean that Alina is prepared to give their romance a shot.
However, his hopes are soon dashed when Alina reveals she can't stay. Desperate to change her mind, Seb breaks Eileen's trust and tells Alina the truth about Jan, but to no avail. As the pair share a tearful goodbye, Seb is left heartbroken once more.
3. Evil Rachel is keeping watch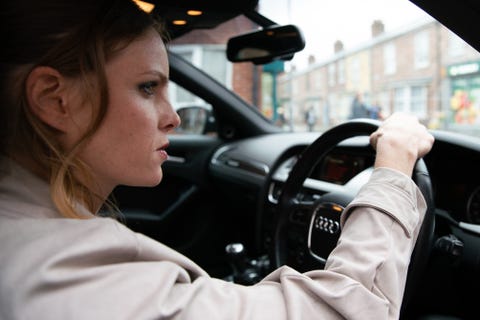 ITV
Eileen and Seb's troubles are far from over when Rachel returns and secretly spies on the pair from across the street. It isn't long before Seb clocks the car and realises he and Eileen may be in terrible danger.
Meanwhile, Eileen weighs up Jan's offer to move to Birmingham with him and is further concerned when Seb reveals his suspicions about the car. With Rachel no doubt having vengeance in mind for their role in the takedown of the trafficking ring, Eileen has a tough decision to make.
4. Robert is caught out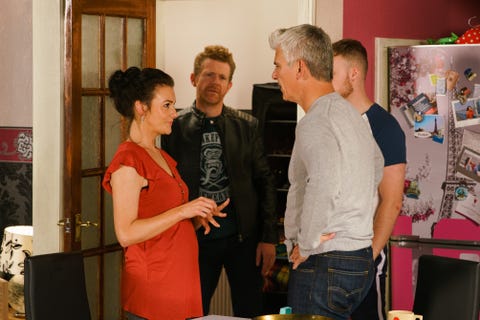 ITV
As Robert struggles to juggle his double life, things are further complicated when Michelle spots a text on his phone about the ring being ready for collection. Naturally assuming the ring is hers, Michelle urges Robert to pick it up – unaware the ring is Vicky's.
Hiding Michelle's ring in his van, Robert presents the cheaper replica to Vicky. The romantic moment turns sour when Jed arrives and kicks off about the happy scene. Things go from bad to worse for Robert when he finds his windows smashed – and Jed holding the second ring.
5. Michelle grows suspicious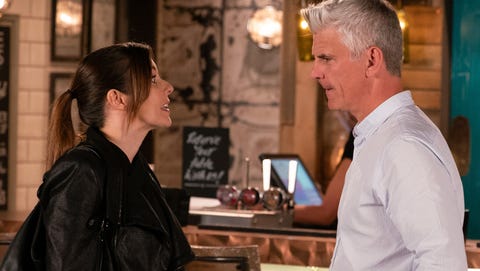 ITV
With Jed breathing down his neck, Robert thinks on his feet and tells Michelle that his van was broken into and the ring was stolen. However, he eventually trips himself up when CCTV footage reveals the van wasn't where he said it was.
Later, Jed shows up with Michelle's ring and threatens to reveal all. Feeling the pressure, Robert bargains with Jed and offers him £2,000 in exchange for the ring and his silence. Jed agrees on the condition that Robert convinces Tyler to move to Ireland with him.
Robert faces another dilemma when Michelle questions him about £2,000 missing from the safe and he's forced to lie yet again. How Robert keeps track of his tangled web, we'll never know.
6. The tables turn on Jed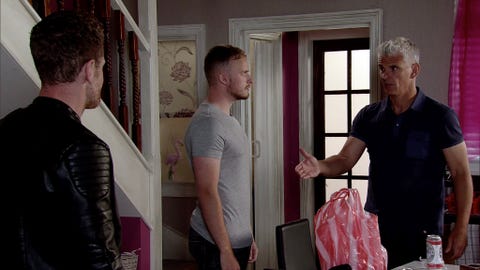 ITV
Jed overhears Robert telling Tyler that he hopes he'll stick around and help with the new baby, and he's furious that Robert is going back on their deal.
Later, Robert refuses to back down and calls Jed's bluff. He reveals that he has CCTV footage of Jed attempting to blackmail him and will get the police involved if he doesn't leave them alone. Will Robert's gambit pay off?
7. Geoff tells a twisted lie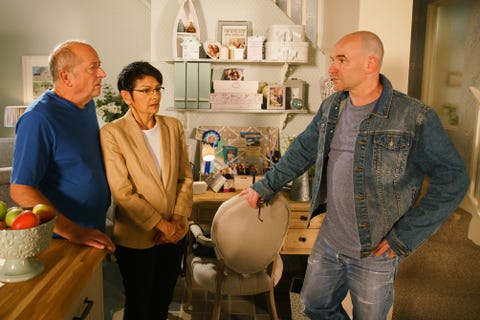 ITV
Not content with secretly spying on Yasmeen, devious Geoff has been trying to worm his way back into her good books by lying about experiencing heart palpitations. His plan works perfectly, as Yasmeen enquires about his health when she and Alya bump into him.
Her ongoing concern is noted by Alya, who tells Geoff not to give up on Yasmeen. Spurred on, Geoff steps his plan up a notch by listing his non-existent ailments to her. When Yasmeen fears he may have cancer, manipulative Geoff lets her think it's a possibility.
Geoff is secretly thrilled by Yasmeen's attention, as she refuses to let him lift a finger during a shift at Speed Daal. Later, Tim is confused when he walks in on Yasmeen comforting Geoff. Realising that Geoff hasn't told Tim about his 'illness', she urges him to be honest. Will Geoff be forced to lie to his own son?
8. Shona turns to David for help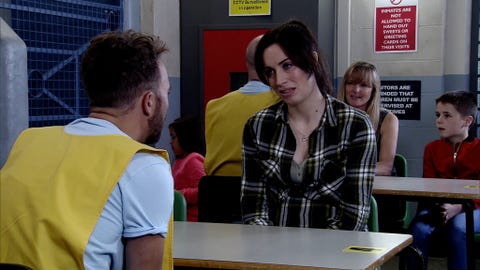 ITV
At the end of her tether with Max's recent bad behaviour, Shona pays a visit to David in prison for support over the troubled youngster. David is quick to note that Max's behaviour change coincided with Kylie's birthday and thinks that could be the reason for him acting up.
Shona feels terrible as she had no idea, and later apologises to Max for not realising. As the pair share a hug, Shona is hopeful that the family will get back on track after an eventful few weeks. However, she's unaware that Max is secretly not taking his ADHD medication.
9. Tyrone realises he's made a blunder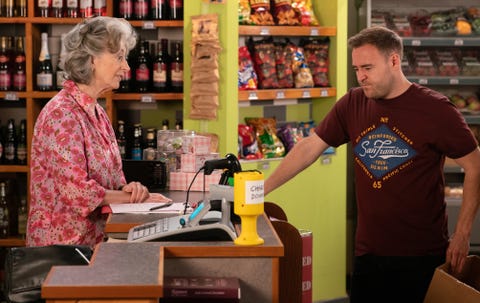 ITV
With the return of Fiz and Hope imminent, Tyrone prepares to welcome them back. However, his excitement quickly turns to dread when he realises he hasn't enrolled Hope at Bessie Street for the new school year.
Evelyn suggests he turn to Brian to see if he can pull some strings with his old contacts. Brian is forced to break the bad news that there's nothing he can do – and that Hope will be allocated a place at another school instead.
10. Evelyn takes matters into her own hands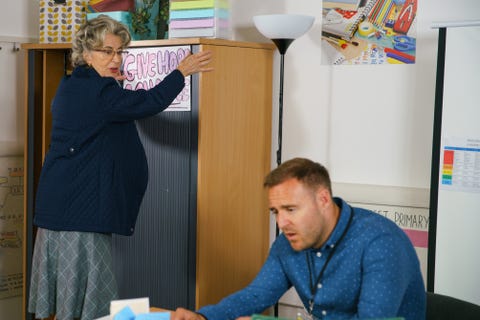 ITV
Brian accompanies Tyrone to see the Head of Bessie Street in a last-ditch attempt, and Evelyn shows up to offer moral support. When the Head is firm that there's no room for Hope at Bessie Street, furious Evelyn barricades them in the office and stages a protest.
Brian manages to calm the situation, but Tyrone is forced to face the fury of Fiz, who blasts him for missing the deadline.
11. Ryan plays with fire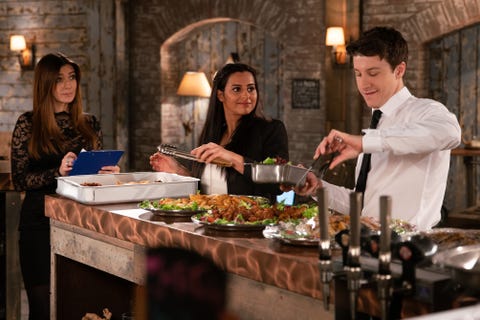 ITV
When Ryan gets his wages, he decides to splash out and take Alya out for the night. However, with Ryan in debt to Gary after stealing money that Gary had stashed in a drawer, he makes the risky decision to try and fool the Street's new villain.
Ryan lies and claims there's been a computer glitch at the Bistro, meaning he hasn't been paid. It isn't long before Gary works out that he's being played and he's furious.
Blissfully unaware, Ryan continues to string him along, but will he regret trying to pull the wool over Gary's eyes?
12. Mary is kicked out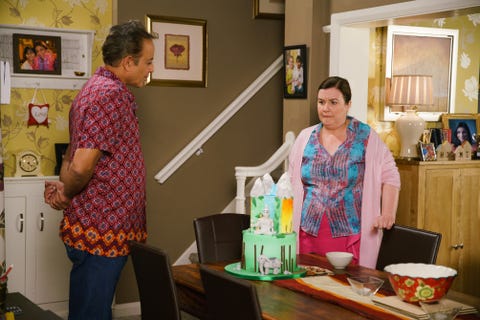 ITV
As Asha's skin lightening story continues, she declares that she no longer wants to share a room with Aadi in a bid for more independence. Dev is left in the awkward position of telling Mary that she must move out.
Mary is understanding, but deeply upset at having to leave the place she has called home. With Mary forced to leave Number 7, Asha's increased privacy could further heighten her skin lightening fixation.
Coronation Street airs on Mondays, Wednesdays and Fridays at 7.30pm and 8.30pm on ITV.
---
Read more news, spoilers and gossip on our Coronation Street homepage
Digital Spy Soap Scoop video – hit play below for all the latest Coronation Street spoilers, as Robert is blackmailed over his secret and Fiz returns home to chaos.
Want up-to-the-minute soaps news, spoilers and gossip on your social feeds? Just hit 'Like' on our Digital Spy Soaps Facebook page and 'Follow' on our @soapscoop Twitter account.