The XE will be offered in either standard or sportier R-Dynamic body designs – clearly distinguished by rear and frontal features that look different but are similar to manufacture and fit. Each of the two is available in S, SE and HSE trim levels. Jaguar marketing people reckon this system offers a continuing comprehensive choice while reducing the potential for buyer confusion. 
On top of the model and trim selection, owners get to choose engines and option packs. "We've separated body and equipment spec from engine choice," said Callum, "because we're finding customers who want a sporty-looking car don't necessarily want the highest-output engine. It might not suit their preference or tax situation."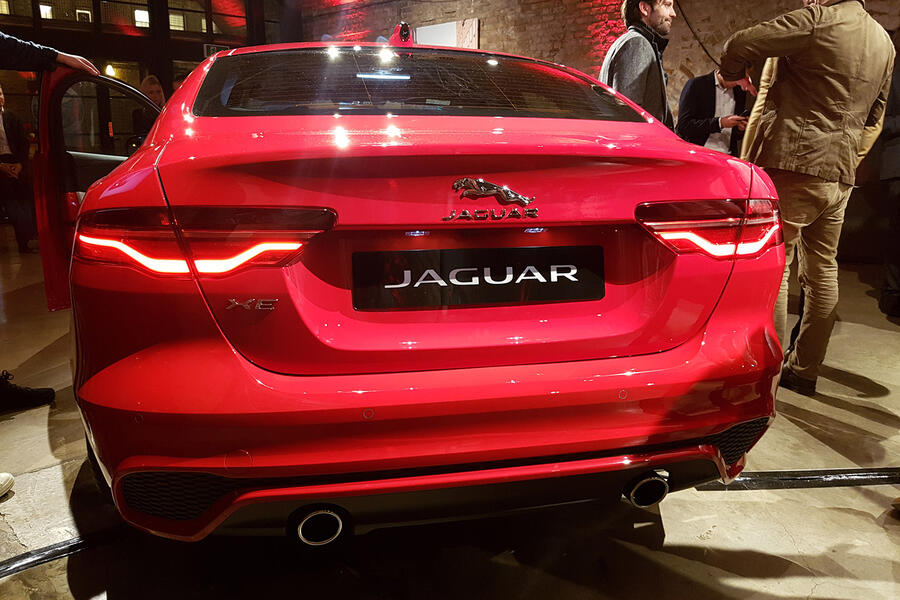 Engine choices for the XE have been reduced and refined. Buyers still decide from a range of diesel and petrol 2.0-litre Ingenium units built in Jaguar Land Rover's Wolverhampton factory, but little-bought choices have been eliminated. On the petrol side, buyers now decide between 247bhp and 296bhp units (the quicker of which gives the car sub-6.0sec 0-60mph acceleration). 
Not that the new XE is all about performance. Jaguar continues to make a stout case for its base 2.0-litre D180 rear-drive model, which packs 317lb ft of torque yet returns combined fuel consumption of 57.6mpg. Crucially, it becomes the first diesel car in its class to meet the EU's ultra-stringent RDE2 NOx emissions standard due in January 2021.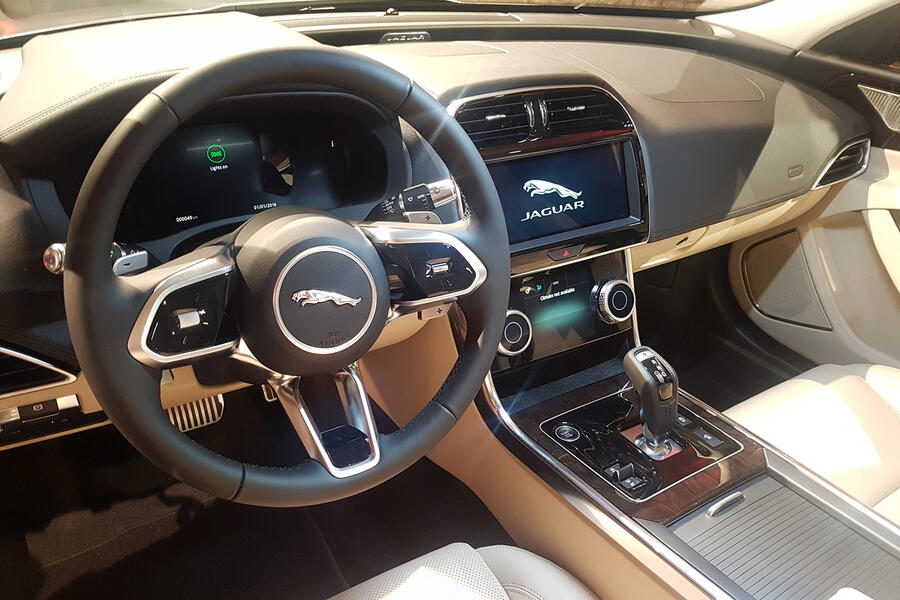 Choosing this option protects business buyers from a 4% benefit-in-kind surcharge applied to other diesels and allows a considerable first-year saving on vehicle excise duty for private buyers. Jaguar accompanies details of the D180 with the robust reminder that its latest diesels deliver 25% better fuel consumption than equivalent petrol engines, emit around the same amount of NOx and are "often the most cost-effective and environmentally friendly choice" for the many drivers in the UK who do more than 12,000 miles a year. 
Work on the XE refresh began around a year after the car's launch in mid-2015. "As soon as we start seeing one of our cars in numbers, and on the open road, we start to critique it," said Adam Hatton, head of exterior design. "We decide our objectives for a new model, do some sketching, then get the car into our design garden, start with a completely plain front and start adding the new graphical elements – grilles, vents, lights and the rest – from scratch."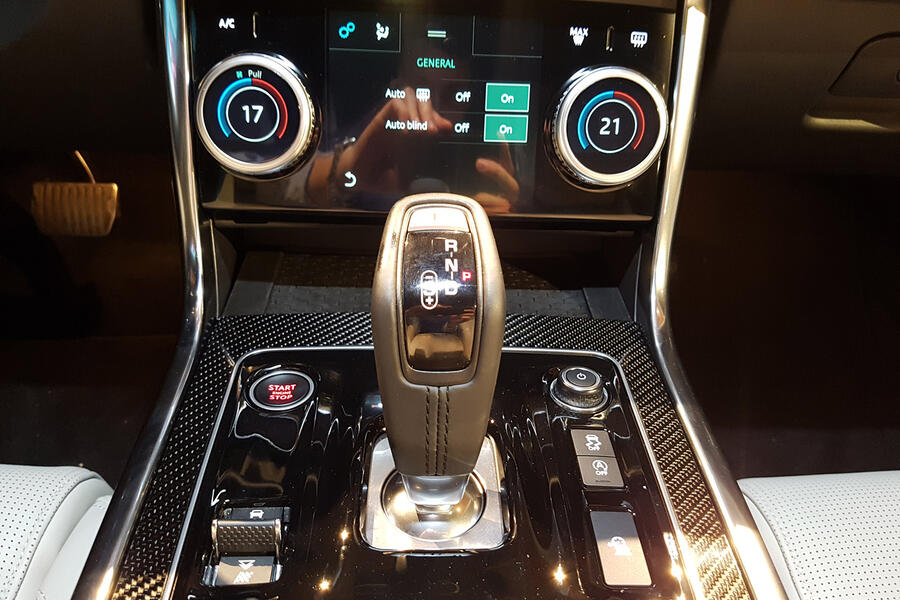 The aim for the latest XE, said Hatton, was to enhance the frontal features, with rear mods to match, so apertures are bigger and graphical facets are bolder, using elements that allude to the F-Type sports car. New all-LED headlights now incorporate a strong but subtle J-blade daytime running light, and the headlights themselves are around 12mm narrower. 
However, the biggest changes are in the front cabin, a project led by head of interior design Alister Whelan. Trim materials have been comprehensively upgraded. Attractive upholstery stitching has been added and improved. New materials – including a luxurious quilted seat option – have been added.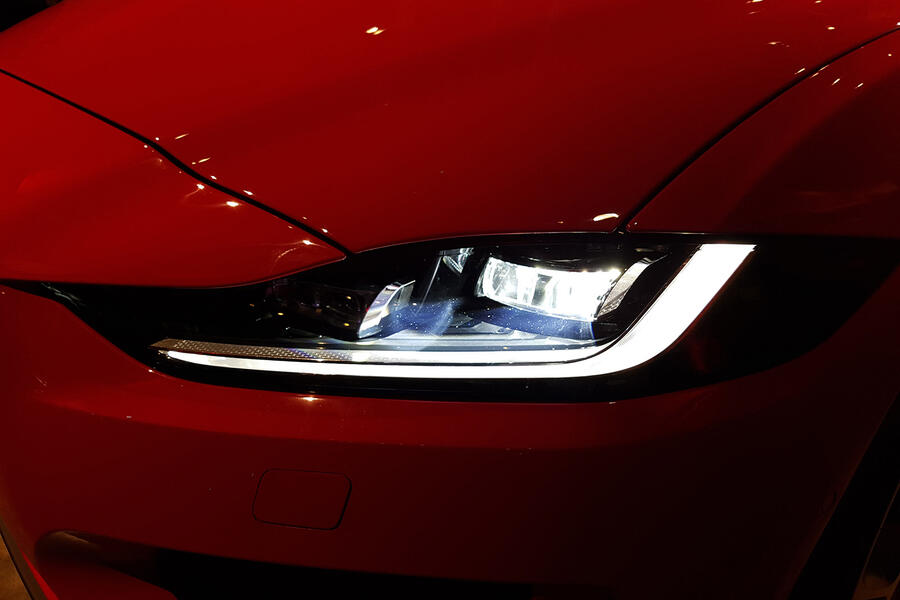 Hard plastics have been replaced in even the most discreet places and you can now get an XE with three comprehensive TFT screens across its fascia, similar to those in an I-Pace, and complete with Jaguar's prominent twin console-mounted twist controls that light up to operate the ventilation and infotainment. You can also now get Jaguar's camera-based ClearSight rear-view mirror as an option, in exchange for a much larger roof-mounted 'shark fin'. 
Modernised and improved in visual impact, the XE is now nothing less than a baby luxury saloon in its higher-spec guises and a very well-equipped car even in its near-standard forms. Jaguar expects buyers to be attracted by the XE's enhanced value: at £36,145, a D180 in R-Dynamic guise is £670 cheaper than the outgoing R-Sport equivalent – and that's before you add about £1100 worth of extra equipment.