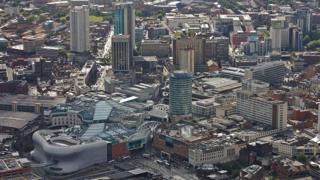 Private cars will be banned from taking "through trips" across Birmingham city centre under plans to cut pollution.
Vehicles will be able to drive into the city, but would have to go back out to the ring road to access other areas.
In a newly published transport plan the city council is also looking at rerouting the A38 and bringing in a 20mph limit on residential roads.
It said it wanted to encourage the greater use of public transport, walking and cycling.
The council, which has been given a "final warning" to improve its air quality, already intends to introduce a clean-air zone this year.
Under the plans, no private vehicles would be allowed to travel through the centre, and could only come in and out from certain areas.
The proposals mean:
People can still drive into the city from certain areas but would have to drive back out using the surrounding ring road
Journeys straight through the city centre would not be allowed
Public transport would be the "preferred choice" for travelling in and out of the city
City centre streets would be pedestrianised and integrated with public transport
In the document, cabinet member for transport and the environment at the Labour-run council Waseem Zaffar said: "The more journeys we take by walking and cycling, the more we will improve air quality and our health and the more we will reduce congestion."
The plan also says the council will look to introduce measures to reduce parking and could also redevelop some of its car parks.
The A38 could be rerouted to an "upgraded ring road" and the city's tunnels used for public transport only.
There could also be restrictions on lorries making daytime deliveries.
Your questions about the car ban
Do you have questions about what a plan to ban cars driving though Birmingham city centre could mean for you?
Use the form below and we could be in touch.
In some cases your question will be published, displaying your name, age and location as you provide it, unless you state otherwise. Your contact details will never be published. Please ensure you have read the terms and conditions.
If you are reading this page on the BBC News app, you will need to visit the mobile version of the BBC website to submit your question on this topic.
Richard Lobban, 36, a truck driver who lives in Moseley, said early starts for his job meant he could not use public transport to get to his depot in Aldridge, Walsall.
He said he and his partner had just put their home up for sale to move further out of Birmingham, but the council's plans meant he would now "only go into the city centre if I'm paid to or told to".
"I'm away all week with work and have to get up at about 1 or 2am sometimes and so public transport isn't going to work for me," he said.
"I see the area they're talking about getting bigger and any charges just getting bigger, so we want to be far enough out for it not to affect us.
"Everyone likes the comfort of their car, I understand that, and something has to be done, but it's only going to get worse on the roads because everyone will be on the same routes."
Caz Dillon, from Marston Green, who has been commuting into the city for seven months, said: "I think it would be great to see a city centre with no cars, reduced pollution, help with the emissions process, but there is absolutely no way on earth that we can do that because our public transport system is so atrocious and so unreliable.
"That is why people drive because you just cannot rely on our train service and until they get that sorted they haven't got a hope in hell to try and ban cars.
"In London, you have got no problems using the Tube but here, in the second city it is atrocious. Even smaller cities like Manchester are streets ahead of where we are with public transport."
Analysis – Kathryn Stanczyszyn, BBC WM political reporter
The car used to be king in Birmingham – the city council says that crown must now be taken by public transport.
By far the biggest headline of these plans is radical changes to how traffic moves through the city centre, with the possibility of the A38 closing to private vehicles, and access in and out allowed only from certain points on the city's ring road.
The Labour-run local authority says it's time to stop tinkering at the edges and make real change to improve air quality.
But critics are concerned that business will be hit hard, and that for the motorist – already braced for a Clean Air Charge and a workplace parking tax – it's a move that's too big to stomach.
The council said the measures were designed to reduce impact on the environment as part of its commitment to becoming a carbon-neutral city by 2030, eliminate danger on the roads and revitalise the city centre.
However, the Conservative opposition said it showed how "out of touch" the authority was.
Councillor Robert Alden said: "Their plans to close the tunnels will bring the city to a standstill, destroying jobs and pushing more congestion and pollution to the residential areas on the edge of the ring road."
Subject to approval by the council's cabinet on 21 January, a consultation on the plan will begin on 28 January.
Follow BBC West Midlands on Facebook, on Twitter, and sign up for local news updates direct to your phone.