Billy Connolly has assured fans he's "not dying" following a poignant documentary charting his career.
The comedian, who rose to fame with Monty Python and went on to become a huge solo star and actor, was the subject of Billy Connolly: Made in Scotland. It followed his career and his recent diagnosis of Parkinson's; a degenerative disorder that affects the central nervous system.
Advertisement – Continue Reading Below
Speaking to filmmakers while filming the two-part special, Connolly broke viewers' hearts when he confided that he felt his life was "slipping away" due to the disease.
However, Connolly also appeared in a short video on his wife Pamela Stephenson's Twitter page on Saturday (January 5) to assure fans he's "not dying".
Related: Billy Connolly says his "life is slipping away" as he battles Parkinson's disease
"Not dying, not dead, not slipping away," he said. "Sorry if I depressed you.
"Maybe I should have phrased it better."
Billy first revealed he had been diagnosed with Parkinson's in 2012 and this isn't the first time he has refuted the severity of his illness.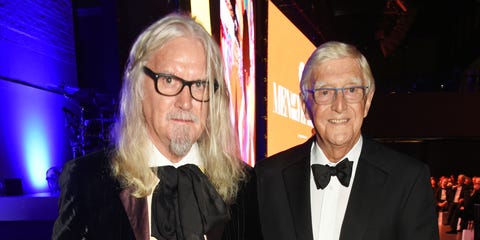 Getty Images
Related: Billy Connolly hits back at Michael Parkinson's claims about his health
Last year, Connolly and his wife Pamela Stephenson hit back at claims made by Michael Parkinson about his state of mind.
The legendary chat show host appeared on Saturday Morning with James Martin in August and said that The Big Yin's "wonderful brain has dulled".
Advertisement – Continue Reading Below
However, Connolly later denied this to The Mirror, claiming: "I would recognise Parky if he was standing behind me – in a diving suit."
Made in Scotland is available on BBC iPlayer now.
---
Want up-to-the-minute entertainment news and features? Just hit 'Like' on our Digital Spy Facebook page and 'Follow' on our @digitalspy Instagram and Twitter account.