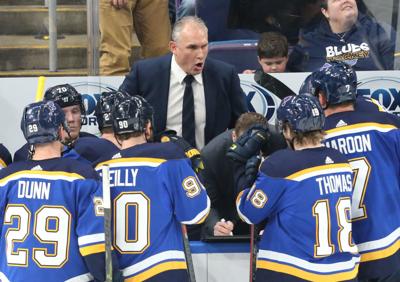 The comeback was celebrated across St. Louis on Sunday, and we're not talking about Easter.
The Blues are on to the second round of the NHL playoffs. Yes, the same Blues that had the worst record in hockey on the second day of January. It seemed impossible, and this could just be the beginning. The Blues became the first NHL team in the expansion era to go from having the worst record on any day in January, to winning a playoff series. And the postseason the bounce-back Blues have secured another step into is a uniquely inviting one; it's the first in NHL history to be without the regular-season champions from each conference after the first round. In other words, this thing is wide open, and the Blues might be the best team left standing.
"That's one round," Blues interim (for now) coach Craig Berube told his team after Saturday's Game 6 win. "Now we go to the next one."
Before they go on to Dallas or Nashville, let's examine why they are still rolling.
Five reasons stood out as Saturday's win began to sink in . . . 
1. Berube pressing the right buttons
Jaden Schwartz's eight-season NHL career has included five trips to the postseason before this one. In those five previous postseasons, he had never scored more than four goals. Now he has four in his last two games. The first was a game-winning stunner with 15 seconds left on the clock in Game 5. The next three were Saturday's natural hat trick. All of these goals came after Berube paired Schwartz and Brayden Schenn on the second line, bumping Oskar Sundqvist over and David Perron up. Schenn, back at center, has two goals and an assist since the switch. Granted, some of these were power-play numbers. But it's clear the line switch ignited something.
And how about the Blues' defensive adjustments during this series? Berube steamed as the Jets' top line of Kyle Connor, Mark Scheifele and Blake Wheeler took over in Winnipeg's 2-1 overtime win in Game 4. After Berube tweaked his defensive pairings and tightened up the screws he felt were getting loose, those three Jets failed to score the remainder of the series.
Berube's players love his fire and willingness to stick up for them against the officials and opponents. But don't overlook his knowledge of the game, and his players' trust in those instincts. Berube made game-winning decisions in this series. If you had any doubts he is the right man for the job moving forward, they should be gone by now. And the Blues better hope Berube does not get poached by another team before they can lock him in after the postseason ends.
2. Binnington can handle the heat
Believe it or not, Blues rookie goalie Jordan Binnington does not wear a Super Man costume beneath his sweater. But his chest protector does have his nickname — "Binner" — written across its front. Binner. Super Man. They are basically synonymous in St. Louis at this point.
"The city has my back," Binnington said after Blues fans turned Winnipeg's "You look nervous!" chants for Binnington back on the Jets during Saturday's game. I'm not saying Binnington could shoot somebody and not lose voters, but he's nearing that territory.
Entering this series, we were not sure how Binnington would handle the playoff pressure cooker. That unknown was answered in grand fashion in Game 1, when the postseason newcomer weathered a storm of off-ice distraction and excelled. Binnington could have buckled under the distraction of his foolish tweets from years ago and the fool who decided to dig them up, but he stole that game for the Blues. If anything, Binnington's swagger has increased. It is as obvious as the slight smirk he wore during pregame introductions Saturday. It's as if he knew what was about to happen. What we do know is the Blues know they have a good chance to win when Binnington starts. They play with a confidence they lacked before he stole the show, and that has not changed one bit since the regular season ended.
Of the 16 goalies who have started multiple games this postseason, Binnington ranks 11th in save percentage (.908) and seventh in goals against average (2.63). Not great, right? But remember those numbers are impacted by the uncharacteristic six goals Binnington allowed in the Game 3 loss. The Jets totaled six combined goals in the three games that followed. Of those 16 goalies, Binnington has made more saves (157) than all but four, and only five have received a higher average of goals of support than Binnington's 2.63. The Blues just won an airtight series that included as many goals scored (16) as surrendered. Binnington was a massive difference-maker in all but one game, and he flat-out stole the first.
3. The road is their friend
The Blues make Cormac McCarthy look uncomfortable on the road. They just claimed a best-of-seven series in six games while winning just one game at home. And the Winnipeg Whiteout was supposed to be a hard place to play. Since January, no team has more road wins (regular and postseason) than the Blues' 18. During that span, they hold the league's best road winning percentage (.707), the most road shutouts (six) and fewest road goals allowed (62). Home-ice advantage is great, but the Blues are sacrificing basically nothing away from Enterprise.
4. They're using their heads
If you watched more than five minutes of this Western Conference quarterfinal, you saw exactly what the Jets were trying to accomplish. They pestered, prodded, punched and did everything in their power to get the Blues to bite back and fall into the retaliatory penalties that rewarded Winnipeg's potent power play. The Blues knew this. They were prepared for it. But if talking about something meant executing it, we would all still be keeping up with our New Year's resolutions. The Blues actually followed through. Winnipeg averaged more than three power-play opportunities per game during the regular season. The Blues limited them to 14 in six games, an average of 2.3 per game. And the Blues were strong against that power play when it did happen. The Jets had a power play percentage of 24.8 during the regular season. The Blues held them to three power-play goals in 14 chances for a power-play percentage of 21.4. And get this: The Blues actually won the power-play in terms of head-to-head results. The Blues created five more power-play opportunities than the Jets, and scored five power-play goals to the Jets' three. When you are out-performing your opponent's strengths, you are doing something right.
5. They ascended
There is no stat for this one, so dismiss it if you like, but I think it's the most important factor in the postseason. The Blues punched the Jets first, a straight right to the nose with two wins in Winnipeg to start this series. They took a punch when Winnipeg answered with two wins in St. Louis. Then Winnipeg jumped out to two-goal lead early in Game 5. Gulp. The Blues' response included three third-period goals and a truly stunning win. The Jets stayed down, but only because the Blues stood on their necks to start Game 6. They gave Winnipeg no room to breathe on Saturday as they absolutely dominated the puck from start to finish. This was such a close series, but Saturday's win was not nearly as close as the score suggested. The Blues played their best game of the series in the biggest game of the series, and because of that there will be a bigger series to play soon.