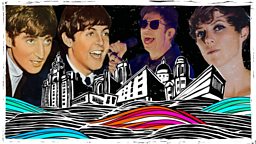 By Luke Morgan Britton, 28 March 2019
Liverpool's imprint on popular music is undeniable. You simply couldn't embark on a musical pilgrimage of the UK without visiting the famous Cavern Club, birthplace of The Beatles. But Merseyside's heritage and legacy runs deeper and spans much wider than simply the Fab Four.
To mark the 6 Music Festival heading to Liverpool this weekend (29–31 March), we have a brand new Liverpool music mix, dedicated to the city's impossibly rich musical past, present and future.
Ahead of the big event, here are the stories behind seven essential songs that Liverpool has given us over the years, from The Beatles and beyond.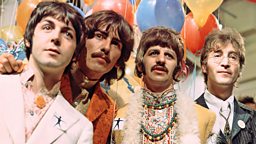 The presence of Liverpool as a city can be felt in many of the Fab Four's most popular songs: the gravestone of the real-life Eleanor Rigby is found at St Peter's Parish Church in the suburb of Woolton, while Penny Lane refers to the Liverpool street of the same name. Strawberry Fields Forever, though, is perhaps the band's most pure ode to their hometown.
Released in February 1967, the song draws inspiration from the eponymous Salvation Army children's home, also in Woolton, close to where John Lennon grew up. It's a remarkably personal homage to Lennon's childhood, acting as our guide as he takes a trip down memory lane: "Let me take you down, 'cause I'm going to Strawberry Fields."
So dear was the song to Lennon that the band worked painstakingly to perfect it. Sound engineer Geoff Emerick later recalled: "More time was spent on Strawberry Fields Forever than any other Beatles song. It was, I believe, the first time a Beatles song had been re-recorded in its entirety."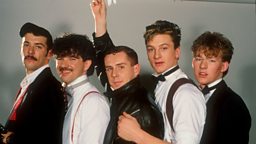 Perhaps not since Sex Pistols' Anarchy In The UK a decade earlier had a debut single caused so much uproar like Frankie Goes To Hollywood did with Relax in 1984. Offending the likes of Radio 1's Mike Read for its "obscene" lyrics (although Read has since called it a "brilliant dance track"), the song experienced a widespread ban in the mainstream media, meaning that the chart-topping track – which held the No.1 spot for five weeks – wasn't allowed to be played on BBC TV or radio during the peak of its popularity.
By the end of 1984 though, Relax was such a cultural phenomenon that the BBC had little choice but to revert its ban, allowing the Scouse band to perform their hit on that year's Christmas edition of Top of the Pops. The biggest-selling single of the year aside from Band Aid, Relax was a song that championed gay culture with a defiant punk-like ethos. It also had a very Liverpool-like spirit, says Frankie co-frontman Paul Rutherford. "We had that 'f**k-it' Liverpool attitude," he told The Guardian in 2014. "We were a gang, and no one could touch us. People were scared."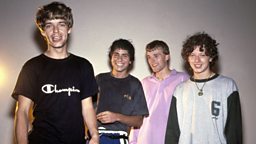 Originally forming in the mid-1980s, The La's only managed to release one album over the course of their turbulent career, but it's considered a classic. 1991's eponymous LP cost £1 million to make and has been heralded as a pre-Britpop masterpiece. The band offered an alternative at a time when the Madchester sound was dominant, drawing influence from the Merseybeat scene of the 60s.
Dubbed "the JD Salinger of pop", frontman Lee Mavers continues to be a cult hero of Liverpool's music scene. In a rare interview, Lee Mavers paid tribute to his hometown in particularly enigmatic fashion, telling NME in 1995: "The 'Pool is where we have to be. The Liver-pool. The Mississippi. The Mersey-sippi."
There She Goes, the band's best-loved track, has been described as the "founding piece of Britpop" by Rolling Stone, while NME listed the song as one of the biggest indie anthems of all-time. Fans have long debated whether the lyrics reference drug abuse, while famous fan Ben Gibbard (of Death Cab For Cutie) has labelled it as a "perfectly written pop song [with] an instantaneously recognisable melody". The song has even become a terrace favourite for Liverpool FC fans, ironic given that Mavers' is a fan of cross-city rivals Everton.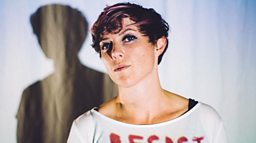 Liverpool four-piece She Drew The Gun's album Revolution Of The Mind was one of 6 Music's Albums of 2018. They are a band that have taken vast inspiration from their hometown, citing both The La's and The Lightning Seeds as influences, while producing the kind of psych-rock that's reminiscent of The Teardrop Explodes and The Coral.
Despite taking cues from their predecessors, She Drew The Gun move things forward too. Singer Louisa Roach said in an interview last year: "It's good to learn from the past; learn from traditions but make something new out of it. I think we're in the vain of these Liverpool bands – creating good and deep pop songs. We like to take that formula and do something different with it." The hypnotic and dizzying Since You Were Not Mine, a highlight from the aforementioned album, is a perfect example of this – indicative of a city continuing its fruitful musical legacy.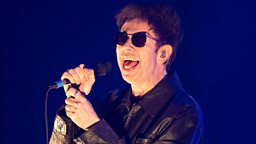 Echo & The Bunnymen frontman Ian McCulloch has, rather modestly, heralded The Cutter, the second single released from his band's 1983 Porcupine album, as "the second greatest song ever written". What did it finish as runner-up to? Well, McCulloch says it as a difficult choice to make, but he gave top spot to another of his own tracks, The Killing Moon.
The Cutter may not be the group's best-known track, but it's a song that the band have credited as paving the way for their success across the pond. Featuring Indian violinist L. Shankar and taking inspiration from Anthony Burgess classic dystopian novel A Clockwork Orange, it also follows a Liverpudlian musical tradition set out by The Beatles in coupling obtuse, hard to decipher lyrics with Eastern influences and psychedelic sounds.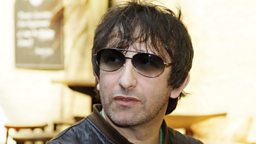 There's no denying it: Liverpool is a city that loves its football, and The Lightning Seeds have never shied away from this fact with their music. The Life Of Riley, which featured on the Merseyside band's second album Sense in 1992, was named after frontman Ian Broudie's son and came equipped with a music video that spliced together clips of great footballing goals, moments, tricks and blunders – long before such compilations were an ever-present on video websites.
The track, which saw jangling guitar providing a backdrop to Broudie's signature breezy falsetto, went on to soundtrack Match of the Day's "Goal of the Month" segment. The Lightning Seeds united music and football again in 1996, releasing Three Lions with David Baddiel and Frank Skinner, which has since becoming the de-facto anthem of the England team and topped the charts again in 2018.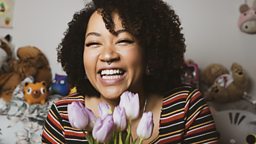 Kyami may not be an artist whose name many outside her local scene would recognise, but that could soon change. Originally hailing from upstate New York, the neo-soul singer/producer is now based in Liverpool, and has attracted buzz from BBC Music Introducing for her early tracks Oceans and Concrete Rose.
Taking inspiration from US artists like SZA and Noname, as well as UK acts such as Tom Misch and RAY BLK, Kyami explains how Liverpool as a city has profoundly influenced her. "Liverpool has become somewhere I call home now," she tells us. "After dreaming about moving to England as a young teenager, moving here has inspired me to be more of my true self. I wouldn't be the artist I am today without all the creative programs, outlets and people I've encountered in this city."
Her song Super Special features on our BBC Sounds Liverpool mix and Kyami describes it as "a story of two people sharing a transcending experience that brings them to outer space and back down to earth again." It's the perfect place to start to get a sense of her brand of slinky, smooth and effortlessly cool RnB.