Live television is a risky business by definition but while The One Show has done a stellar job of keeping proceedings ticking over during its almost 13-year run, there have been a handful of moments that have made viewers at home and those in the BBC studio wince.
From co-host Matt Baker's "Paxman" moment to Piers Morgan running his gigantic mouth (again), it happens to the best of 'em.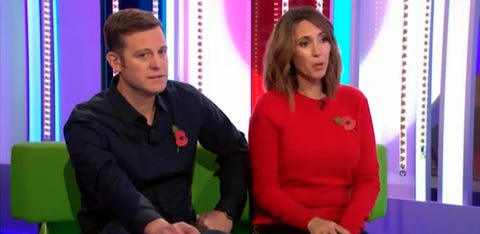 BBC
1. Gary Barlow walked out
Take That appeared on the show to promote their new brand album 'Wonderland' back in 2017 and everything was going swimmingly, until Gazza suddenly stood up and said, "Can I leave you guys to it? I don't feel very well. Excuse me."
And off he went, leaving everyone looking a little dumfounded.
Fortunately, he did return at the end of the show to perform alongside Howard and Mark, much to the relief of the Take That faithful – and he took to Twitter later that day to explain exactly what had happened.
In hindsight, a smart decision.
2. Matt Baker savaged David Cameron
Former British prime minister David Cameron definitely wasn't expecting former Blue Peter-turned-One Show presenter Matt Baker to morph into the no-nonsense, straight-talking journalist Jeremy Paxman, but that's exactly what happened when he rocked up on the green sofa.
After wrapping up their cosy chat (they discussed Larry, the 10 Downing Street moggie), Baker, like a viper, seized his opportunity, "Just very quickly, how on Earth do you sleep at night?"
His co-host Alex Jones let out an audible gasp, before switching to an awkward laugh, and Cameron himself was momentarily flustered, before regaining his composure.
"Erm, I've always been able to sleep OK," he said. "At the end of the day if you are exhausted, you will make the wrong decisions."
Clearly, he was exhausted more often than not.
3. The Stranger Things cameo was… strange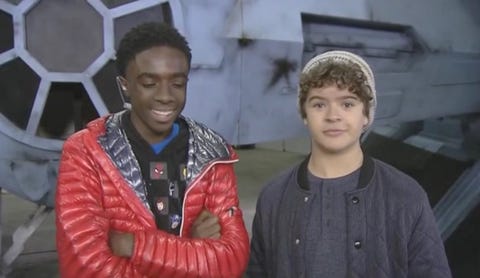 BBC
We learned two lessons from this episode of The One Show:
James McAvoy had been living under a rock because he'd never heard of Stranger Things (Boo!).
Two of the show's stars, Gaten Matarazzo (Dustin) and Caleb McLaughlin (Lucas), didn't have a clue what they were supposed to be doing.
McAvoy's sci-fi knowledge was being tested and a question about the super popular Netflix series popped up. But he didn't have a clue.
So, to jog his memory, the camera cut live to Matarazzo and McLaughlin at the For The love of Sci-Fi convention in Manchester, who looked like they'd just woken up from a nap, utterly dazed and confused.
Moving swiftly on.
4. Mary J Blige's mum isn't dead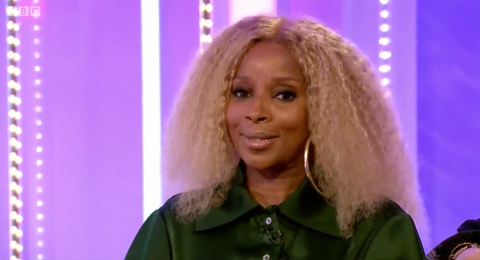 BBC
Like any regular guy, Matt Baker makes blunders at work, but the difference is his are broadcast to roughly five million people. No pressure.
When singer Mary J Blige sat down for a chat on the show earlier this year, she was asked by hosts Baker and Jones who she most looked up to in her life, to which Blige responded: "My Mum."
Lovely, until wires were seriously crossed and Baker asked, "How much of your success did she get to see."
"All of it. She's here," replied a very confused looking Blige. "No, she's living."
Cue awkward laughter and a bemused looking Baker.
To be fair, she was speaking about her mum in the past tense throughout the interview, but Blige did not see the funny side.
5. Bruce Willis's interview 'bombed'
Back in 2013, the world was given something it really didn't need, A Good Day to Die Hard, the fifth (and worst, by a country mile) film in the Die Hard franchise.
Bruce Willis then appeared on The One Show to promote it, but he was so flat he couldn't even form words.
Speaking to Hello about the car crash, Jones said: "He was a lot friendlier and warmer than he came across. He had a very dry sense of humour, which just didn't translate, and he wasn't 100% sure about the film he was promoting.
"He really wanted to create a good impression. He kept asking, 'How's this going?' and I had to say, 'Not great, to be honest'."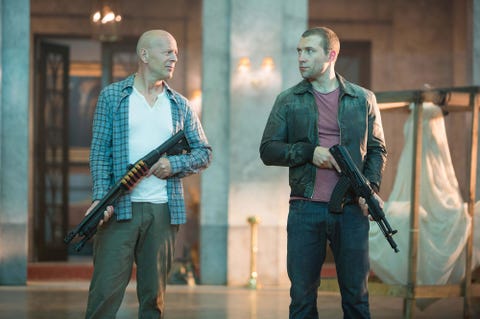 20th Century Fox
Willis himself also said sorry to his fans during a chat with Jon Holmes on Xfm radio.
"I have to apologise," he said.
"I didn't get very many compliments about it. They said it was a little stale. But I was so jet lagged. I'm very sorry, you kids on The One Show.
"I'm sure it's not their [the presenting team's] problem. I was a little bit boring, I think," Bruce added.
It definitely wasn't them, Bruce.
6. Piers Morgan spoiled Game of Thrones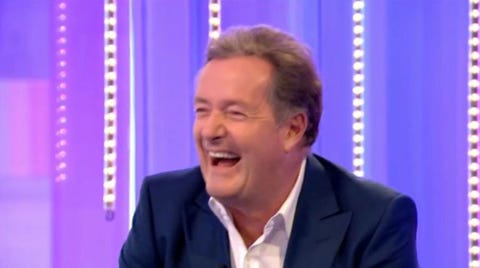 BBC
Piers Morgan hates Game of Thrones. He's only ever watched ten minutes of the last-ever episode (there are 73 in total), but his opinion – that it is "unwatchable bilge" – is firmly rooted in his long-standing commitment to those ten long minutes – more than enough time to solidify a valid response to the fantasy epic, right?
We're being sarcastic, of course, and what we got was the Good Morning Britain co-host proving that he is a big mouth and a wind-up merchant.
And The One Show co-host Angela Scanlon was clearly irritated when Morgan started giving away big moments from the show's final ever episode.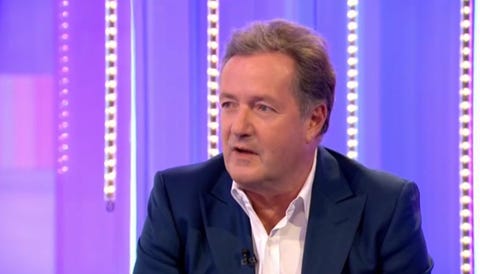 BBC
"Ten minutes of the finale, where there was this weirdy-beardy guy comes in and there's a big dragon," he moaned. "Then, the weirdy-beardy guy kisses the woman who's supposedly his queen, and while he's kissing her…"
Just in the nick of time, Baker and Scanlon swooped in and stopped Morgan from revealing that Jon Snow stabbed Daenerys – but you could see his arm act out a jabbing motion, which made it all pretty obvious.
Morgan added: "He does something, and then whatever he does the dragon goes nuts."
It might have been two days since the episode aired, but really, there was no need.
7. Magic fail
Ahh magic. Glorious when it works, painfully awkward when it doesn't.
Spyros Melaris, the director and producer of Alien Autopsy, was on the show to talk about his career and treat viewers to a spot of magic, although he insisted that it wasn't a trick or an illusion.
But his skills weren't quite up to scratch because his demo fell flat on its face.
Ex-EastEnders star Samantha Womack was roped in, and she was asked by Melaris to place a rock with "alien power" on one of three envelopes in front of her. He assured the actor that there was no right answer, and she should only do what she felt "compelled" to do.
But it turns out there was a correct envelope and Womack didn't choose it. Brilliant.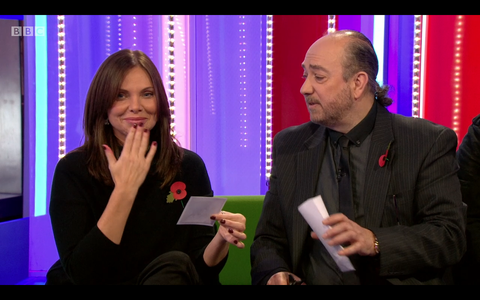 BBC
The less said, the better.
---
Want up-to-the-minute entertainment news and features? Just hit 'Like' on our Digital Spy Facebook page and 'Follow' on our @digitalspy Instagram and Twitter account.